In an effort to bring you the most comprehensive and in depth hockey training I have created the complete guide to stickhandling. I have written a number of articles on stickhandling as well as produced quite a few videos but many of the How to Hockey readers wanted a complete guide that shows everything from start to finish. I spent the entire summer writing, editing and shooting video for this e-book and training video. Every time I thought it was finished I would remember a few more drills, or a few more tips but eventually I think I emptied my brain into this book and training video.
What you get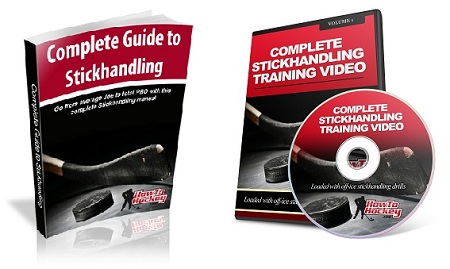 Stickhandling Guide – You get an 18 page e-book that covers everything you need to know about stickhandling. This e-book will take you from knowing nothing to knowing basically everything. After you learn what is possible with stickhandling I show you how you can practice and train to become amazing with the puck. I include over 20 off-ice stickhandling drills to help you improve every aspect of puck control that I teach in the e-book.
Stickhandling Training Video – The training video is over 30 minutes long and explains the concepts discussed in the e-book. I also show you exactly how to do every drill that was outlined in the e-book.
Progress tracking sheets – I include a progress tracking sheet with instructions so you can keep track of your improvements. This will encourage you to keep on practicing and improving and gives you something to look back on and see how much you have improved.
Sneak Peak

Order here
Visit the complete guide to stickhandling to learn more and order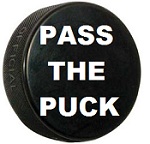 Pass the puck share on Twitter or Facebook
Tweet
Follow @howtohockey
Looking for more hockey tips?
Sign up to our newsletter for more tips, more videos, discounts on hockey training aids, and updates on new ways to improve your game
The following two tabs change content below.
Hi my name is Jeremy. I LOVE hockey and I am passionate about improving and helping others improve. My goal is to break every hockey skill down into easy to understand articles and videos. I explain everything step-by-step to help others improve. If you want to learn more about me you can read my
about page
. Thanks for reading and sharing!
Latest posts by Jeremy Rupke (see all)