If you are looking for a new move to try out during practice or shinny then todays deke of the week is a great one to practice. This is a shifty move that I like to use when I need to gain the center and there is a pesky defencemen in my way. Usually this works the best if the D-man is a few feet in front of you, and a few feet to your side (the side furthest from the blade of your stick) and he is trying to keep you to the outside. I have used this move a lot in games, it looks great and it works! If you want a full explanation of how to do this move visit our article and video on how to do the backhand toe drag.
Backhand Toe Drag Video On the Ice
Backhand Toe Drag Tips
Practice a lot before trying it in a game
You need to pull the puck in close to your feet to protect the puck
Don't be afraid to try variations of this move and come up with your own style / moves
Make sure you have enough room to do this move otherwise the d-man will stop you every time
Keep your head up (especially if you play contact hockey) so you can read the defencemen and tweak the move if you need to
How to Backhand Toe Drag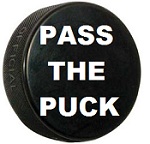 Pass the puck share on Twitter or Facebook
Tweet
Follow @howtohockey
Looking for more hockey tips?
Sign up to our newsletter for more tips, more videos, discounts on hockey training aids, and updates on new ways to improve your game
The following two tabs change content below.
Hi my name is Jeremy. I LOVE hockey and I am passionate about improving and helping others improve. My goal is to break every hockey skill down into easy to understand articles and videos. I explain everything step-by-step to help others improve. If you want to learn more about me you can read my
about page
. Thanks for reading and sharing!
Latest posts by Jeremy Rupke (see all)