We have had a lot of requests for more skating videos and articles so here is one for forward skating, we have some basic articles already for how to skate and how to stop, so this one seemed like the net logical video / article to publish. In this video we show you the basics to the crossovers and a few easy drills you can do to improve your crossovers and turning. I have also embedded a video that goes into a lot more detail on different types of crossovers / drills you can do to improve.
Forward Crossovers Video
Forward Crossovers Tips
Keep your knees bent and remember to use your edges
While doing crossovers around the circle your OUTSIDE leg will be pushing and giving you speed / power
While doing the forwards crossovers (zig-zag drill in first video) your INSIDE leg is pushing and giving you power
While doing the circle crossovers try to always keep your stick inside the circle, you can lean on your stick a bit to get lower to the ice
Detailed Hockey Crossover Video
Here is a good video from Hockey Canada that goes into good detail on the crossover and shows a bunch of drills you can practice.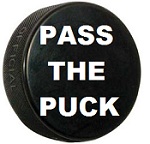 Pass the puck share on Twitter or Facebook
Tweet
Follow @howtohockey
Looking for more hockey tips?
Sign up to our newsletter for more tips, more videos, discounts on hockey training aids, and updates on new ways to improve your game
The following two tabs change content below.
Hi my name is Jeremy. I LOVE hockey and I am passionate about improving and helping others improve. My goal is to break every hockey skill down into easy to understand articles and videos. I explain everything step-by-step to help others improve. If you want to learn more about me you can read my
about page
. Thanks for reading and sharing!
Latest posts by Jeremy Rupke (see all)