Colt Hockey Stick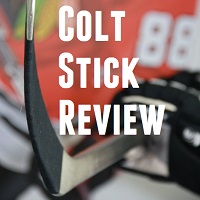 The Colt Hockey stick was dubbed the "unbreakable stick" but is it really? I'm not here to hype the stick up, or join in the media frenzy. I believe in testing, and then providing my honest and unbiased opinion. So if you're looking for the straight facts for the Colt Hockey stick you are in the right place.
Review – Visit my full Colt Stick review for lots of information about the stick, and two videos about the colt, including one on-ice and some cool slo-mo shots.
Colt Hockey Coupon Code – Use coupon code HOWTOHOCKEY to save $10 on your purchase
Colt Hockey Website – Visit ColtHockey.com to order your twig.
The Video that Started it all
Colt's video about the stick
My Video review about the Colt Stick
If you want more details about the Colt stick visit my full Colt Stick Review
The following two tabs change content below.
Hi my name is Jeremy. I LOVE hockey and I am passionate about improving and helping others improve. My goal is to break every hockey skill down into easy to understand articles and videos. I explain everything step-by-step to help others improve. If you want to learn more about me you can read my
about page
. Thanks for reading and sharing!
Latest posts by Jeremy Rupke (see all)