Hey guys, the slapshot challenge is over and now it is time to pick the winners. This was the first contest I ever tried to run so there are some things I would change, but the real goal was to challenge myself to improve, and hopefully encourage others to challenge themselves. The real prize is a better shot, learning a life-long skill and scoring more goals, but there are also some prizes for those who participated in the challenge.
First Prize
The first prize winner is Michael from Michigan, he was following the articles and posted this video. His slapshot looks pretty good and he improved quite a bit. Check out his video below

The first prize is an extreme passing kit and a Green Biscuit from HockeyShot.com
Second Prize
The second prize goes to Caelan from Manitoba. Caelan joined very early in the slapshot challenge and worked very hard to improve his shot. Unfortunately he did not have access to a video camera, but he did include some pictures of him working on his slapshot.

The second prize is a pro sized hockey shooting pad and a Green Biscuit from HockeyShot.com
Third Prize
The third prize goes to Patrick from New Mexico. Patrick is a fan on our Facebook page and was always working on his shot. Patrick even bought a radar gun to help clock his speed and improve his power. Watch Partick's video and he shares a few tips that helped him improve.

The third prize is a Green Biscuit, Smart hockey Ball and Wooden stickhandling Ball from HockeyShot.com
Thanks to everyone who participated in the Slapshot Challenge. I hope you learned a lot, and if you need any more tips be sure to check out our articles and videos on the slapshot.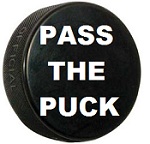 Pass the puck share on Twitter or Facebook
Tweet
Follow @howtohockey
Looking for more hockey tips?
Sign up to our newsletter for more tips, more videos, discounts on hockey training aids, and updates on new ways to improve your game
The following two tabs change content below.
Hi my name is Jeremy. I LOVE hockey and I am passionate about improving and helping others improve. My goal is to break every hockey skill down into easy to understand articles and videos. I explain everything step-by-step to help others improve. If you want to learn more about me you can read my
about page
. Thanks for reading and sharing!
Latest posts by Jeremy Rupke (see all)