Every year we round up the best gift ideas for hockey players. This is our best list yet jam packed with gifts any hockey player would love. The best part is you can win some of these prizes
Enter to win some of the gifts
We are giving away some of the gift ideas shown below. To enter, simply share this post on Facebook or Twitter and then enter the contest box at the bottom of this post. (even if you don't win, sharing this post increases the chance your friends will buy you cool stuff!)


In no particular order, here is our list!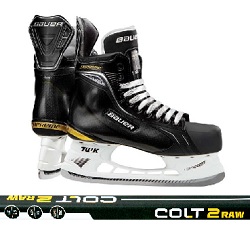 This one is a no-brainer. The obvious choice here is a new hockey stick, but if you really know your player you may be able to surprise them with something else. (Skates, gloves, or maybe replace that gross old jock) Check out Hockey Monkey, Total Hockey or Pure Hockey for some good online deals!
The foolproof gift for a hockey player
If you're not sure what to get, no problem, you can't go wrong with a gift card. A gift card lets your hockey player pick whatever they want, they'll be in heaven! I recommend a gift card from Hockey Monkey for anyone in the USA, and from a local hockey store for anyone in Canada.
The Colt Hockey Stick

If you're looking for a stick check out Colt Hockey, they are working to design the most durable hockey stick out there and you can save $20 with coupon code HOWTOHOCKEY. Check out Colt Hockey to see their sticks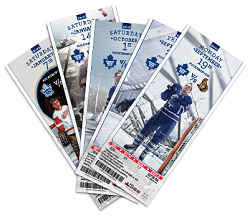 You can really surprise them with tickets to the game. The great news is, you get to go too! You can snap up some good deals on StubHub.com
If that special person on your list is a Leafs fan and tickets cost $300 each, why not do something a little crazy. Book two flights to Florida when the Leafs play the Panthers and get your tickets for $20 each!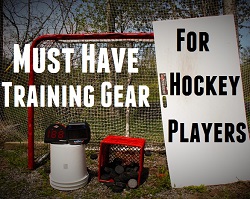 As a kid, all I wanted to do was practice at home. As an adult, I still enjoy ripping some shots beside the garage and working on the dangles from time to time. So what does EVERY hockey player need? My suggestions are simple:
a net – The EZ Goal is good for shots under 65 MPH
a shooting pad – (Pro sized, or roll up recommended)
and some pucks
What about some fun products
The Green Biscuit (the puck that slides anywhere!)
A radar gun (the SpeedTrac and HockeyShot models work well, with the SpeedTrac being a bit more consistent)
A pass rebounder ( work on passing, shooting, and one-timers)
I've put together a video mentioning some of the must have training aids for shooting. Check out the video on stickhandling products as well
Any of the above should give a hockey player hours and hours of enjoyment and help improve their skills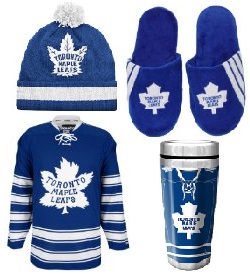 Personally, I'm a Leafs fan. If you get me ANYTHING with a Toronto Maple Leafs logo, I'll be happy. A hat, shirt, pajama pants, slippers, coffee mug, etc. Any die hard fan probably feels the same about their team.
Some ideas
Where to shop – Amazon.com or Amazon.ca for Canadians is a good start (all items pictured are from Amazon.ca), they usually have free shipping and good selection.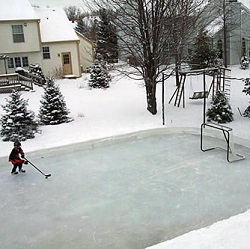 Every hockey player wants to play more hockey! This isn't always easy, but here are a few ideas

Sure we can watch highlights on YouTube, but it's tough to find good edits and compilations. If you want to give an entire years worth of highlights get them Rock'em Sock'em 26. This years latest release from Don Cherry.
Better yet, get them 25 years worth of hockey highlights by picking up the Rock'em Sock'em box set (Don Cherry has been doing these tapes since 1988 and you can own them all.
You can buy: BOX SET On Amazon.ca for $49.99 and free shipping OR Amazon.com for $71.99 (sorry USA, the one time something is MORE expensive in the states)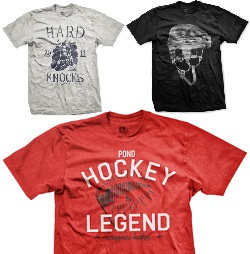 We're a little obsessed. We want everyone to know we play hockey, and what better way to do that than with some sweet hockey threads.
There are a few different hockey apparel companies including Sauce Hockey and Gongshow hockey, but I really like Scrappers Hockey. (and they designed the hockey movement logo!)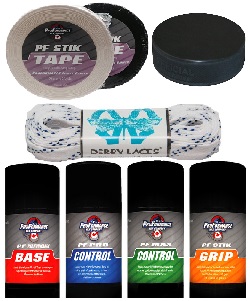 There are some things that every single hockey player needs. They aren't expensive, and it's an easy item to pick up.
A few items include
Hockey Tape (cloth, and clear)
Hockey pucks
Skate laces (great to have as backup in case laces break just before a game)
Check out some ideas for stocking stuffers as well
For top quality wax and tape check out ProFormance Hockey wax
 The Comet Hockey Puck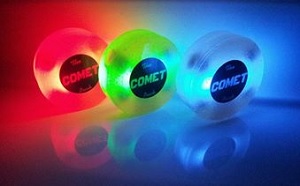 I've just found out about this puck, and it looks like it could be a lot of fun for outdoor hockey (it does get dark pretty early)
The Comet puck lights up and makes it very easy to see in low light. I will be testing this puck out very soon, but in the mean time if you'd like to order you can do so below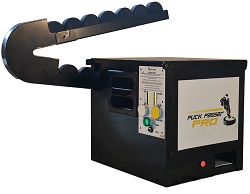 These recommendations are a little on the expensive side, but if you've got the money they would make a hockey player very happy!
The Puck Passer Pro launches pucks at you. This is great for the player who wants to practice passing, shooting, one timers and more. When there is a machine sending pucks at you, you can get pretty creative.
Retails for $1495 on PPP website, or HockeyShot

Synthetic ice is a plastic that you can actually skate on! put this in your garage, or basement and you can play hockey any time you want! I am actually putting this in my garage at the moment. I already have it all laid out, and now I am building dasher boards (Yes I'm lucky ) – Check it out on HockeyShot

Every player dreams of having skill like Crosby, a slapshot like Chara, or silky hands like Pavel Datsyuk. In order to improve, players need to be taught, motivated, and inspired. I've created two training courses for hockey players to help them improve. Yes this is a shameless plug for my training courses, HOWEVER I have received countless emails and messages from players who have used these courses to improve, so of course I would like you to purchase them for your hockey player and help them improve. Both courses are delivered digitally, simply create an account after purchasing to access the training videos and e-books.
The complete guide to stickhandling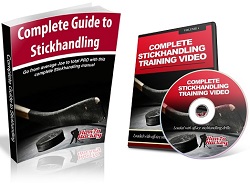 This guide is everything a hockey player needs to know to go from a beginner to a confident player with the puck. This comprehensive guide covers technique, common mistakes, and how to have complete control of the puck in any situation. I also include multiple drills as well as a half hour off-ice training video, and a half hour on-ice video where I answer the most common stickhandling questions and show a number of drills.
Create an account to access the e-book and training videos here
The Goalie Buster video training series (buy both together to save)
This is for every player who wants to have sweet shootout moves, and score every time on the breakaway. In this video series I teach every single move out there (I watched NHL shootout moves for about 6 hours straight to make sure I covered them all). NHL examples of each move are shown, I then break down how to do each move on the ice, and show me trying the moves on different goalies. Every move is categorized so the player knows when to use the move. I also teach when to shoot, and how to read the goalie. I have gotten great feedback from players ranging from house league, Junior A, AAA and Men's league
Create an account to access the Goalie Buster series here (you can get a discount here if you buy the stickhandling guide and Goalie buster series together)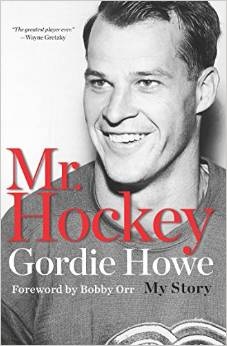 Whenever I have some downtime you can find me reading hockey books! Here are a few suggestions I have, most of the books I have read are coaching books however I do own most of these recommended books as well.
Don't forget to share to win
If you share this post you will be entered to win some awesome prizes from HockeyShot, ProFormance Wax, Scrappers Hockey and How To Hockey
READ MORE +