I thought it would be fun to do a quick challenge to help motivate hockey players (YOU!) to improve their backhands. In my opinion the backhand shot is the most neglected in hockey, almost every player I work with wants help with their slapshot. If you ask me the two most important shots for forwards are the snapshot and the backhand.
How the Challenge Works
The challenge is running from Wednesday October 2nd to Wednesday October 9th (join our Newsletter and Facebook page to be notified of new challenges). In that span of time you are challenged to take 1000 backhand shots.
Do I NEED to take 1000 shots? – No, you don't have to, you could shoot more or less, but I encourage hitting the 1000 mark. The point is that you TRY to reach 1000 (about 142 shots per day) If you have 25 pucks you will need to shoot all of them 6 times each day.
Are there prizes? – Yes, everyone who enters (whether you get to 1000 or not) will be entered to win a free shooting analysis, my stickhandling guide, or access to my Goalie Buster training videos. I will randomly choose winners and the winners can pick which prize they would like. And of course everyone who enters wins…..a better backhand shot!
How do I enter?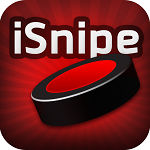 First you can let some friends know that you are taking this challenge (challenge them to do it as well). Mention it on Facebook, Twitter, Instagram, real life, etc (use the share buttons below)
Over the course of the week keep track of how many shots you are taking. This can be as simple as writing your total down each day, or the preferred method (of course 🙂 ) is to use the iSnipe app For Apple IOS or Google Andriod
At the end of the contest (Wednessday the 9th) send in proof of your total. With the iSnipe app you can click the i button to generate your log and then email it to me at shooting@howtohockey.com
I will randomly pick winners after a few days from all of the emails I receive with proof that you participated.
Problems with the Backhand?
Is that goal regulation size or what!? Don't worry, the backhand is a tough shot, but I am here to help.
I will be posting two videos on my Youtube Channel to help with your backhand, so stay tuned to our Facebook page and Youtube. One video will show a neat trick for popping the puck up quickly, this will make you dangerous when in close. The other trick is to get more power from a distance.
Thanks for reading and sharing, I hope to have a lot of players participate and work on their shots.