Hockey Shooting Pad Information
Hockey shooting pads are one of the most popular hockey training aids on the market today. Skating, shooting, and stick handling are the most important skills for a hockey player to learn, and you can practice and perfect two of those three skills with a hockey shooting pad. This page gives you some information about hockey shooting boards, we also have a hockey shooting pad review
Hockey shooting pad info
Material
Many people want to know what material is used in hockey shooting pads. Most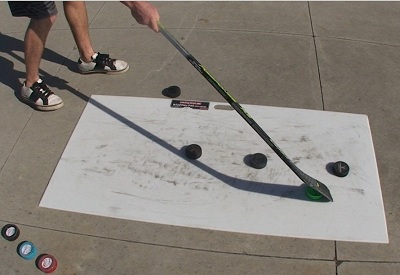 pads are made out of High-density polyethylene or HDPE, which is a special type of slippery plastic.  HDPE is also used to make milk jugs, hockey dasher boards, and rails / boxes used for snowboarding and skiing. While some hockey shooting pad alternatives offer a smooth surface, only a real hockey shooting pad can offer a smooth and slippery surface.
Hockey shooting pad sizes
The hockey shooting pads come in a variety of sizes the most common sizes are
Junior – 24 inches wide by 48 long and  1/8 of an inch thick
Intermediate 28 inches wide by 52 inches long and 3/16 of an inch thick
Professional shooting pads which are 30 inches wide by 60 inches long and 3/16 of an inch thick.
What shooting pad size should you choose?
The smaller sizes are very affordable and good for younger players or as something to start with. My first shooting pad was a junior size and I used it purely for shooting. If you will be doing mostly shooting than a small size will be good for you If you are older and will be using your shooting pad a lot I strongly recommend a larger shooting pad.
The larger shooting pads are great because you have enough room to practice a variety of stickhandling moves. Large hockey shooting boards also provide enough room for a full wrist shot and room to line up a few pucks for slapshots. Another great benefit of the pads are that they last a very long time
Durability
These boards are great when it comes to durability, we tested the pro shooting pad which is 3/16 of an inch thick, sounds thin but we hammered about 1000 shots off of this board and there were no signs of wear (just a lot of tape marks) During the slapshot challenge I have been taking about 1000 – 2000 shots every week and there is absolutely no wear on
Service Unavailable
The server is temporarily unable to service your request due to maintenance downtime or capacity problems. Please try again later.