Deke Of the Week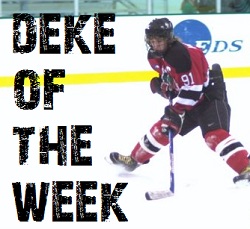 We started the Deke of the Week in the winter of 2010 and hope to keep it going for some time. While the name suggests we post a deke every week unfortunately we have to also balance full time jobs and sometimes life gets in the way. We could have called it something different, but deke of the week just sounds so cool! Below you will find all the deke's we have posted, with more always in the works. Over the summer the deke of the week will be on hold as we focus on off ice training. We try to make the deke's progressively more advanced and cover the basics in the first few.
We are always working on adding new training articles to the blog so feel free to subscribe to our blog to be notified of new articles and videos.
Looking for more hockey tips?
Sign up to our newsletter for more tips, more videos, discounts on hockey training aids, and updates on new ways to improve your game
The following two tabs change content below.
Hi my name is Jeremy. I LOVE hockey and I am passionate about improving and helping others improve. My goal is to break every hockey skill down into easy to understand articles and videos. I explain everything step-by-step to help others improve. If you want to learn more about me you can read my
about page
. Thanks for reading and sharing!
Latest posts by Jeremy Rupke (see all)