Summer Hockey Camp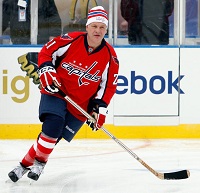 Dennis played in the National Hockey League for 14 years, scoring over 60 goals and 136 points in a single season. He is a 2 time NHL all star, totalling 356 goals and 878 points in 888 games.
Are you looking for that perfect summer hockey camp to help hone your child's hockey skills? Look no further than Winning Techniques. This hockey camp is directed by NHL legend Dennis Maruk.
Dennis loves working with the kids, teaching hockey players the finer points of stick handling, shooting and passing. One aspect of hockey that Dennis really focuses on is teaching kids how to put the puck into the net!
Dennis will be on the ice teaching all sessions at camp
Jeremy Rupke from How To Hockey will be assisting Dennis for the entire 8 week program, the children will also be assisted by local AAA hockey players on and off the ice.
Age range for Campers
The camp is open for children aged 4-17 years old
Summer Hockey Camp Highlights:
10 hours of on-ice instruction per week
Excellent professional hockey instructors
5 hours of off-ice training
Personalized and specialized 1:6 instructor to player teaching ratio
This program is designed to challenge players at all ability levels.
Players are grouped by their age and hockey skill level.
There are a maximum of 24 players and 2 goalies per ice session.
Children will also experience and learn many other skills off the ice (see our other camp activities listed below)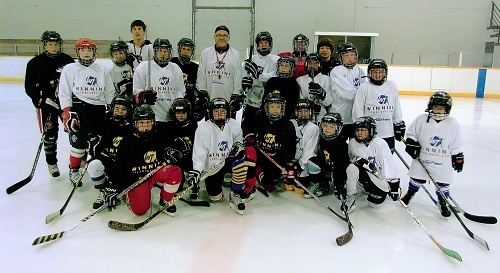 What will the children be taught on the ice?
We believe that skating is one of the most important skills to master. Our background as professional skaters gives us the knowledge to help you. If you are having trouble with any specific skills? Just ask and we will take the time to focus on your goals. Some of the skills we will focus on are outlined below
Focus on shooting techniques where all types of shots (wrist, snap, slap & backhand) are taught and perfected.
Emphasis on checking technique such as battling for the puck in the corners and proper positioning of the players' bodies when giving and receiving checks.
During this camp players will improve their body control, agility, reflexes, skating technique and muscle retention skills.
Instruction in team strategy & tactics which may include: transitions, creating offence off the rush, forechecking, backchecking, defensive responsibilities, breakouts, face-off alignments and positional play.
Emphasis on offensive and defensive plays in game situations.
Other Camp Activities
We encourage our campers to become well-rounded overall athletes, that is why we have over 20 fun camp activities that all of our campers will participate in. Below are just some of the activities that we teach:
Archery
Waterski, Wakeboard, Wakeskate & Barefoot
Canoeing & Kayaking
Disk Golf
Fishing
Hiking
Low Ropes Course
Movie Night
Paddle Boating
Rock Climbing Wall
Snorkelling
Sports and Games
Swimming
Trampoline
Tubing
Variety Night
Bonfires
Arts and Crafts
Board & Card Games
Location
The summer hockey camp is located just outside of beautiful Muskoka, Ontario, about 15 minutes north from Huntsville, Ontario. Children from over 20 different countries have attended the camp so far, so there is a spot for you at our camp no matter where you live!
How to Register for the Summer Hockey Camp
If you would like to register or would like more information about this hockey camp please send us your name and email address and we will get back to you within one business day.
Enter your name and email above and we will get right back to you!

Hi my name is Jeremy. I LOVE hockey and I am passionate about improving and helping others improve. My goal is to break every hockey skill down into easy to understand articles and videos. I explain everything step-by-step to help others improve. If you want to learn more about me you can read my
about page
. Thanks for reading and sharing!
Latest posts by Jeremy Rupke (see all)