Summer Hockey Camp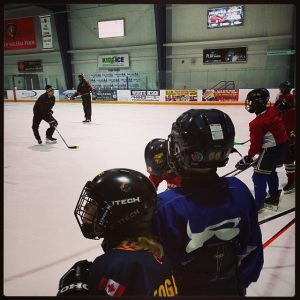 Are you looking for that perfect summer hockey camp to help hone your child's hockey skills? In 2014 I am running a one week hockey camp just north of Huntsville Ontario from July 27th to August 2. The hockey portion includes 2 hours of ice time and 2 hours of off-ice training for 5 days. Kids may also enroll in the day camp which includes a lot of great activities (see below)
Hockey Camp only is July 28th – August 1st
2 hours of on-ice instruction per day
2 hours of off-ice instruction / conditioning
Schedule
Off-ice warmup
1st hour on-ice – Focus on skating, technique, speed, edges, overspeed, game situation skating
2nd hour break – snacks and learning from the pro's with video breakdown of the pro's, showing techniques we will practice and how the pro's use them. Will also do shooting analysis of the kids with footage taken on the ice, I break down their shots and show side by side comparison with the pro footage.
3rd hour on-ice – Focus on shooting, stickhandling, game situations, competitive drills, small area games and some free time for the kids to work on designated techniques with 1 on 1 instruction from the coaches.
4th hour off-ice (optional) – ladder agility drills, footspeed drills, competitive off-ice drills and some free time for some fun games (ultimate frisbee, soccer, etc)
Booking is done through Winning Techniques, ask for week 5 with Jeremy Rupke cost is $299 – call 1-705-636-5957 to book
Full week camp is also available that includes the hockey portion, the kids camp from July 27th to Aug 2nd and includes a lot of fun activities, food and lodging, price for that is $999
Registration Details
Registration can be done over phone ASK FOR WEEK 5 WITH JEREMY FROM HOW TO HOCKEY
1-888-4WT-CAMP (1-888-498-2267) or 705-636-5957
During this camp I will be focusing on skating, shooting, and game-situation training I have examined countless hours of NHL highlights and taken the moves from those clips to teach to players. The first hour on the ice will focus on the fundamental skills, the second hour focuses on game-situation scenarios.
Age range for Campers
The camp is open for children aged 6-16 years old
Summer Hockey Camp Highlights:
10 hours of on-ice instruction per week
Excellent professional hockey instructors
5 hours of off-ice training
Personalized and specialized 1:6 instructor to player teaching ratio
This program is designed to challenge players at all ability levels.
Players are grouped by their age and hockey skill level.
There are a maximum of 24 players and 2 goalies per ice session.
Children will also experience and learn many other skills off the ice (see our other camp activities listed below)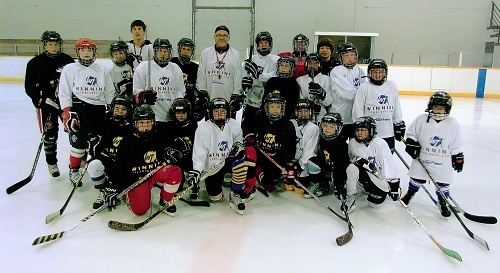 What will the children be taught on the ice?
We believe that skating is one of the most important skills to master. Our background as professional skaters gives us the knowledge to help you. If you are having trouble with any specific skills? Just ask and we will take the time to focus on your goals. Some of the skills we will focus on are outlined below
Focus on shooting techniques where all types of shots (wrist, snap, slap & backhand) are taught and perfected.
During this camp players will improve their body control, agility, reflexes, skating technique and muscle retention skills.
Instruction in team strategy & tactics which may include: transitions, creating offence off the rush, forechecking, backchecking, defensive responsibilities, breakouts, face-off alignments and positional play.
Emphasis on offensive and defensive plays in game situations
Other Camp Activities
We encourage our campers to become well-rounded overall athletes, that is why we have over 20 fun camp activities that all of our campers will participate in. Below are just some of the activities that we teach:
Archery
Waterski, Wakeboard, Wakeskate & Barefoot
Canoeing & Kayaking
Disk Golf
Fishing
Hiking
Low Ropes Course
Movie Night
Paddle Boating
Rock Climbing Wall
Snorkelling
Sports and Games
Swimming
Trampoline
Tubing
Variety Night
Bonfires
Arts and Crafts
Board & Card Games
Location
The summer hockey camp is located just outside of beautiful Muskoka, Ontario, about 15 minutes north from Huntsville, Ontario. Children from over 20 different countries have attended the camp so far, so there is a spot for you at our camp no matter where you live!
How to Register for the Summer Hockey Camp
Registration can be done over phone ASK FOR WEEK 5 WITH JEREMY FROM HOW TO HOCKEY
1-888-4WT-CAMP (1-888-498-2267) or 705-636-5957
Enter your name and email above and we will get right back to you!

July 27th to August 2
The following two tabs change content below.
Hi my name is Jeremy. I LOVE hockey and I am passionate about improving and helping others improve. My goal is to break every hockey skill down into easy to understand articles and videos. I explain everything step-by-step to help others improve. If you want to learn more about me you can read my
about page
. Thanks for reading and sharing!
Latest posts by Jeremy Rupke (see all)