It's that time of year again! Every year I make a list with the best gifts for hockey players. You may also want to check out our best stocking stuffers for hockey players list.



Some of these links are affiliate links, any time a product or company I enjoy has an affiliate program I will use it as I would be endorsing their products anyways.
New Hockey Equipment
Every hockey player LOVES getting new gear. This one is kind of a cheat for parents, you're going to have to buy it anyways, so just wait for Christmas and make it a gift 😀 There are a lot of great options if you know what your hockey player wants, or if you're not sure, an online gift card will do. Check out Hockey Monkey or Pro Hockey Life for all the Canadians out there! You can also check Total Hockey or Pure Hockey for some more online deals!
If you're not sure about sizing or brand preference, stick with a gift card

A gift card lets your hockey player pick whatever they want, they'll be in heaven! Hockey Monkey usually has the largest selection and great prices so I've linked to them below. If you're in Canada you will want a Pro Hockey Life gift card.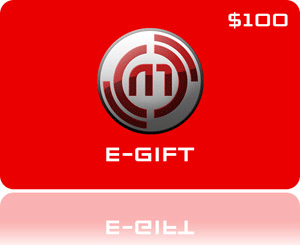 $100 Hockey Monkey Gift Card
A gift card for the largest online Hockey retailer is a no-brainer. First they get the excitement of opening your gift, then they get the excitement of shopping for whatever they want online. $100 is recommended, but more options are available
The Dangle Puck
I was sent this puck from the guy who invented it in Sweden. He's a hockey dad and engineer. I loved it, I told HockeyShot that they NEED to carry it, and now they do! Basically it's a puck with a ball bearing in it, it slides just like a puck on ice, but ONLY works on smooth surfaces, and the little insert plastic piece has been reported to come loose. It can be fixed with a little glue (I took my puck apart just to see) In my opinion this is the best off-ice puck that will give you the closest speed and motion to a puck on ice.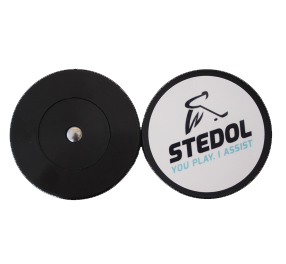 Dangle Puck
This puck is made specifically for smooth surfaces like training tiles or shooting pads. It uses a small bearing in the middle to create a glide and movement similar to how a puck moves on the ice. It's my favourite off ice puck.
The Sparx Skate Sharpener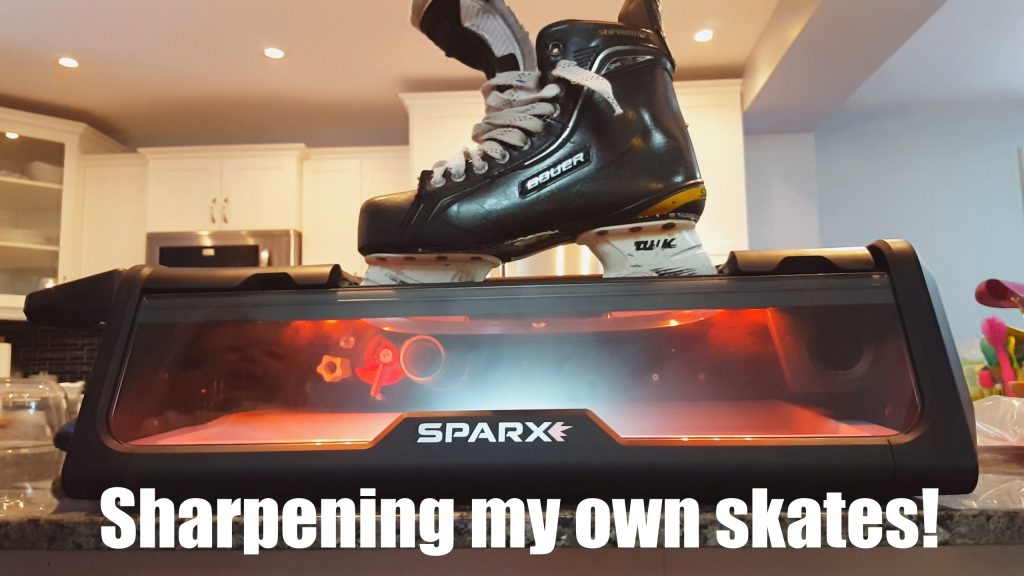 I've owned this machine for over a year now and love it. Like everyone else, I was skeptical at first, I'm not a band-wagoner, but after nothing but great sharpening for over a year (including doing friends and families skates) I'm a firm believer in this machine. Also, no matter where I look online I hear great feedback about the machine. For the price (about $1000) You COULD save money off traditional sharpenings over time, but too be honest, what I've enjoyed the most is the convenience, and the ability to explore new sharpening radius's. You can learn more about the machine on my Sparx review I also have coupon code that will save you $25, just enter Sparx25off at checkout.



Sparx Skate Sharpener
The Sparx skate sharpener is the most affordable machine on the market that allows you to sharpen your skates at home. Use coupon code Sparx25off to save $25
Revolution Skateable Hockey Tiles

If you have little ones at home who want to spend every second on the ice, now they can, except this isn't ice it's skateable tiles. Previously Synthetic ice was heavy, expensive and only came in massive 4 x 8 sheets of plastic. To have it delivered you'd need to have a transport truck drop it off. HockeyShot just released a new tile that is 18 inches x 18 inches and allows hockey players to lace em' up in the comfort of their own home, garage, or living room (for the really crazy hockey families. See my review in the video below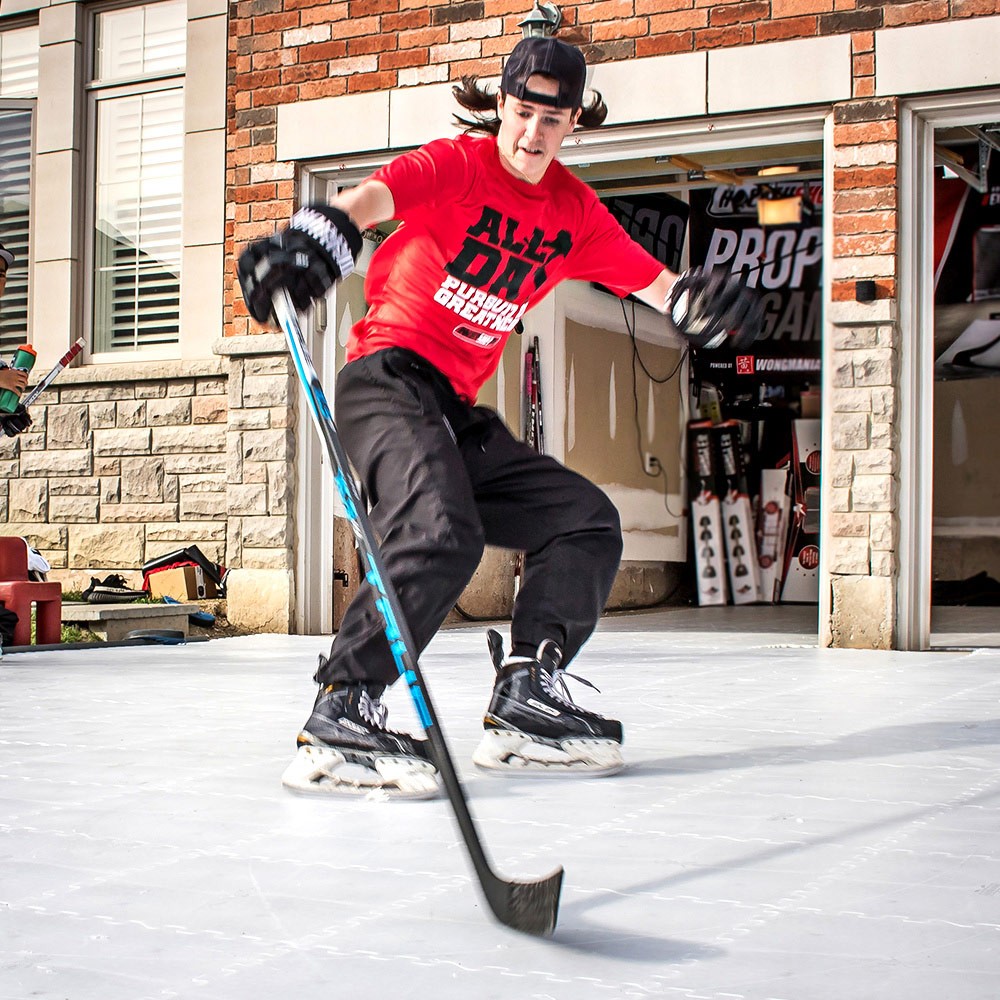 HockeyShot Revolution Tiles
The first skateable synthetic surface that can easily be transported and installed. Have them shipped to your door, and be skating in minutes. These would be great for young kids to get in extra practice on difficult skating moves. Also great for shooting and stickhandling
Training Tiles and a Slideboard
Last year I showed my ideal training set-up for a small area. All you need is 16 training tiles and you're set! If you can afford more you can add passers and a slideboard. In the GIF below I'm using a slideboard, 22 All-Star tiles, and two clamp on Extreme Passers. All available from HockeyShot.com
HockeyShot Slide Board
A slideboard is a great way to simulate the skating motion while also incorporating movement into training. Use the slide board alone to work out, or in combination with shooting, stickhandling, or skating skill training. Use the coupon code to save!
More Hockey Training Aids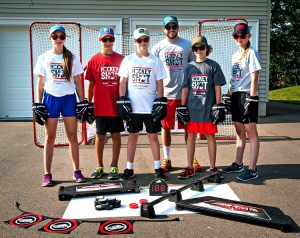 The more you practice, the better you get, but ice time is expensive. Although some hockey training gear can be expensive, if someone is using it on a daily basis it will help them greatly improve their skills. Below are some of the "must haves" when it comes to hockey training at home.
What about some fun products
The Green Biscuit (the puck that slides anywhere!)
A radar gun – The HockeyShot Radar is a very affordable option. It's fairly consistent but does misread the shot from time to time
A pass rebounder – These are the best for working on passing, shooting, and one-timers. A must have!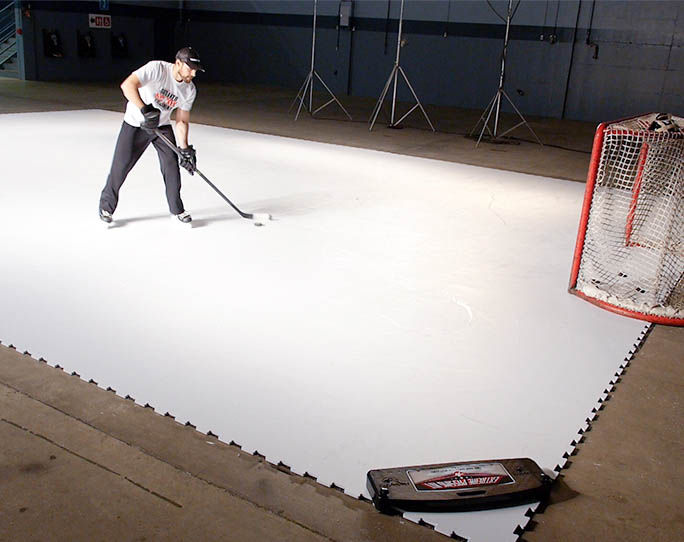 HockeyShot Radar
A radar is (in my opinion) the best training aid to help a player improve their shot power. The great thing about a radar is the instant feedback it provides. This allows a player to instantly tweak their shot and always want to beat their hardest shot. It's instant motivation.
Here's a video I created to show some of my favourite hockey training aids. Check out the video on
stickhandling products
as well
Any of the above should give a hockey player hours and hours of enjoyment and help improve their skills
Their Favourite Hockey Player


The hockey player on your list probably has a player in the NHL that they idolize. What if they could share a bedroom! Well, they can. Fatheads makes life sized NHL player decals. Great for kids, and could also look cool in a man cave.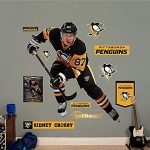 Fathead NHL Decals
These are great for a man cave, or a child's bedroom. You can get a life sized decal of some of the biggest stars in the NHL.
A Backyard Rink
Every hockey player wants to play more hockey! This isn't always easy, but here are a few ideas
You can build your own hockey rink or buy a kit from EZ ICE (full kit with boards, easiest rink available to set-up and take down) NiceRink (Premium rink, very sturdy, can buy liner, brackets, or a full kit with boards) or IronSleek (Can buy just the brackets and build with plywood)
Rent the local ice and invite family and friends to come and play (call your local ice rink)
Get them a shooting pad to practice at home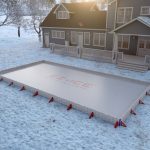 The EZ ICE rink system just came out last year and it is dead simple to set up. With any other system you need tools, measuring, hammering, and a friend or two to help out. From start to finish I set this up in less than an hour, and I had never done it before. If you use the EZ ICE rink coupon code you can save 10% on your order
A special Hockey Stick for Kids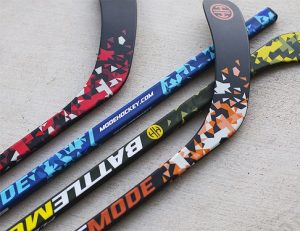 One of the most important decisions when buying a hockey stick is what flex the stick has. In adult hockey sticks the flexes typically range from 70-110. The general rule of thumb when picking a stick is to start at half your weight. This means a 60 pound player should be using a 30 flex stick. Quality is also important, most pro's use sticks that are 100% composite however a lot of kids sticks use cheaper materials to reduce price.
Mode Hockey (a company I'm proud to be part owner of) makes pro quality hockey sticks for kids. We use 100% carbon fiber, and produce flexes from 20-60
We recently released two new colors just in time for Christmas. Pink, and White. Our 60 flex comes in a stealthy black on black design.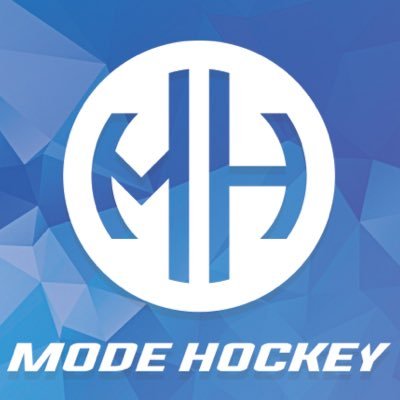 Mode Hockey Sticks
Using a consistent flex profile will help hockey players learn the proper shooting technique at an early age. If they learn to shoot with a stick that is too stiff, they will have to re-learn how to flex a stick when they get older. Battle Mode sticks come in low flexes. The typical rule is to use a flex that is half your child's weight.
The Hockey Sauce Kit

This is one of the most popular items among young hockey players. It's basically a miniature hockey net that comes with a small sheet of fake ice. A single net is great for practicing saucer passes and trick shots, while the full set (two nets) can be used to play a game of "sauce", similar to corn hole or horse shoes. It makes a great backyard game, beach game, or camping game.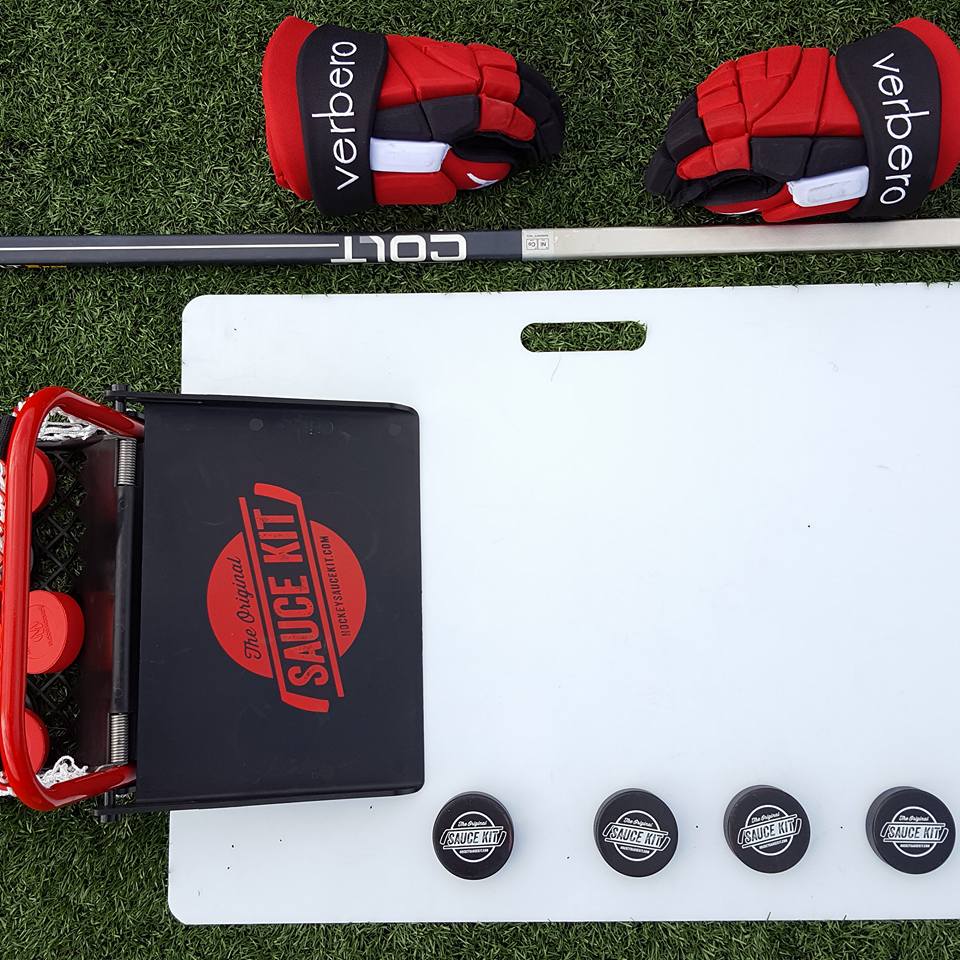 Hockey Sauce Kit
This will be at the top of most kids Christmas lists. A mini net that can be used for accuracy, saucer pass training, or an impromptu game of pond hockey.
A new Hockey Bag

Pacific Rink dropped the Pond Pack (shown below) and Player Bag last year to great fanfare. I've been personally using both and love the quality and smart design. This year they've released their junior bag which uses the same smart design as their player bag, but on a smaller size.
This bag is perfect for players who don't want to use a wheely bag and also want a well organized hockey bag. The junior bag is $174 on PacificRink.com


Every hockey player has a bag, but chances are they don't have a pond pack. This bag from Pacific Rink is meant for the casual game of puck. Maybe it's stick and puck at the rink, or a little pond hockey with the team. We don't always need to bring full gear, so Pacific Rink created the pond pack. A bag designed to carry the essentials.
Looking for a full hockey bag? They also have created (In my opinion) the best hockey bag on the market. Check it out below.

Pacific Rink Bag
Finally a hockey bag with organization. The Pacific Rink bag has a spot for your skates, wet gear, dry gear, and a divider to keep your equipment organized.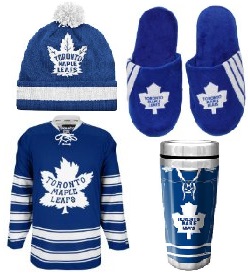 Some NHL Apparel
I'm a die-hard Leafs fan, so ANY gift with a Leafs logo on it will make me smile. I've included some ideas below, choose one, or do an ultimate fan package and get a few. I've included a few helpful links as well.
Some ideas
A jersey
A toque (winter hat)
sweater or shirt
Slippers and pajamas
Where to shop – Amazon.com or for Canadians try Pro Hockey Life or Amazon.ca (all items pictured are from Amazon.ca), they usually have free shipping and good selection.
Classic Hockey Highlights
This is the ultimate collection of hockey highlights from Canadian icon Don Cherry. Don Cherry has been making hockey highlights since 1989! If you'd like to give highlights of Gretzky, Lemieux, and Jagr all the way up to Ovechkin and Crosby (and still Jagr) pick up the Rock'em Sock'em box set. It contains 25 years worth of hockey highlights narrated by Don Cherry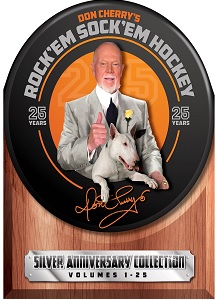 25 Years of Hockey Highlights
Every year Don Cherry put together a collection of his favourite hockey highlights from the past NHL season. This set contains every edition from 1989 - 2013 (for later editions you will need to buy them individually)
Hockey Clothes
Hockey players even have their own clothing lines. Some of the popular brands are Gong show and Bardown, but for a more classic look try Pacific Rink. These guys are based in California and make some really sharp clothes for the distinguished hockey player.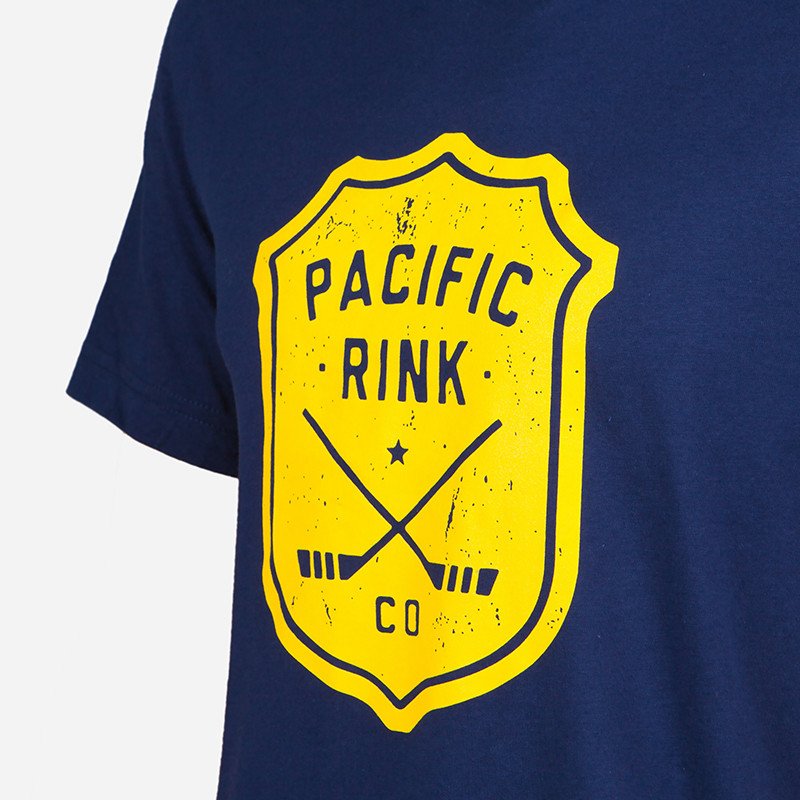 Hockey Apparel
Pacific Rink doesnt just make premium tee's, hats, and hoodies, they also make the best hockey bags out there. Click the button to browse their full line up
Tape, Wax, Pucks and Laces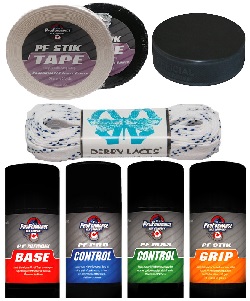 There are some things that every single hockey player needs. They aren't expensive, and it's an easy item to pick up.
A few items include
Hockey Tape (cloth, and clear)
Hockey pucks
Skate laces (great to have as backup in case laces break just before a game)
Check out some ideas for stocking stuffers as well
For top quality wax and tape check out ProFormance Hockey wax
A Grip for their Stick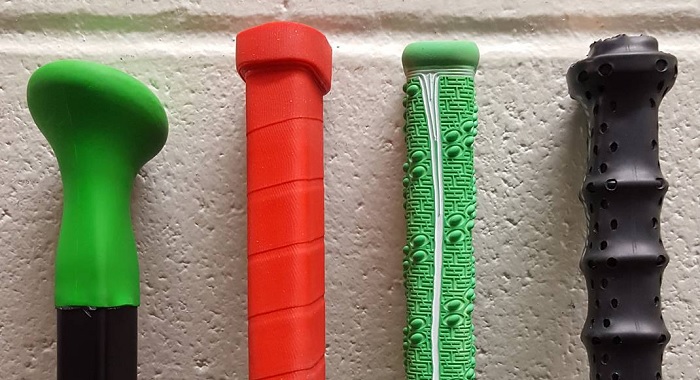 There has been a trend this year in hockey stick grips. Since hockey players have started using hockey tape, we have not tried any alternative for our grips. Now there are a number of options available.
[wpsm_list type="arrow"]
[/wpsm_list]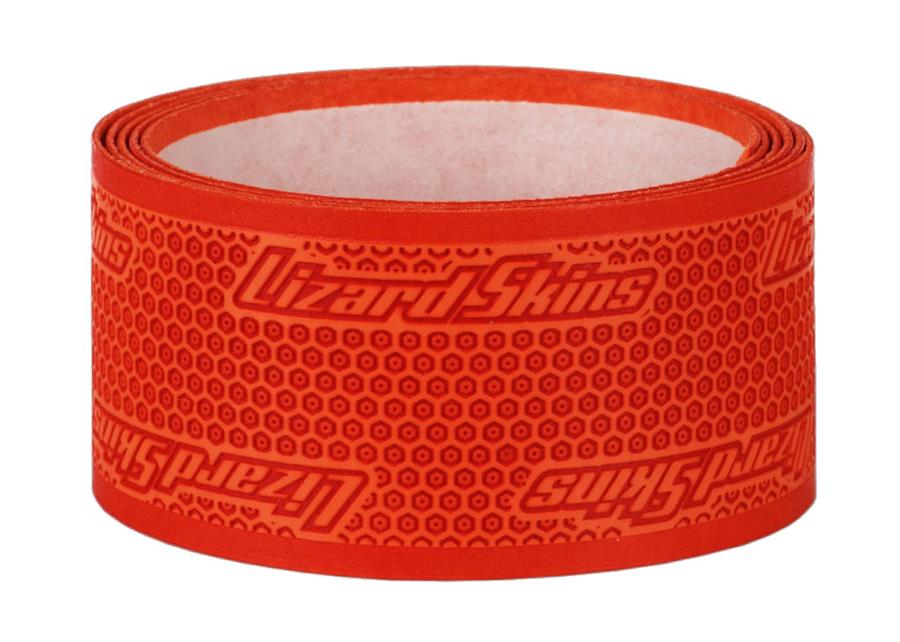 Lizard Skin Grip
These grips have a great feel to them and allow a player to customize their grip more than any other grips on the market. You can use the grip as it comes, or customize by taping first and then putting the Lizard Skin over top.
The Comet Hockey Puck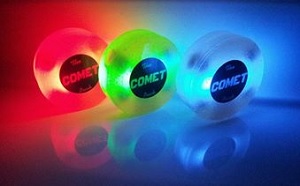 The Comet Puck
This is a great puck for pond hockey or backyard rinks. With a Comet puck you can keep the game going long after the sun goes down. I've tested these out and they work great. The red colour is the brightest
More Gift Ideas
Every year I make a video sharing the best gifts, here's my latest one for 2018

More Skill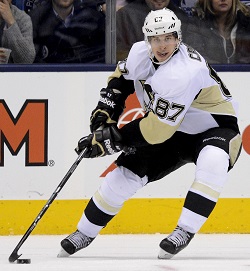 Every player dreams of having skill like Crosby, a slapshot like Chara, or silky hands like Pavel Datsyuk. In order to improve, players need to be taught, motivated, and inspired. I've created two training courses for hockey players to help them improve. Yes this is a shameless plug for my training courses, HOWEVER I have received countless emails and messages from players who have used these courses to improve, so of course I would like you to purchase them for your hockey player and help them improve. Both courses are delivered digitally, simply create an account after purchasing to access the training videos and e-books.
The complete guide to stickhandling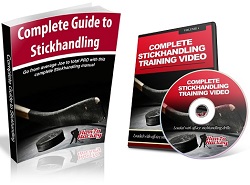 This guide is everything a hockey player needs to know to go from a beginner to a confident player with the puck. This comprehensive guide covers technique, common mistakes, and how to have complete control of the puck in any situation. I also include multiple drills as well as a half hour off-ice training video, and a half hour on-ice video where I answer the most common stickhandling questions and show a number of drills.
Create an account to access the e-book and training videos here
The Goalie Buster video training series (buy both together to save)
This is for every player who wants to have sweet shootout moves, and score every time on the breakaway. In this video series I teach every single move out there (I watched NHL shootout moves for about 6 hours straight to make sure I covered them all). NHL examples of each move are shown, I then break down how to do each move on the ice, and show me trying the moves on different goalies. Every move is categorized so the player knows when to use the move. I also teach when to shoot, and how to read the goalie. I have gotten great feedback from players ranging from house league, Junior A, AAA and Men's league
Create an account to access the Goalie Buster series here (you can get a discount here if you buy the stickhandling guide and Goalie buster series together)
Hockey Books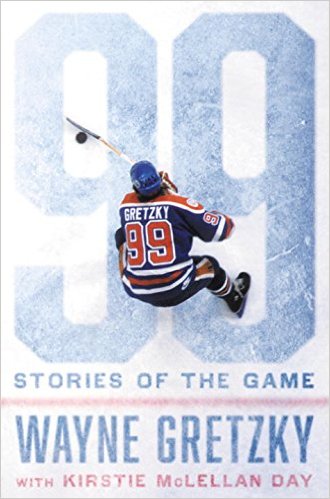 Whenever I have some downtime you can find me reading hockey books! Here are a few suggestions I have, most of the books I have read are coaching books however I do own most of these recommended books as well.