We started the Deke of the Week in the winter of 2010. At the time we had full time jobs and kept the series going until #1. I love the concept and plan to start it up again, but until then we have 9 dekes ready for you to learn. We made the deke's progressively more advanced and cover the basics in the first few.
We are always working on adding new training articles to the blog so feel free to subscribe to our blog to be notified of new articles and videos.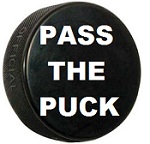 Pass the puck share on Twitter or Facebook
Looking for more hockey tips?
Sign up to our newsletter for more tips, more videos, discounts on hockey training aids, and updates on new ways to improve your game