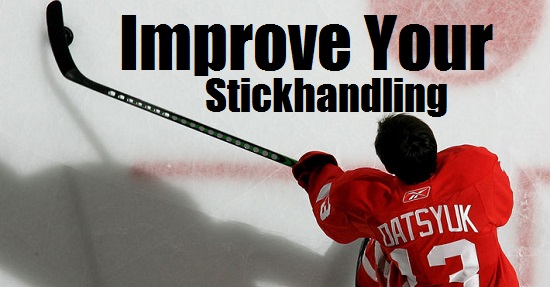 This page is meant to be a compass for players who want to learn or improve their stickhandling. My #1 tip to improve your stickhandling is to stickhandle everything! Learning good technique is important, but once you learn you have to be creative and invest a lot of time into improving. The more you practice, the better you will get!
How to Stickhandle
This is an older video I did that covers a lot of the basics of stickhandling. Watch this video to understand the fundamentals

Free Training
Detailed Stickhandling Training
Complete Guide to Stickhandling – I put together a short e-book and two 30 minute training videos (on ice and off ice) to teach as much about stickhandling as I could from start to finish. Armed with this you will have a grasp on what you need to do to improve.
Goalie Buster – I spent months putting together a library of breakaway moves that can be done on a goalie. I then broke down each move to show how you can pull it off, and when the best time to use the move is. I include NHL examples of each move, and teach with over 2 hours of on-ice video
Stickhandling Products
You don't need much to improve your stickhandling, but there are two things that I absolutely recommend. A smooth surface and something to stickhandle with. Off the ice I love a stickhandling ball and Green Biscuit (links below the video)

Shooting Pad

Stickhandling Ball

Green Biscuit

Product Page: Shooting Pad
Price: $40-$120 depending on size
Why you need it:

Smooth surface is more like ice
protects your stick blade from wear
Can be used inside or out

Product Page: Wooden Ball
Price: $3.50
Dimensions: About 2 inch diameter
Weight: Around 1.6 ounces
Why you need it: Very light ball which is nice for practicing very fast hands and moves. Wood material is soft and easy to stickhandle with.
Product Page: Green Biscuit
Price: $12.95
Dimensions: Same as puck
Weight: 4.4 ounces
Why you need it: The best off-ice puck Two piece design will prevent it from flipping and rolling like most pucks. It will work great on almost any surface
Stickhandling Drills
I'm currently doing a short series on stickhandling drills. Make sure you're subscribed to our Youtube channel so you can stay up to date. Here are the first two


Your Game Plan
Find an area where you can practice, if you can't afford products, be creative, don't let anything stop you from improving
Watch some videos to help you understand what to practice.
Your best teacher will be experience, practice about 20 minutes a day. Doing anything is better than doing nothing. At first you will learn basic control, and keeping the puck or ball on your blade. With time you can practice more complex moves.
Be sure to follow us on Facebook, Instagram, or Twitter and join our Newsletter to stay up to date on more Stickhandling training ideas. Subscribe to our Youtube Channel for new videos every week!