The Russians have released their picks for the 2010 Olympic hockey team. The Canadian team is set to be released on December 30th and will be posted on this blog when it is released. For now we can take a look at the Russian team and see what Canada will be up against. By the looks of it they have a STACKED team, although the Russians decided not to pick Alexi Kovalev and have picked quite a few players who are not playing in the NHL.
Goalies
Ilya Bryzgalov (Phoenix), Evgeni Nabokov (San Jose), Semyon Varlamov (Washington)
Defence
Sergei Gonchar (Pittsburgh Penguins), Denis Grebeshkov (Edmonton Oilers), Dmitri Kalinin (Salavat Ufa), Konstantin Korneyev (CSKA Moscow), Andrei Markov (Montreal Canadiens), Ilya Nikulin (Ak Bars Kazan), Fedor Tyutin (Columbus Blue Jackets), Anton Vonchenkov (Ottawa Senators)
Forwards
Maxim Afinogenov (Atlanta Thrashers), Pavel Datsyuk (Detroit Red Wings), Sergei Fedorov (Metallurg Magnitogorsk), Ilya Kovalchuk (Atlanta Thrashers), Viktor Kozlov (Salavat Ufa), Evgeni Malkin (Pittsburgh Penguins), Alexei Morozov (Ak Bars Kazan), Alexander Ovechkin (Washington Capitals), Alexander Radulov (Salavat Ufa), Alexander Semin (Washington Capitals), Danis Zaripov (Ak Bars Kazan), Sergei Zinoviev (Salavat Ufa)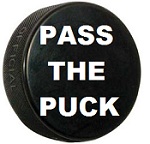 Pass the puck share on Twitter or Facebook
Tweet
Follow @howtohockey
Looking for more hockey tips?
Sign up to our newsletter for more tips, more videos, discounts on hockey training aids, and updates on new ways to improve your game
The following two tabs change content below.
Hi my name is Jeremy. I LOVE hockey and I am passionate about improving and helping others improve. My goal is to break every hockey skill down into easy to understand articles and videos. I explain everything step-by-step to help others improve. If you want to learn more about me you can read my
about page
. Thanks for reading and sharing!
Latest posts by Jeremy Rupke (see all)