If you browse the how to hockey website enough you will find that the fundamentals of every shot have been covered in detail, most of you who have been following how to hockey for a while should have a good grasp on each shot, so now it is time to take your shot to the next level.
In the video below I share three off ice training methods that you can use to improve your shot on the ice. These training tips will help you with game-like shooting situations. I mostly focus on the quick release and accuracy as these are very important in the game
Advanced Off-ice Shooting Tips
In this video
Shooting in stride 

This is important to practice if you want a quick release without giving any clues. Sometimes you will see an opening and you need to take advantage of it right away. If you are too slow to get your shot off the chance may quickly be taken away.

Changing the point of release

This is very important if you are shooting on a goalie that has taken away your shooting options, or you are being covered by a defencemen. Learning to pull the puck in towards your body and shoot it quickly will help you find more scoring opportunities and get more shots on net.

Toe shots

These are great to practice if you want a deceptive shot. As a hockey player you need to learn how to be accurate with a variety of shots. Sometimes the puck will be at the toe of your stick and you will need to shoot it. The toe shot lets you change the angle, hide your release, disguise where you are shooting, and use the stick to generate a bit more power.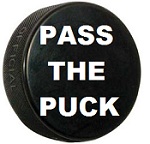 Pass the puck share on Twitter or Facebook
Tweet
Follow @howtohockey
Looking for more hockey tips?
Sign up to our newsletter for more tips, more videos, discounts on hockey training aids, and updates on new ways to improve your game
The following two tabs change content below.
Hi my name is Jeremy. I LOVE hockey and I am passionate about improving and helping others improve. My goal is to break every hockey skill down into easy to understand articles and videos. I explain everything step-by-step to help others improve. If you want to learn more about me you can read my
about page
. Thanks for reading and sharing!
Latest posts by Jeremy Rupke (see all)