Hockey tips every defensemen should know
Being a great defensemen isn't about the hits or the shots its about being the entire package, .  When I was on the ice I knew what was going on in both my own players heads and my opponents. I had the tools and I used them all with great successes in these articles I will try to show you a few easy, and a few difficult skills that can greatly increase your skill and love of the game.
 Defense has always been a role for the grinders and fighters, guys who want the big hits and the big shots. But their are always and always will be 2 or 3 defensemen on every team who play for the true meaning to stop anything and everything from getting remotely close to their end and to be able to set up and assist their forwards, to be the entire package. To many times have a seen the defensemen pinch for the big hit to make everyone cheer only to see a two and sometimes three on one result immediately afterwards. Big hits are a part of the game and give both the fans and players something to talk about but always remember youR main job as a defense. Stop the players, stop the pucks. 
Hockey Defense Tips and tricks 
DEFENSIVE TIPS
Keep your Head on a swivel
I have always been taught and trained to keep my head on a swivel. This means that when there is a  play going on the offensive end behind the net I am not transfixed I am watching where my players are, and what the defensive team is doing.
 Using Your feet in Hockey
To many players only use the stick as their tools. I consider myself to have three sticks on the ice at all times. You can hold a puck between your feet easier then any stick and they are great tools to stop even the most complex deke. This is one skill you should always master.
 Keep your stick on the ice
Don cherry (and Red Green!)  said it so it's got to be true. In all honesty your stick does no good when it's not on the ice. It's like taking the sword away from the night or the guns away from the soldier.
 Know Your goalie
A goalie is a defensemen's best friend and to be the best at your job you need to know their weaknesses and strengths. If your goalie has an amazing glove but and atrocious blocker your going to want to try to keep shots to the glove side and if all possible block any chances for a blocker side shot. A defensemen must also be talking to their goalies at all time. If they can't see they'll tell you, if the see a play being set up make sure they yell at you it will allow you to be one step ahead. Also  ask a goalie about the breakouts they are always watching the game and half the time they aren't in the action and can pick up on certain plays the other team might be trying which will give you a chance to intercept and stop them.
 Your defensive partner
Just like the goalie you must know your partner and their style. I remember playing with one defensemen that, for the life of him could not keep a puck in the offensive end. I would always be 5 to six feet off the blue line whenever he got the puck in preparation for a 2 or 3 on 1 and it helped my team more times then I could count. I also remember having a partner that I could rely on completely, he would always make the plays and if I ever got caught he would back me up. This knowledge of the partner's should always affect how you approach the puck in any situation.
 Keep your eyes on the body
 Never allow a forward to mesmerize you with a puck, focus on an x right between their shoulders. If you look at players eyes or at the puck your will be beaten.  Remember to use your peripherals, their great tools to get a quick poke check when the forwards doesn't expect it
 Defensive Tricks
 The glass – here is a   neat tip when im retrieving a puck from a dump in or on the power play I always look into the glass to see who's behind me 90 percent of the arenas I have been in have a great reflection and you can see your forwards setting up and even their forwards trying to rush you. Doing this allows you to have a advantage and will create a lot of great passing opportunities.
 Always Play smart
Here is a well known fact most forwards don't enjoy scoring garbage goals they want the pretty passes and magic plays so that they can talk about them with their friends. Use this to your advantage. A key tool for a defenseman is to be able to give that perfect passing lane to the forwards only to shut it down the minute they try to use it.
I hope you enjoyed this article about defense in hockey. Defensive hockey is very important to learn at any stage in a hockey players life. Practicing alone is not enough to improve your game, you must study the game and learn the proper techniques before you can utilize them on the ice.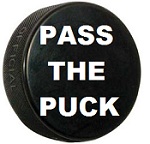 Pass the puck share on Twitter or Facebook
Tweet
Follow @howtohockey
Looking for more hockey tips?
Sign up to our newsletter for more tips, more videos, discounts on hockey training aids, and updates on new ways to improve your game
Hi my name is Jeremy. I LOVE hockey and I am passionate about improving and helping others improve. My goal is to break every hockey skill down into easy to understand articles and videos. I explain everything step-by-step to help others improve. If you want to learn more about me you can read my
about page
. Thanks for reading and sharing!
Latest posts by Jeremy Rupke (see all)