Hey guys, I get a lot of emails asking me about hockey training, workouts, nutrition and so on. I usually recommend the book complete conditioning for hockey. Although this book is older I find it has a lot of good information in it, but recently I found a really good hockey training program that I just had to share with the readers of this blog. A lot of subscribers to how to hockey have already signed up! Here is a sneak peak inside the online hockey training program
More Information
If you would like to sign up or get more information visit the about page to learn more
What you Get
Workouts designed by Chad Moreau, former strength and conditioning consultant for the Edmonton Oilers and MANY NHL players

Hockey specific workouts that will improve your fitness and hockey skills
Set goals for which skill you want to improve (speed, acceleration, shot power, etc) and get a custom workout program and hockey workout schedule specifically made for you
Registration is easy and if you don't like the program or are too busy you can quit any time
Check out the about page for more information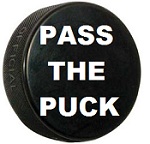 Pass the puck share on Twitter or Facebook
Tweet
Follow @howtohockey
Looking for more hockey tips?
Sign up to our newsletter for more tips, more videos, discounts on hockey training aids, and updates on new ways to improve your game
The following two tabs change content below.
Hi my name is Jeremy. I LOVE hockey and I am passionate about improving and helping others improve. My goal is to break every hockey skill down into easy to understand articles and videos. I explain everything step-by-step to help others improve. If you want to learn more about me you can read my
about page
. Thanks for reading and sharing!
Latest posts by Jeremy Rupke (see all)