If you know anyone who is learning how to stop on ice skates these videos are a must watch! We have done two videos on how to stop in hockey so far. The first video just show's the basics, and in the second I do a step by step guide on how to stop on skates. These videos compliment our how to hockey stop article, which has all the information you need to learn how to stop!
How to Stop on Skates Video – For Beginners
This video shows the basics of how stopping on skates actually works. The main problem most people have with stopping in hockey is getting over the mental barriers. The tips in these videos help people slowly overcome the mental barrier. After you do it once, you will learn how to stop on skates in no time!
How to Hockey Stop Video
If you like our videos you can subscribe to our youtube hockey tips channel
Are you having trouble with something in hockey? Let us know what you want to learn in the comments or on our youtube channel and we will do our best to make a video for you.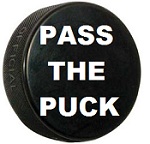 Pass the puck share on Twitter or Facebook
Tweet
Follow @howtohockey
Looking for more hockey tips?
Sign up to our newsletter for more tips, more videos, discounts on hockey training aids, and updates on new ways to improve your game
The following two tabs change content below.
Hi my name is Jeremy. I LOVE hockey and I am passionate about improving and helping others improve. My goal is to break every hockey skill down into easy to understand articles and videos. I explain everything step-by-step to help others improve. If you want to learn more about me you can read my
about page
. Thanks for reading and sharing!
Latest posts by Jeremy Rupke (see all)