If you started playing hockey at a young age you probably had a dream to roof the puck. Young hockey players have trouble getting the puck off the ice, but once they learn how to shoot high it's almost the only place they shoot. At a young age it is not a bad idea to shoot high, the goalies are short and give you a lot of room to shoot up high, however as the goalies get older they get much bigger and soon you don't have the same advantage. At a young age shooting high is a good idea, but when you get older you need to know the best places to shoot. In the video below I discuss some of the best places to shoot to score more goals.
Shoot to Score
Some of the best places to shoot
Shoot for the goalies ears (if they go down easily and play in their crease)
Shoot just over the pad, either blocker side or glove side
Go 5-hole when you are in close
Why you shouldn't always shoot high
If you shoot a bit too high the puck will end up behind the net, no chance for a rebound
If the goalie stops you he will usually catch the puck in his glove – no rebound
If you don't know about the shooters illusion you may think there is a lot of room up high, when in fact it is covered
Shooting high through traffic usually results in a blocked shot
A lot of goalies anticipate high shots because they know players like to roof the puck
Thanks for reading, you can subscribe to our blog for more great tips, or share this article with your team mates using the buttons below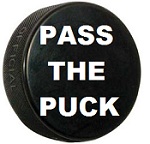 Pass the puck share on Twitter or Facebook
Service Unavailable
The server is temporarily unable to service your request due to maintenance downtime or capacity problems. Please try again later.