Wrist Shot for Beginners
This video teaches you how to take a wrist shot in under a minute. I show you every single motion that is involved in the wrist shot. When browsing on YouTube I was sick of long winded, boring videos that fail to mention important aspects of the wrist shot. I went out and shot a wrist shot video that tells you everything you need to know in under a minute.
This video explains
Position of hands on hockey stick
Puck position in stance
Puck position on blade of stick
Motion of the wrist shot
When to roll / flick your wrists
Follow through
Weight transfer
That's a lot for one minute eh! Watch the video
How to take a wrist shot video
Wrist Shot Power and Quick Release
In this next video I show you a few more things you can do to get a bit more power from your wrist shot. I cover a lot of the things I covered in the last video, but this time I am on the ice, and I am shooting off of my other foot. Notice in the first video I am transferring my weight onto my left leg, but in this video I transfer my weight onto my right leg. The video above shows you how to take a powerful wrist shot, and the video below is the perfect technique for a wrist shot with a very quick release (great if you are skating in on the goalie and need to get a quick shot off)
Be sure to subscribe to my videos and this blog as I will cover some of these in more detail in future videos
How to get a quick wrist shot video
Wrist Shot Accuracy
In this video I show you 5 ways you can improve your wrist shot accuracy. I cover every point there is that will help you get better aim from your wrist shot.
In this video I show you how to:
Look at where you are shooting
Point with your feet
Track the trajectory of the blade of your stick
Follow through high to shoot high, low to shoot low
Point the blade of your stick at where you want the puck to go
For a detailed video see our full article How to improve wrist shot accuracy
Some of these points are fairly common knowledge for the seasoned hockey player, but others are a bit less known. Whether you are just learning, or you simply need a refresher course in wrist shot accuracy this video will help you score more goals!
Wrist Shot Accuracy Video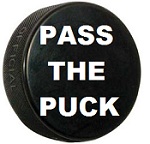 Pass the puck share on Twitter or Facebook
Tweet
Follow @howtohockey
Looking for more hockey tips?
Sign up to our newsletter for more tips, more videos, discounts on hockey training aids, and updates on new ways to improve your game
The following two tabs change content below.
Hi my name is Jeremy. I LOVE hockey and I am passionate about improving and helping others improve. My goal is to break every hockey skill down into easy to understand articles and videos. I explain everything step-by-step to help others improve. If you want to learn more about me you can read my
about page
. Thanks for reading and sharing!
Latest posts by Jeremy Rupke (see all)