If you ever wanted a solid go-to move to break out of your own end, well…here it is. I use this move on a regular basis and it is pretty much fool proof. There is nothing super fancy about this move, but it is very effective and can result in a breakaway in some circumstances.
Bank Shot Video
In This Video
The best time to use this move is if you catch the opposing player standing still, or skating slow near the boards. If you need to get by them you COULD try a risky move, or go with an almost sure thing and just bank the puck off the boards. If you want to be extra sneaky you can fake like you are going to try to squeeze by them along the boards, then just bank the puck off the board and quickly dart the other way and get the puck behind the player.
Key Points
Best to use if the other player is standing still, or skating slowly
If you bank the puck low on the boards it will come out closer to the back of the player
If you bank the puck high on the boards the angle will be different and the puck will land farther away from you, this is a good way to create more distance, or clear the puck
A tricky move is to fake like you are going to beat the other player along the boards, if he moves to block you or hit you, bank the puck then beat him on the other side
A fun move to try it to skate to the center, drop the puck and stick between your legs and then bank it off the boards, the other player will not expect this and it could throw them off (try it during practice)
Subscribe to our blog by email to get notified of new moves!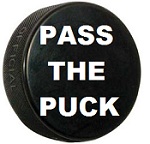 Pass the puck share on Twitter or Facebook
Tweet
Follow @howtohockey
Looking for more hockey tips?
Sign up to our newsletter for more tips, more videos, discounts on hockey training aids, and updates on new ways to improve your game
The following two tabs change content below.
Hi my name is Jeremy. I LOVE hockey and I am passionate about improving and helping others improve. My goal is to break every hockey skill down into easy to understand articles and videos. I explain everything step-by-step to help others improve. If you want to learn more about me you can read my
about page
. Thanks for reading and sharing!
Latest posts by Jeremy Rupke (see all)