Here is the deke of the week #2, last week we talked about skating for open ice and this week we are building on that and teaching you to protect the puck. I know this isn't really a deke, but it is very important to know the fundamentals of hockey and really the point of playing is to set-up plays, score goals and win games, not be a show-boat that tries crazy dekes and loses the puck. I will be teaching some very effective (and some crazy) dekes later on, but first I want to teach the most effective ways to beat the other players on the ice.
Protecting the Puck In Hockey
This is a basic video on protecting the puck while hustling! There are other methods for protecting the puck that I will likely write an entire article about, but for now here are some tips for beating the D!

Don't forget to to subscribe to our blog to get notified of the newest videos and the next Deke of the Week
In This Video
Here is a quick summary of what you will learn in the video, along with some additional tips.
The easiest way to beat most players is to use your speed / skate around them
When you are evading a player on the ice, move the puck to the opposite side of where the player is, this moves the puck into a safe area where the defender can not take the puck from you
When protecting the puck you can use your leg, body, arm and shoulder to block the player from getting the puck (see video for a technique I like to use)
This technique works best when you have speed, when a player is skating backwards, or if a player is coming at you quickly ( instead of deking you just sidestep them while protecting the puck)
While skating past a player do not simply keep the puck in front of you, this makes it easy for the player to knock it off your stick
A technique I like to use is the "bait and switch" sometimes if I am approaching a player I will move the puck closer to them (if they are to my right I stickhandle with the puck to my right, if they are behind me I leave the puck a bit behind me) then when they are almost close enough to get it I quickly move it to the other side of my body. This allows me to put about 5 to 10 feet of separation between the puck and the defender.
That's it for this week, remember to practice a lot and try to remember these techniques while playing. Being a smart player can GREATLY improve your game, all you have to do is think more while you are on the ice and remember what works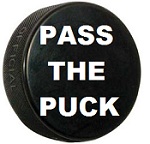 Pass the puck share on Twitter or Facebook
Tweet
Follow @howtohockey
Looking for more hockey tips?
Sign up to our newsletter for more tips, more videos, discounts on hockey training aids, and updates on new ways to improve your game
The following two tabs change content below.
Hi my name is Jeremy. I LOVE hockey and I am passionate about improving and helping others improve. My goal is to break every hockey skill down into easy to understand articles and videos. I explain everything step-by-step to help others improve. If you want to learn more about me you can read my
about page
. Thanks for reading and sharing!
Latest posts by Jeremy Rupke (see all)