I am pleased to announce a new service for a limited time. For the next month or so I will be offering a shooting analysis service for anyone who would like some 1 on 1 advice with their shot. Personally I think this will help a lot of players so I am very excited to help you guys out.
Update
I have got some great feedback so far from those who have taken advantage of the shooting analysis, here are a few comments I have gotten after sending the video
Hey Jeremy,
I tried your slap shot tips. Immediately saw my slapshot get 5x better. Thanks!.
Jeremy:
I thought your video analysis was excellent. I'm pretty impressed. People in my office were wondering if you do ones for golf and soccer.
wow, I am super impressed with your expert analysis! (you should be charging more)
I'm headed to the rink right now to work on all the tweaks you've highlighted…
Jeremy,
Can't thank you enough. Your analysis was spot on. I am going to recommend my entire team send in their videos to you.
Thanks Jeremy, we got the videos everything was awesome… the kids are still outside practicing! Thanks again the kids (and I) are big fans.
Nice that's awesome.
The extra snap at the end makes a huge difference, I instantly improved my backhand when I started using it.
How it works
Take a video of yourself shooting (see my video example below so you know what angle to use)

Upload the video to Youtube (you can make it unlisted if you don't want anyone else to see it)
Pay for the shooting analysis service with the button below
Email me a link to your video to video@howtohockey.com
I will download your video, review it and analyze your shot
I will upload my analysis privately and email you the private link as well as any further advice or recommendations
Some Guidelines for your video
Make sure the video shows your body (as shown in picture below)

Please only use one type of shot per submission

Let me know what you would like to improve
Feel free to include extra information (position, things you want to improve, etc) either in your video or in your email
Let Get Started!
To get started shoot a video of your shot (on or off ice), upload it, pay with the button above, then send me the link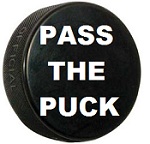 Pass the puck share on Twitter or Facebook
Tweet
Follow @howtohockey
Looking for more hockey tips?
Sign up to our newsletter for more tips, more videos, discounts on hockey training aids, and updates on new ways to improve your game
The following two tabs change content below.
Hi my name is Jeremy. I LOVE hockey and I am passionate about improving and helping others improve. My goal is to break every hockey skill down into easy to understand articles and videos. I explain everything step-by-step to help others improve. If you want to learn more about me you can read my
about page
. Thanks for reading and sharing!
Latest posts by Jeremy Rupke (see all)