The first thing any hockey player wants to learn (when it comes to shooting) is how to lift the puck. The problem is many players try all kinds of different methods and try anything and everything to raise the puck. In this article I am going to teach you the proper technique for lifting the puck that can also be used in the wrist shot, snapshot and other shots.
The great thing about this technique is that it is also used to help control the accuracy of your shot, and accuracy is one of the most  important aspects of every shot.
How to Lift the Puck in 2 easy steps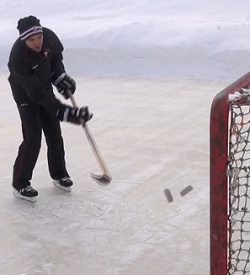 Tips for lifting the puck
Start with the blade cupping the puck to keep the puck from coming off your stick
Roll your wrists to open the blade, this will allow the puck to lift off the ice
Push down with your top hand, and pull up with your bottom hand to add some power
If you are further from the net you will need to roll your wrists in the follow through, this will allow you to lift the puck, but also control its height
Want more tips to improve your shot? We have lots of articles and videos for shooting in our shooting tips section
If you liked this tip please share I have some buttons below to make it easy!