I thought we would take a break from the Deke of Week for the summer and stick to off-ice training, I will be including stickhandling drills and other off-ice tips so you can improve over the summer. One skill that I have gotten a lot of requests for is the saucer pass. If you can send some nice sauce across the ice it looks great, and feels even better! In this article and video I will show you how to pull off a perfect saucer pass
When to use a Saucer Pass
If you have a defencemen trying to get his stick in between your perfect pass you need to lay on the sauce! A saucer pass is perfect to use if you have to get the puck across the ice and over a few obstacles.
How To Saucer Pass
There are a few different ways that you can pull off a nice saucer pass. The easiest way to do this is to simply open the face of the blade of your stick (like a wedge) put some pressure on the puck at the heel of your stick, and then sweep it across the blade and send it when the puck gets to the toe. There is a certain grace and softness you need to possess to pull the pass off, so you will have to practice a lot.
Saucer Pass Video – Forehand, Backhand, Flip Pass, Dangle & Sauce!
Patrick Kane on the Saucer Pass
I found this on youtube and  thought it would be cool to include some pro instructions, big thanks to Bauer for tossing this up!

Tips for Laying the Sauce
For a high saucer pass start with the blade like a wedge, and pull up a lot as you make the pass
For a long saucer pass you can take more of a wrist shot motion
Practice getting the puck landing flat on the ice, you don't want any wobble!
Make sure you get the puck to land a few feet before the players blade, you want the puck to settle down before the other player receives it
Practice stickhandling a bit and then making the saucer pass, this will enable you to make a saucer pass in any situation
How to Flip Pass
The flip pass is a cheeky play but when you can pull it off it looks great and your team mates will love you. Usually a bank pass or saucer pass will do, but when there is no other option the flip pass is the perfect way to air mail somebody a perfect breakaway! Let's take a look at Kopitar with a couple beauty flip passes
Kopitar with a BEAUTY Flip Pass
Anze Kopitar show's you how it is done with a really nice flip pass to Dustin Brown

Here is Kopitar with ANOTHER beautiful and perfectly executed flip pass

Tips for the Perfect Flip Pass
You might think you need to put a lot of power in the flip pass but this is not true, in fact if you push too hard the puck will slide right off your blade. The trick is to do a nice smooth motion
One method is to use the toe of the blade, pull the puck back a bit, then roll your hands over, open the blade and scoop it right under the puck. Once you feel the puck on the blade give it a nice flick motion while lifting both hands up.
Another method is to start with the blade open and a few inches off the ice, you want to have the toe pointed slightly towards the ice. Think of this motion like scooping ice cream, you want to roll your wrists while moving the blade down, get under the puck, then lift it up. This is the motion Kopitar uses in the last video
Check the video tutorial at the top and near the end I give you some tips on the flip pass.
Remember that you want to land this pass in front of the player so they can pick it up and go, this requires some practice so try it out when you get some ice time.
If you want to dangle the bender and snipe the tender you can subscribe to our blog for more hockey tips!
Products Used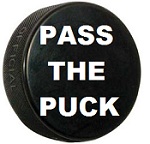 Pass the puck share on Twitter or Facebook
Tweet
Follow @howtohockey
Looking for more hockey tips?
Sign up to our newsletter for more tips, more videos, discounts on hockey training aids, and updates on new ways to improve your game
The following two tabs change content below.
Hi my name is Jeremy. I LOVE hockey and I am passionate about improving and helping others improve. My goal is to break every hockey skill down into easy to understand articles and videos. I explain everything step-by-step to help others improve. If you want to learn more about me you can read my
about page
. Thanks for reading and sharing!
Latest posts by Jeremy Rupke (see all)