I have been working with HockeyShot.com lately to produce a series of hockey training videos. The videos come in two parts, how to perform a certain skill, and another video on how to improve that skill at home. The on-ice videos are on my Youtube channel and the off-ice videos are on the Hockey Shot channel. In this post I have embedded all of the off-ice videos to help you learn to improve your shooting at home.
In each video I give a few simple tips that should help you improve your shot. If you need a step-by-step breakdown of the shots you can watch the on-ice video.
Improve your Wristshot at Home

In this video I explain a few common mistakes that I see people make when they are shooting at home. I show you how you can correct these mistakes and improve the power of your wrist shot.
Covered in the video
Using every muscle to get power
Weight transfer
Getting your top hand out of it's holster
Using the whip effect for more power
Use the quick release
Tips to Improve your Snapshot at Home

Covered in this video
Training at home how you would shoot on the ice
Use a lot of pucks!
Basic technique of the snapshot
Weight transfer for the snapshot
Getting the hands in front of you
Using the snap to get power
Tips to improve the Backhand at home

Covered in this video
The mechanics of the backhand
A trick to getting the puck up
How to add power to the shot
Weight transfer
On-Ice Videos
If you guys want to see the on-ice versions of these videos check out my articles on how to take a wrist shot, how to take a backhand, and how to take a snapshot. In the videos I give you step-by-step instructions to help you learn the shots.
Training Aids I use
In these videos I am using a roll-up shooting pad, and the EZ-goal net. I always recommend a shooting pad and a good net to anyone who wants to work on their skills at home.
Remember my #1 tip for any shot is take 100 shots a day – the only way you can improve your technique is through practice.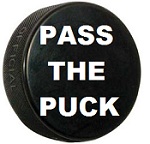 Pass the puck share on Twitter or Facebook
Tweet
Follow @howtohockey
Looking for more hockey tips?
Sign up to our newsletter for more tips, more videos, discounts on hockey training aids, and updates on new ways to improve your game
The following two tabs change content below.
Hi my name is Jeremy. I LOVE hockey and I am passionate about improving and helping others improve. My goal is to break every hockey skill down into easy to understand articles and videos. I explain everything step-by-step to help others improve. If you want to learn more about me you can read my
about page
. Thanks for reading and sharing!
Latest posts by Jeremy Rupke (see all)