Jim from NiceRink.com contacted me recently and asked if I would like to host a contest on my site for the readers of How To Hockey, with the prize being a full backyard rink kit valued at $2800! Well, I think you know what my answer was. I am very happy to announce that one of the readers of this site could be skating on a 32 x 60 backyard hockey arena this winter for free.
What does the rink include?
Everything you need (except the water) for a 32 x 60 outdoor hockey rink
A 40 width foot liner (premium quality, and ultra white)
42 Nicerink brackets (to keep your boards standing up with all that water in the rink)
A 32 inch NiceIce Resurfacer (to get that ice nice and smooth)
42 NiceRink 18″ x 4′ plastic boards (much nicer looking than plywood)
21 BumperCaps (to hold the liner and provide fall protection)
21 KickPlates (to protect the liner and boards)
1 NiceRink Patch tape (to fix up any holes in the liner)
1 underwater NiceRink repair adhesive (for emergency repairs)
5 NiceRink hockey pucks (because you can never have too many pucks)
1 LightUp puck
A very handy and helpful installation DVD
Learn about the entire Backyard Rink Kit in the Video
Enter into the contest
The more times you enter the better chance you have of winning!
a Rafflecopter giveaway

Are you thinking of Building a Backyard Rink?
Last year I published a very popular article on how to build a backyard rink, we also have an article with the top 10 questions when building a rink. If you are not very handy with building and you want a professional looking backyard rink that you can use every winter (with exception to replacing the liner every few years) then a NiceRink package will be perfect for you. If you are a "handy" type person, then NiceRink offers any component individually to help make your rink project easier. A NiceRink gold package includes everything you need to set up the perfect rink, all you need to do is set it up, and then fill it with water. The flatter your yard is the less water you will need.
How NiceRink can help you build a perfect Rink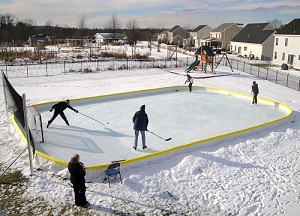 NiceRink can help you create endless Frozen Memories for your family. You want a nice looking backyard rink that is easy to assemble. NiceRink helps take a lot of the work out of assembling a rink by providing you with the four key components; NiceRink FULLY INTEGRATED side support Brackets, Thermoformed Boards, NiceRink Liners and the NiceIce Resurfacer. Whether you start small with a 20′ x 40′ kit and expand as you go, or jump in with both skates on a 44′ x 88′ Gold Package, NiceRink offers the most unique "personalized" self-leveling rink system, that actually works virtually anywhere. The NiceRink choices are infinite, the possibilities are limitless, and our product reputation is second to none. Start your own story today, let NiceRink help you create Frozen Memories of your own this winter.
Visit/Contact Us at:
www.nicerink.com
www.facebook.com/nicerink
www.pinterest.com/nicerink