Every year I publish an article showcasing the best gifts for hockey players. This year has some really cool new additions and many of the classics. If you want to purchase anything on the list just follow the links provided also don't forget to check out the prizes in our Christmas contest at the bottom of his blog post!
New Hockey Equipment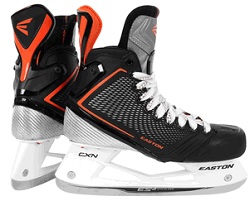 New hockey equipment is always at the top of every hockey players list, whether it's a new pair of skates, a new stick, or another piece of gear there is almost always something a hockey player needs. If you are shopping for yourself visit the links below for some good deals. If you have a hockey player on your list, ask them what hockey gear they want.
Where to buy
Looking for good deals on Hockey equipment? – Visit the clearance section on Hockey Monkey
Popular items include hockey sticks and skates, but ask the hockey player on your list, players can be particular about the brands they like. If you are feeling very generous consider the Easton Mako Skates
Don Cherry's Rock'em Sock'em 25 DVD
I'm actually REALLY excited about this one, not only does #25 look like one of the best editions in years, but there is a 25th anniversary edition that includes every single volume! 
The 25th edition has volume 1-25 all on 8 DVD's. Yes you could own volumes 1-25 all in an 8 DVD set. That's highlights from every single NHL season and playoffs from 1989 – 2013. It's like a vault of the best highlights from players like Lemiuex, Gretzky, Yzerman, Sakic, Bure, Federov all the way up to Crosby and Datsyuk. Not to mention seeing Selanne and Jagr in their prime and great saves from goalies like Roy, Belfour, Hasek, Brodeur, Cujo and more. I'm getting nostalgic just thinking about it! I already own every volume, but I still think I will buy the DVD set just for convenience and then I can finally toss that old VCR!
Where to Buy
Rock'em Sock'em 25
25th anniversary edition volumes 1-25
Trailer for Rock'em Sock'em 25

Some More Hockey Movies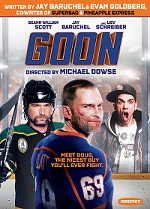 Goon – While a new movie about high school football comes out 3 times a year, good hockey movies are few and far between. Luckily the most recent hockey movie to come out was actually pretty good. Most die hard hockey players will enjoy it for it's extreme hockey violence, crude humour and quotable script. My wife actually enjoyed this movie as well
Where to buy – USA – $9.49 on Amazon.com Canada – $13.99 on Amazon.ca
Some of my other favourite hockey flicks include Mystery Alaska, Miracle (great for the American hockey fans), The Mighty Ducks, and of course Slap Shot. If you are interested in any of the movies above check them out on Amazon. I think you can also find some on Netflix.
Mini Sticks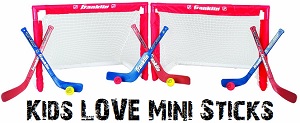 Kids LOVE mini sticks, and I mean LOOOOVE! I loved it when I was a kid and would play for hours in the hallway, and now that I coach I see the kids go crazy for a good game of mini sticks. A few mini sticks and balls would make for good stocking stuffers, but what about an entire mini stick set with nets and all! For under $30 you can get two nets, two goalie sticks, and four player sticks.
Where to buy
 Hockey Training Aids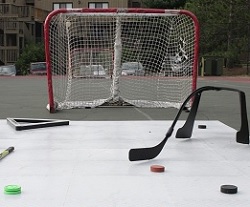 Hockey players get the itch to play, for me I need to play a few times a week, and if I don't I need something to hold me over. Luckily I've got some dryland training tiles, a decent hockey net, and the new extreme passing kit from Hockey Shot. If you have a hockey player on your list that loves to work on their shot in the driveway and practices their dangles in the garage then some hockey training aids will make them a very happy hockey player!
Some of the best selling training aids (and recommended by me)
The new extreme passing kit from HockeyShot lets players work on stickhandling, passing, shooting, and advanced shots like the one-timer. See our review of the Extreme Passing Kit.
Where to buy –  $169.95 on HockeyShot use coupon code HOWHCKY001 to save $10
A good net is always nice to have. I use the EZ goal (see our EZ goal review) which has been holding up fairly well. I've dented the post and needed to do the odd repair, but it's held up better than most nets I have used.
Dryland training tiles are also very popular because you can build an entire training area! If you have the space, consider getting a few boxes of these and start building an area to practice and play hockey any time!
Where to buy – $10.95 per tile on HockeyShot.com use coupon code HOWHCKY001 to save $10
Pucks and Balls (great stocking stuffers)

You know what sucks? Having 6 hockey pucks while trying to improve your shot. You spend more time looking for the pucks then you do actually shooting them! Hockey pucks are a staple for any true hockey player, but we also enjoy some variety. Below I have included the most popular pucks and balls
6oz regulation hockey puck – 20 pucks is a good amount to have, but the more the merrier. If you can get these locally do it, you will save on shipping costs. If you need to buy online try to find free shipping. I have included some links below
Where to buy – $15 for a 12 pack on Amazon, free shipping on orders over $35
Green Biscuit (See our Green Biscuit Review) – This puck has become the #1 off-ice stickhandling puck and for good reason, it slides on almost anything! Add a few of these to your order and give them as a gift, or as a stocking stuffer. I have a few at home and one in my hockey bag
Where to buy – $12.99 on Amazon or $12.95 on HockeyShot
Stickhandling Balls – These are fun to play with almost anywhere. There are some fancy $10 balls, but I like the simple wooden stickhandling balls. If you want some variety get some wooden balls, a smart hockey ball and a weighted ball.
Where to buy – Browse the pucks and balls section on HockeyShot, or search on Amazon
Hockey Tape and Stick Wax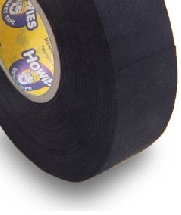 I asked on a popular hockey player forum what they wanted for Christmas and the #1 answer was hockey tape and lots of it. Personally I am a bit picky about the tape I use, some of the stuff out there is garbage, so if you are buying as a gift why not get quality tape and wax? I have included my recommendations below
Howies Hockey Tape – They don't just pump out tape for large retail stores in large quantities, they take pride in the quality of tape they produce. Black 1.5 inch cloth tape is the standard for most sticks. You will also want to add in a few rolls of clear tape for the socks.
Where to buy – on Mix Pack of Clear and Black cloth tape on Amazon.com or Howies Hockey Tape
Proformance Stick Wax – This is not just any stickwax, this is wax specifically made for hockey. It isn't just wax either, you get a base layer, and a control layer for maximum effectiveness. This is a good product for players who enjoy the process and routine of taping the stick. Personally I have never been a big fan of stick wax, but I tried Proformance wax and I was impressed. I'm not interested in added control, I just don't like snow build up and wet hockey tape. I find the proformance wax doesn't freeze like other waxes and keeps the snow off my tape.
Where to buy – available on HockeyShot or Proformance Wax
Team Apparel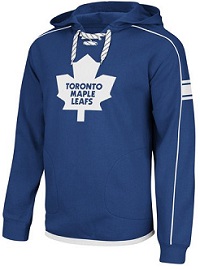 This is a no-brainer for any hockey nut out there. I will wear anything with a Team Canada or Toronto Maple Leafs logo on it. There are a lot of fans who might not buy these items themselves, but they certainly make great gifts! A great idea is to combine the need for warm clothes and sports and buy a sweater or toque with your hockey players favourite teams logo on it. I have included some helpful links below
Local shops – Local stores usually have some great sports wear, but it is sometimes expensive.
Amazon.com – I have found an easy way to search for sports clothing, just visit the clothing and apparel section and punch in the team of choice. The link above goes to the Toronto Maple Leafs page, just replace it with your team.
Hockey Monkey for NHL Jerseys – This is a great place to get sweaters from the big brands like Bauer, CCM, or Easton. They also have a good selection of hockey jerseys. I have linked to the SR jersey selection. If you are buying for a youth you will need to visit the JR jersey section.
Really Cool Hockey Clothes
There are a number of clothing companies out there that design shirts, hats, sweaters, pants and more JUST for hockey players. Some of the more popular companies are Sauce Hockey and Gongshow Gear, but one of my favourite companies lately has been Scrappers Hockey. I find their shirt designs are very original, creative, and most importantly look great. Some of my favourite shirts are the retro tee, the brain bucket, and the retro tee.
Where to buy – ScrappersHockey.com
Hockey Games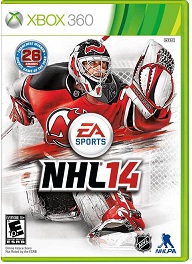 If you know a hockey player who plays video games, they will want this game. This is the latest and greatest from EA sports and every year they deliver an amazing hockey game. I have included links below for USA and Canada. Remember to select the right system while on the page, either PS3 or Xbox
Where to buy – In stores or online  $58.78 and free shipping
Stiga Table Hockey Game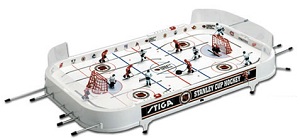 Another option is a real life table hockey game that you can enjoy with friends and family! I have always had a blast playing these types of games, and with enough friends around it usually results in an epic tournament. The model linked to below is the highest rated on Amazon with 99 reviews and 4.5 stars
Where to buy – $92.24 on Amazon
Hockey Books
There are some great hockey books out there. If you have a hockey player on your list that likes to read then consider picking up one of the books below. The hottest book this year for hockey players is Bobby Orr: My story, it is a highly anticipated book. I have included some of the books I recommend below
Bobby Orr: My Story – After 35 years of keeping quiet Bobby Orr has finally came forward and released a book. He was a star when stars did not get paid very much, and hockey was still developing. Orr was one of the greatest players to ever lace up a pair of skates and played through the glory days of hockey. The book currently has 35 reviews and almost a 5 star rating. One review says "The majority of this book is a treasure-trove of great advice to kids, and parents, on how to play the game "your own way", PRECIOUS advice from this giant in sports history! I would recommend on this basis alone"
Where to buy – USA – $11.23 hardcover or $20 for kindle on Amazon.com Canada – $16 on Amazon.ca and free shipping
Journeyman: The guy who's seen everything in Hockey – From a book about a hockey legend to a book about a hockey Journeymen. A journeyman is a player who travels from team to team, grinding it out each game trying to keep his spot on the 4th line. These are typically the guys with the most stories to tell, if you have someone on your list who wants to know what it's like to play in the NHL I think this book will give them a pretty good idea.
Where to buy – USA –  $15.20 on Amazon.com Canada – $14.44 on Amazon.ca
Hockey Tough
I recommend this book to anyone who loves hockey and cares about their performance. The tips you will learn in this book will help you mentally prepare for a game of hockey. The author works with many pro hockey players and includes quotes and advice from quite a few pros. I found the advice and information very informative and helpful. I have been trying to use it in my own game. Even though I just play Men's league hockey, I still enjoy being competitive and playing to my full potential.
Where to buy – USA – $14.65 on Amazon.com Canada – $15.85 on Amazon.ca
Books for Hockey Development – If you know a player who just wants to improve their game there are a few great books available. A good read when I was in high school was complete conditioning for hockey. If you have a newer player who is trying to learn the game, or a coach who is trying to teach the game I highly recommend hockey plays and strategies.
More popular / suggested books – Ken Dryden: The Game – great read with many positive reviews, Selling the dream – a book about minor hockey in Canada, Simply the best – a great read for any hockey coach.
How To Hockey Skill Development
I love to help hockey players improve their skills, and over the years of coaching and running this website I have developed a few online resources to help hockey players improve their skills. All of my training courses are online, so you will have to be creative if you buy them for your hockey player for Christmas, but I am sure they will enjoy the gift of skill! For a hockey player nothing brings more joy than having a really great game, scoring a game winning goal, or being a part of a nice play and having the guys talking about it in the dressing room afterwards. Below are the training courses I offer.
 A Backyard Hockey Rink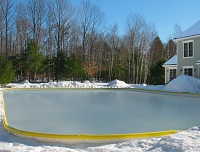 A backyard rink is probably the best thing you could give to a kid as it allows them to do what they love to do any time they want. I know I spent A LOT of time on my frozen pond and have a lot of fond memories there with friends and family. If you live in a cold enough climate you can build your own rink, or if you want to make things easier you can buy a rink kit. I have some links below to help
Where to buy