You may not be familiar with the name Graeme Murray, but I'm here to tell you his story. He has inspired me with his hard work, dedication, and love for hockey, and I'm hoping that his story can do the same for you.
Graeme has been playing Sledge Hockey since he was 13 years old, and he made Canada's Men's National Team at age 15. He's won gold medals, silver medals, bronze medals, and World Championships all around the globe. He gave us a great tour of a bunch of his customized hockey equipment, gave us some insight into his career, and told us that he used to fire the puck at 90 miles an hour.
Graeme caught a bad virus when he was three years old, which attacked his central nervous system, and paralyzed him. He lived in a house with a 5 stair staircase to the front door for 13 years, so every time he wanted to go in or out of the house, he had to get out of his chair, throw his chair into the house, and crawl his way to the top of the stairs before getting back into his chair. He had to adapt to his surroundings everywhere that he went. Not many businesses in his hometown were wheelchair accessible, but Graeme told me that even if the chair didn't go in the store, he would.
Graeme didn't let his situation stop him from living the life of a "normal" kid. He would go swimming, go tubing, even climb trees at the lake in the summer time. What sort of disadvantage did the chair bring Graeme?
"It just meant that I couldn't forget it when I was done," he laughed.
Graeme carried that mentality throughout the rest of his life. He played soccer, basketball, track and field, all with the mindset of doing what he wanted to do. That translated into Graeme's hockey career as well. The first time he got on the ice, he borrowed everything, and none of it fit. He knew that if he wanted to have fun playing Sledge Hockey, he needed to be improving himself every time. He says that he never tried to be better than anyone else, just "I would try to be better than the last time I was on the ice." It was never about comparisons.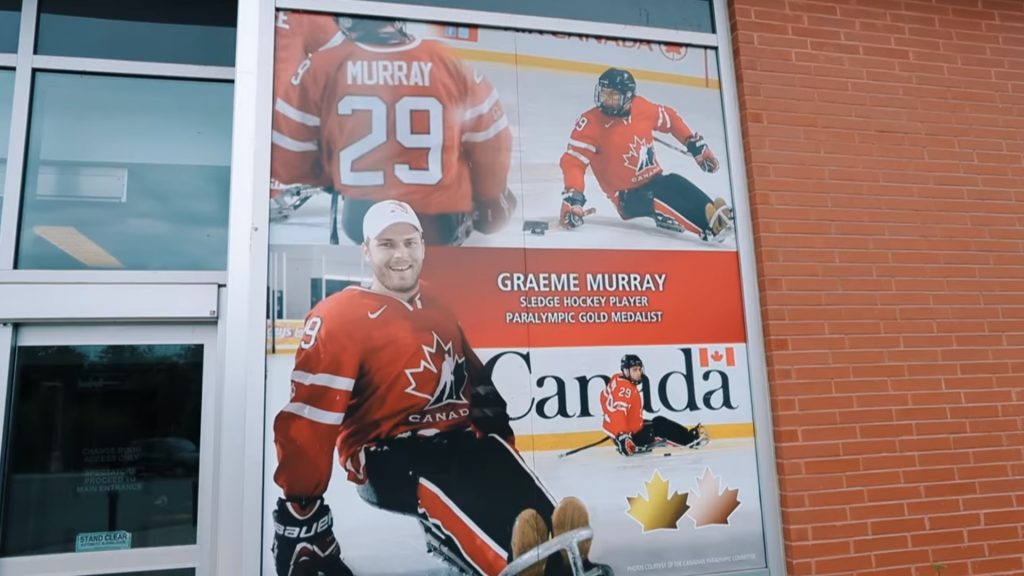 Even after scoring the gold medal winning goal, Graeme kept thinking about how he had to get better. He trained for years to win gold in Sochi, Russia, but lost in the semi-finals to the Americans. He counts the bronze that he won the next day as his favorite medal because "it represents more than a third place finish." Graeme says it represents things like the goals that he had set, the work he had put in, the support that he had at the games, and back home.
Throughout his life, whenever Graeme wanted to play a sport, he was told that he had to either buy special equipment, or build it himself (which was often the case). Now, he says, his biggest love in life is giving back to the community that raised him. He started the non-profit organization called Accomplish Today, to aid kids with disabilities live an active, healthy, sports filled lifestyle just like he did as a kid.
You can check it out at AccomplishToday.ca