Hockey drills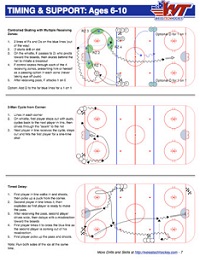 Below I have a collection of free hockey drills that will help coaches. From my experience using too many drills can waste time. I like to re-use drills over the season until my players can perform them properly. When the players know the drill it means more time practicing. The drills that are right for your hockey team depend on their age, and skill level and what you would like to teach them.
Younger players should be taught mostly individual skills and tactics with team strategy and systems introduced as they grow and develop. Don't waste time trying to teach flow drills if the players can not skate, pass, or shoot! See the Hockey skill development guidelines for more info.
If you are looking for a complete resource or just a good starting point / refresher course I recommend Coach Weiss's Playbook AND drillbook. They are for sale as a pdf download and can be purchased separately or together. The drillbook is full of effective hockey drills and the playbook is a very good resource for learning and teaching a number of different systems / positioning.
For some great free hockey drills visit the posts below.