This week's video is coming at you from the Toronto Maple Leafs practice facility, featuring the Buffalo Regals. I caught them warming up their hands before their game, and asked them if I could borrow them to help with a video concept I was working on. If you want a better feel for the puck on your stick, this video is for you. Check it out.
Practicing with golf balls is a great way to warm up, get a feel for your newly taped stick, and generally prepare for a game. One of the best ways to do this is to focus on different parts of your blade to stick handle with. You can focus on the toe, the middle, the heel, and then the forehand, and the backhand.
Something that I stole from Ron Johnson over at EliteHockeyScience (follow him on Instagram for really in depth hockey training) is taping a small category onto your stick. If you've got black tape, use some white tape to split up the different sections of your stick, that way you can focus on just one part of the blade to stick handle with. This helps you get a feel of what it's like to stick handle with that single part.
You can see that we're trying (at this point, anyways) to keep the golf ball just on the heel of the blade. The tape is there as guidance. Once you get comfortable with that, you'll want to speed up your stick handling as well. Then you move to the middle of the blade, and then the toe.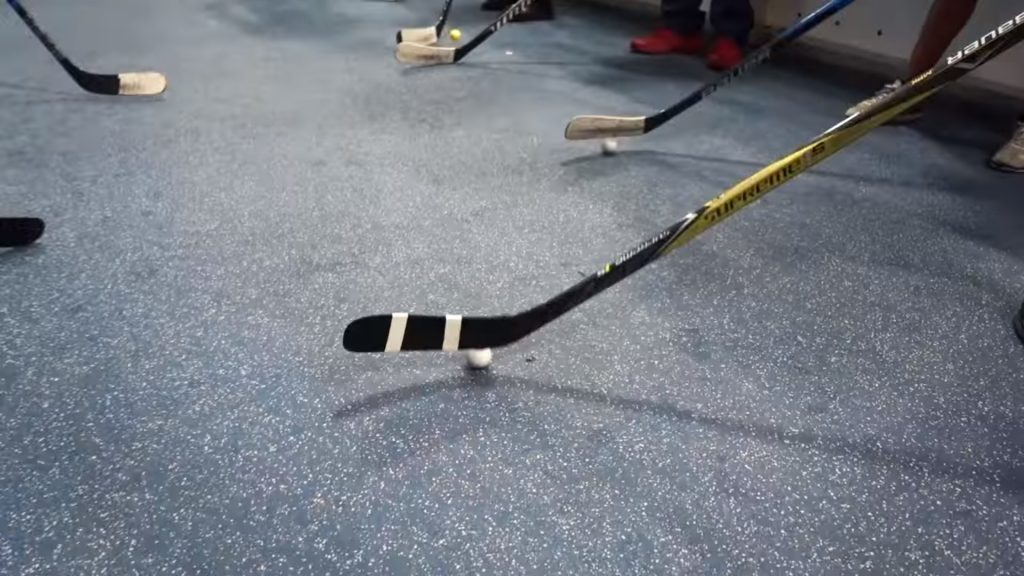 After that, you can try something called the Yo-Yo Drill, which we demonstrate in the video as well. It works with all sections of your blade, to improve your hand-eye coordination, and your feel for the puck. There's something similar to the Yo-Yo Drill as well, but on the backhand of the stick. You never only use one section of your stick in game, so we want to engage every portion, and do as much as we can to not be doing a move for the first time in a game situation. We also use a Side Work Down drill, which you can see in the video as well.
Drills Used In This Video
Section Tape – stick handling just with one section of your blade at a time
Yo-Yo Drill – pull it to the side, toe it in, push it forward, pull it back
Backhand Toe Drag – push it forward, catch it on the back toe, and pull it across
One of the main goals of improving your feel of the puck is that you can stick handle and keep your head up. If you can make that connection between where you think the puck is on your blade, and where it really is, then you'll be a lot more confident and ready to make an adjustment mid stride. Keeping your head up on the ice is critical when you're flying through those defenceman.
If you're looking for more ways to improve your hockey skills, check out The Pond. The Pond is our all in one hockey training platform designed to continually challenge players. We provide you with the most efficient path to improve the skills you will use the most in game. Use coupon code TRYOUTS to get your first month 100% free!
For more help with your game you can follow me on YouTube, Facebook and Instagram