Hockey drills are the backbone of a good practice. Coaches are always scouring for new drills to try to teach a certain point, or help their players develop and enhance their skills. There are a lot of drill resources out there, however most free sources lack organization and experience. By experience I mean a coach that has actually tried the drill, modified it, tried it again, etc.
Coach Jeremy Weiss has created a great collection of 101 advanced hockey drills
Coach Weiss runs Weiss Tech Hockey which is a blog dedicated to coaching hockey and hockey drills. In this e-book he shares his collection of his 101 favourite advanced hockey drills. The categories in the book include
Agility drills
Angling drills
Competition / Competitive drills
Goalie drills
Passing drills
Small area games
Shooting drills
Skating drills
Station drills
Warm-up drills
Some sample drills
Here is one of the many drills from the competition section. I love competitive drills as the players almost always give 100% effort in these types of drills. I like this one as it's an upgrade from a similar drill I already know and love. I could easily run the drill I normally run first, and then run this one next in the sequence.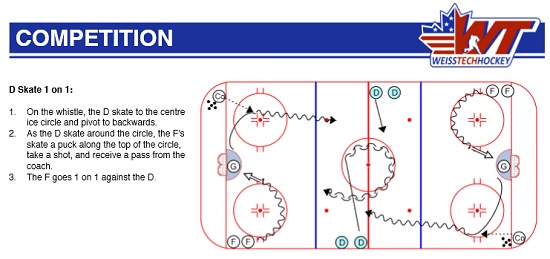 This is a good on ice agility drill to get the kids skating and performing a number of moves. You can always modify the drill by asking the players to perform reverse pivots, mohawks / spread eagle, 360 turn, etc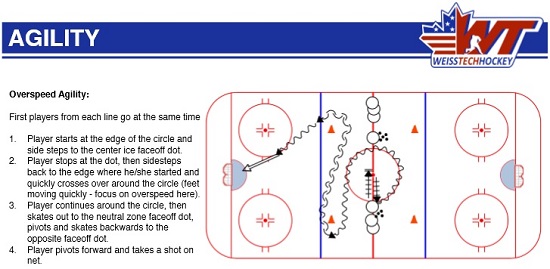 How much is the Advanced Hockey Drill Book?
The e-book is only $9.99 and you can also buy the Weiss Tech systems book which I highly recommend if you are interested in choosing and developing a system to run. You can download the e-book immediately after purchasing and then have a copy on your computer, tablet, and phone so it's always available!
How to use the Drills
This sounds silly, but having the drills alone is not enough to run a good practice. I wanted to take a few seconds to re-iterate the coaches job.
Challenge
Motivate
Inspire
Provide feedback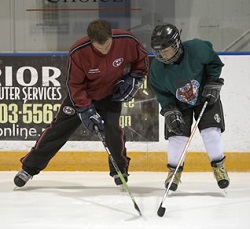 A good coach will run drills based on what the team needs to work on. Pay attention in practice and use drills that will challenge your players and help improve their weaknesses and their strengths. While running the drills provide a lot of feedback. Have the assistant coaches work the whistle sometimes while you encourage and correct the players.
That's all for now, check out the drill book, and I strongly recommend Coach Weiss's hockey systems book which you can also find through the links provided above.