For the last few months a lot of our readers have been participating in the slapshot challenge where we have shown you how to take a slapshot, how to improve your slapshot power, slapshot tips and where slapshot power comes from. Now we are going to take a break from learning to break the glass with your slapshot and teach you how to pick the corners.
Improving the aim of your slapshot in five easy steps
Here are a few tips that you should remember when practicing your aim
Look at where you are shooting
Align your body properly
Practice proper form
Practice your follow through and rolling the wrists
Make sure you have the right stick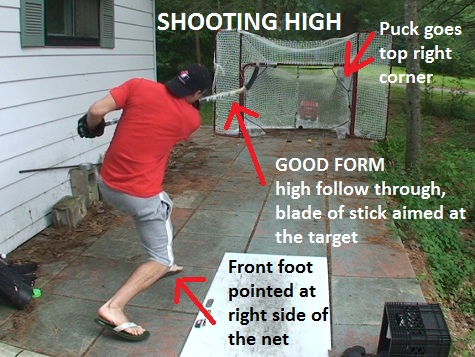 I will now go into more detail on how you can get better aim with your slapshot. In my article about where slapshot power comes from I mentioned the arms, legs, core muscles, and stick. If you have learned how to improve your slapshot power you should now be using all of those body parts to generate power, but now we have to learn how to use those body parts to get better aim.
Using Your Feet
You might think I am crazy, but you can actually improve your slapshot accuracy with your feet. I mentioned this in the how to improve wrist shot accuracy article and the same is true for taking a slapshot. When you are skating, you point your feet where you want to go, and when you are shooting you point your feet (or foot) where you want the puck to go. Pointing your foot will properly align your body, which means the rest of your body will be in a good position to take an accurate slapshot.
What you want to do is point the toe of the foot that you transfer your weight onto towards the side of the net you are shooting for. This not only helps you improve your accuracy, but also your power. By pointing your toe towards the target, and transferring your weight you will be moving your energy towards the net, which helps put more power into your shot.
Using Your Arms
This is where proper form comes into play, if your back swing looks like your golf swing then we have problems! You should practice nailing down your form so that there are very few inconsistencies. If your slapshot is different every time, then your aim will be different every time.
For the best aim you want to be able to draw a line from where you start your backswing, where the blade hits the ice (or ground), where the blade contacts the puck, and where you follow through to. Now if we put an arrow at the end of that imaginary line, that should be where the puck went
Using Your Stick
Your stick plays a big roll in having a great slapshot, but you have to know how to use it. Here are a few tips to using your stick properly
Make sure the flex is right for you
Make sure your stick is the right height
Hold the stick in the right spot
Contact the ground / ice before hitting the puck
Close or open the blade in the follow through to control height
I covered most of those points in the how to take a slapshot article, but I will touch on a few of them now. For flex and the height of the stick these are usually personal preference, but if you are new (or newer) to hockey I would suggest using half your body weight as a starting point for your flex, and then going up or down depending on your strength.
How to Put the Puck Top Shelf, or Nice and Low
Controlling the height of the puck is a problem that a lot of players have. Some hockey players have the problem of rifling the puck over the net, while other can't seem to get it off the ice; I will show you how you can do both!
How to get slapshots off the ice - The biggest problem I see here is players "cheating" they try the proper slapshot form a few times and can't get it right, so they just chip the puck. This is when players make the blade of their stick like a wedge and chip at it like it is a golf ball BIG MISTAKE. The best way to take a slap shot is by hitting the ice first, with the blade of your stick cupped over a bit. This method, and angle allow the stick, and the blade to flex back before hitting the puck, now all you have to do is follow through properly and the puck should come off the ice. If you are using the proper technique and the stick is not flexing then try using a lower flex stick! If you want the puck to come off the ice then follow through high, and leave the blade of the stick open a bit (don't roll your hands all the way over) remember to point the toe of the blade of the stick where you want the puck to go.
How to get the puck up when in close to the net – This is another problem some players have, they can pick the corner from the blue line, but not from the hash marks or closer. What you want to do here is change your form a bit, you don't need a massive wind up, and beast of a shot when you are in close. The technique I use is not the most powerful, but it works. I find getting lower to the ice, and dipping your back shoulder helps you get under the puck more and get it up quickly (shown in video)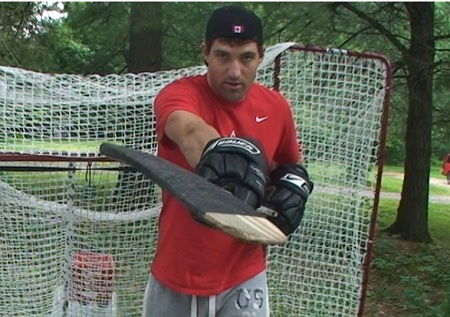 How to keep slapshots low – This is a fairly easy fix because most players already know how to take a shot, but they just want to keep them low. I find there are two things that really affect the height of the puck, follow through, and rolling the wrists. If you want to keep the puck low, keep the blade nice and low to the ice for the entire follow through, and start to roll your wrists over right when you contact the puck. By rolling your wrists you will be closing the blade of the stick, and this motion will keep the puck down.
Slapshot Accuracy Video
In this video I show you how to aim left, right, high and low and I even pick a couple of the corners myself just to prove I know what I am talking about


If you like this video you can
subscribe to our channel
on Youtube
I hope these tips have helped you improve your slap shot aim, remember to practice a lot because the best way to improve is by building your muscle memory, and you can only do that with practice. If you liked this article you can subscribe to this blog for more great hockey tips.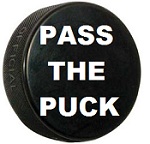 Pass the puck share on Twitter or Facebook
Tweet
Follow @howtohockey
Looking for more hockey tips?
Sign up to our newsletter for more tips, more videos, discounts on hockey training aids, and updates on new ways to improve your game
The following two tabs change content below.
Hi my name is Jeremy. I LOVE hockey and I am passionate about improving and helping others improve. My goal is to break every hockey skill down into easy to understand articles and videos. I explain everything step-by-step to help others improve. If you want to learn more about me you can read my
about page
. Thanks for reading and sharing!
Latest posts by Jeremy Rupke (see all)