Skating backwards is a challenging skill for anyone to learn. The feeling of moving backwards is not natural at first, but with some practice and determination you will get the hang of it. In this article we have two videos for you to help you learn how to skate backwards.
This video is a part of our how to skate series that we have put together to help anyone learn how to skate for hockey!
How to Skate Backwards for Beginners

In this video we give you a simple lesson on how to start skating backwards. We also share a good drill to get used to your balance and the feeling of moving backwards.
How to Skate Backwards, tips, common mistakes, and Backwards starts

In this video we have guest instructor Scott Grover teaching you how to skate backwards. Scott gives you some simple tips to get used to the feeling, and then we go into more detail, we talk about common mistakes, and also cover how to get speed with backwards crossover starts. After you master this you will probably want to move on to backwards crossovers
Quick Tips for skating backwards
Start with getting used to the feeling. Get comfortable and balanced against the boards and give yourself a push backwards, then glide to get the feeling.
Now start by getting in a good balanced stance and take some baby steps backwards. Little steps are fine to start to help you get your balance
To work on your stride start with C-cuts, but remember the C should be actually like a tear drop, you want the heel of your skates to always be pointing down the ice. If you do an actual C it can negatively effect your backwards stride
Don't worry if you fall over, just get up and keep trying!
If these tips have helped please share this article with the buttons below, or by just spreading the word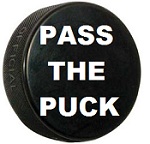 Pass the puck share on Twitter or Facebook
Tweet
Follow @howtohockey
Looking for more hockey tips?
Sign up to our newsletter for more tips, more videos, discounts on hockey training aids, and updates on new ways to improve your game
The following two tabs change content below.
Hi my name is Jeremy. I LOVE hockey and I am passionate about improving and helping others improve. My goal is to break every hockey skill down into easy to understand articles and videos. I explain everything step-by-step to help others improve. If you want to learn more about me you can read my
about page
. Thanks for reading and sharing!
Latest posts by Jeremy Rupke (see all)