Recently I was browsing the stick selection at Source for Sports and I noticed a cool looking stick. I picked it up and immediately noticed how nice it felt, and how light it was. I checked the price tag and was fully expecting to see a $175, to my surprise it was only $99! I compared this to EVERY other stick at this price and none of them compared. I thought this would be a great hockey stick to review for the fans of How To Hockey because I know a lot of you are looking for a high-end stick, without the high price.
Graphics
I figured since the first thing you notice about a stick is the way it looks, the first thing I will cover in this review is the look of the stick. I'm not one to care about looks, if it's a good stick I will buy it, although it never hurts to have a cool looking stick, and I think the GX8 is pretty nifty looking. It's not too flashy like a lot of the sticks, it kind of has a "stealth" look going on, which I dig. You get cool chrome lettering over a big-weave graphite design. Take a look at the video for a close-up look.
They re-did the graphics on the sticks for 2011 so you might see something a bit flashier in the stores. You can see the pictures on the Winnwell site by visiting the Winnwell GX8 page.
Feel of the Stick – Grip and Weight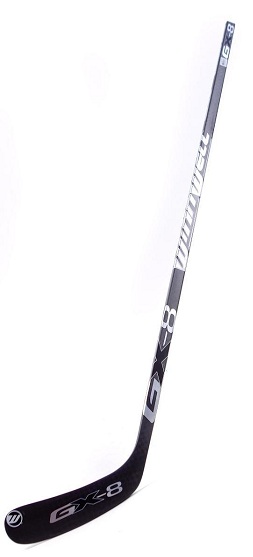 When I picked the stick up I immediately liked the feel of it. I'm not a fan of the rubber-like feel that a lot of sticks come with. The GX8 had a cool matte finish, there is still some grip but it doesn't have that clingy feeling.
The stick only weighs 480 grams, which is much lighter than any other hockey stick under $100
Construction of the stick
The stick is 100% graphite which allows them to keep it under 500 grams. The cheaper sticks on the market usually use a mix of graphite and fiberglass, which makes them heavier, but a bit more durable.
Flexes and Curves
The sticks come in stiff, and regular and whip, although in the store I only saw whip flex in intermediate. For the curves they have  two patterns (161-Nash–more subtle Sakic, 119-Sakic).
Taking the Winnwell GX8 to the rink
Ken and I tested the stick out at the rink. I had the regular flex with the 119 curve and Ken got the stiff flex with the 119 curve (see the video for more). We have been using the stick for the past few months now. The first thing I noticed was how light it was, which makes me feel a bit quicker while stickhandling. I liked the curve, but it took me a few shots before I got used to it as it was a bit different from my last one. You can see us messing around with the stick in the video below
Overall Thoughts
Penalty Box
I can't really think of anything I didn't like about the stick. Ken always uses a fairly flat curve pattern so he mentioned it would be nice to have more pattern options.
Scoresheet
Great overall feel
Nice and light, 480 grams – super light for it's price
Affordable price
Looks cool (in my opinion)
Quick release
Winnwell GX8 Video Review
Where to buy the Winnwell GX8
You can get the GX8 and other Winnwell sticks at Canadian Tire and some Source For Sports stores in Canada. You can also check their store locator for other locations in the US and Canada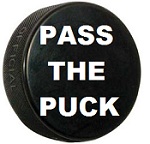 Pass the puck share on Twitter or Facebook
Tweet
Follow @howtohockey
Looking for more hockey tips?
Sign up to our newsletter for more tips, more videos, discounts on hockey training aids, and updates on new ways to improve your game
The following two tabs change content below.
Hi my name is Jeremy. I LOVE hockey and I am passionate about improving and helping others improve. My goal is to break every hockey skill down into easy to understand articles and videos. I explain everything step-by-step to help others improve. If you want to learn more about me you can read my
about page
. Thanks for reading and sharing!
Latest posts by Jeremy Rupke (see all)