*This post contains affiliate links and many of these companies advertise on this site. As a voice in the hockey community I work to partner with the best hockey companies, and showcase their best products to you. I have only shared products that I truly find interesting and worth purchasing and stores I believe provide great prices, products and service.
New Hockey Equipment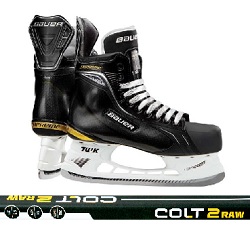 This one is a no-brainer. The obvious choice here is a new hockey stick, but if you really know your player you may be able to surprise them with something else. (Skates, gloves, or maybe replace that gross old jock) Check out Hockey Monkey or Pro Hockey Life for all the Canadians out there! You can also check Total Hockey or Pure Hockey for some more online deals!
If you're not sure about sizing or brand preference, stick with a gift card

A gift card lets your hockey player pick whatever they want, they'll be in heaven! Hockey Monkey usually has the largest selection and great prices so I've linked to them below. If you're in Canada you will want a Pro Hockey Life gift card.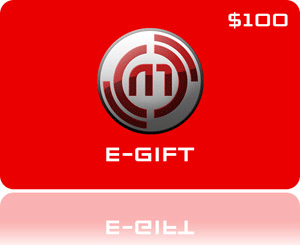 $100 Hockey Monkey Gift Card
A gift card for the largest online Hockey retailer is a no-brainer. First they get the excitement of opening your gift, then they get the excitement of shopping for whatever they want online. $100 is recommended, but more options are available
The Sparx Skate Sharpener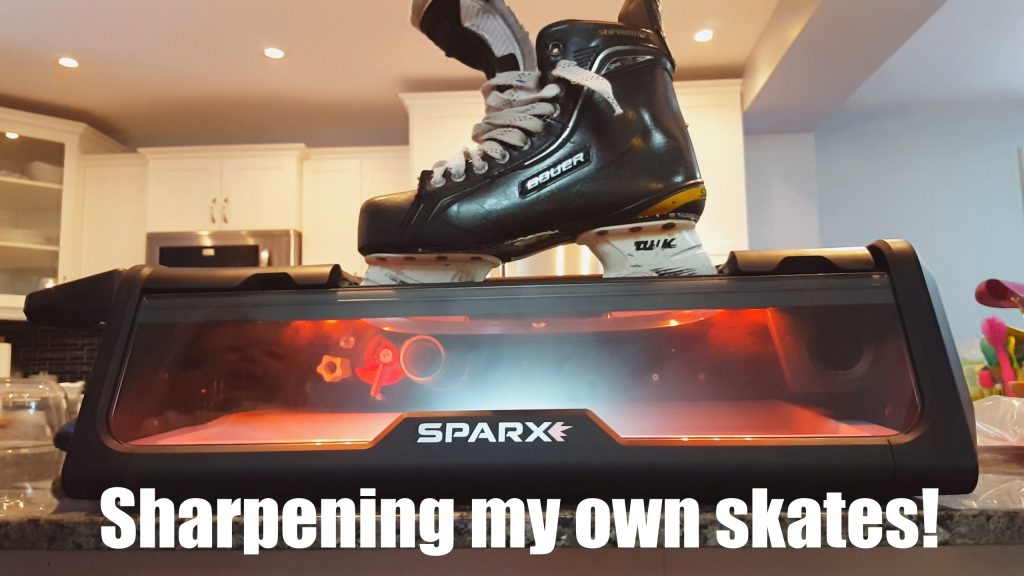 The ability to sharpen your skates (or your kids skates) at home is a LUXURY. The good news is, if you have a few kids you will save money in the long run with this machine. Just ask Jeff and Josh, a couple guys who commented on my Facebook page when I posted about the Sparx. For more information about the machine, you can read my Sparx review



Sparx Skate Sharpener
The Sparx skate sharpener is the most affordable machine on the market that allows you to sharpen your skates at home. Use coupon code Sparx25off to save $25
The Colt 4 Hockey Stick
Hockey sticks are expensive, but worst of all, they aren't very durable. Colt set out to fix that by making a stick that is dipped in nano-steel. I've been playing with the Colt since the original. The first Colt was durable, but the perfomance was not great. The Colt 2 was great for durability and performance. The Colt 3 was an improvement, and the Colt 4 was just released in 2018.
Colt 3 Hockey Stick
There are a lot of hockey sticks out there, but there is only ONE stick that has a patented nano-steel coating. This is the 3rd generation from Colt and it delivers better performance, and more durability. They have reduced the weight and tweaked their process to produce their most durable, and best performing stick yet.
A Slide Board
In order to train effectively it is important to challenge yourself. There are a lot of great hockey training aids out there, but not many incorporate movement. This is where a slide board comes in. Hockey Shot has designed their own slide board which is popular amongst hockey players, but also many professional athletes in other sports. With a slide board a player can practice shooting, stickhandling, skating technique and many other exercises and workouts.
HockeyShot Slide Board
A slideboard is a great way to simulate the skating motion while also incorporating movement into training. Use the slide board alone to work out, or in combination with shooting, stickhandling, or skating skill training. Use the coupon code to save!
The Extreme Passer Pro
You pass the puck into it, and it passes the puck back! Sounds pretty simple, but it results in hours and hours of quality training. The Extreme Passer Pro rebounds the puck on both sides and can be used on any flat surface or on the ice. This is a great way to work on passing, shooting and one timers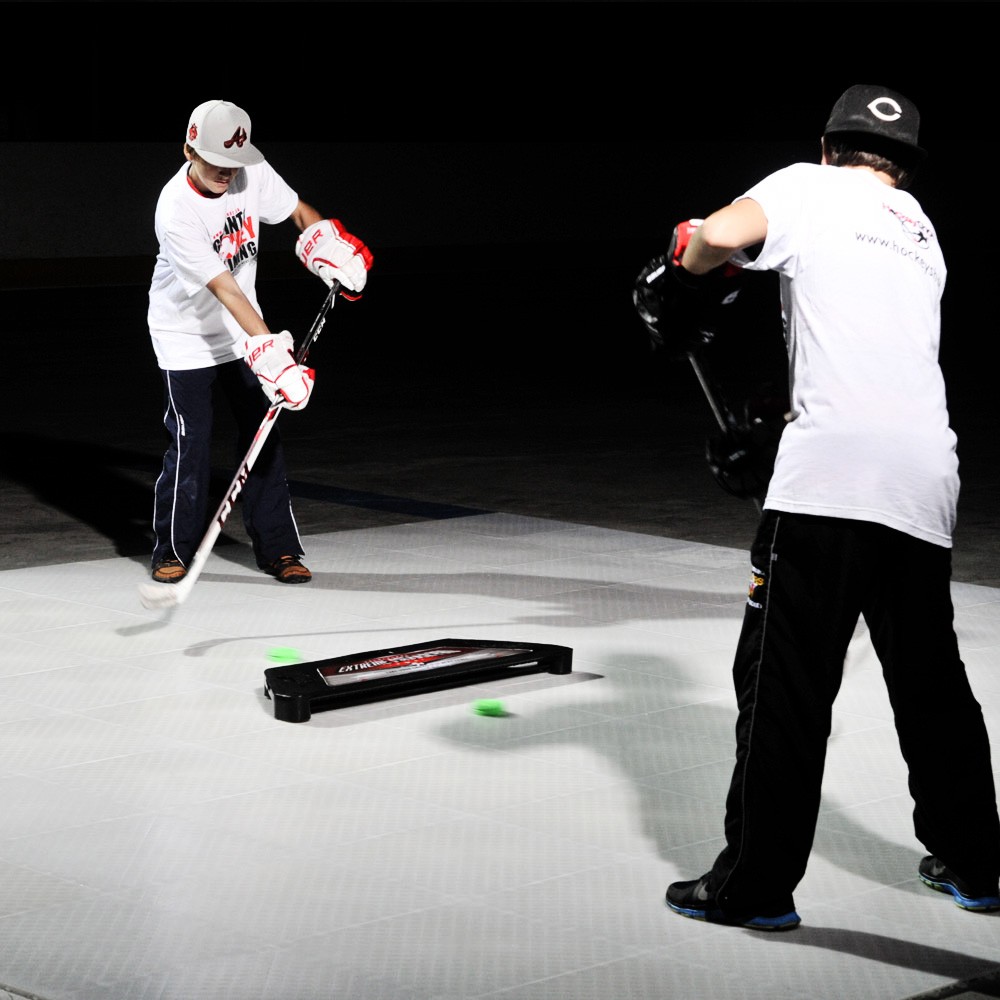 Extreme Passer Pro
This heavy duty pass rebounder provides two passing slots and can be used by multiple players at once. It's fun to use while stickhandling, and a great way to improve passing, shooting and one-timers
A Hockey Training Area
You can do a lot with a little. In this video I show you how to make the most of just a few training tiles from HockeyShot and some of their training aids.
More Hockey Training Aids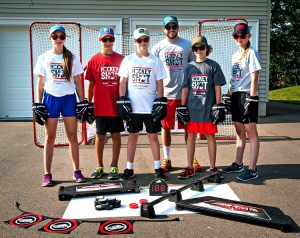 As a kid, all I wanted to do was practice at home. As an adult, I still enjoy ripping some shots beside the garage and working on the dangles from time to time. So what does EVERY hockey player need? My suggestions are simple:
A net – The HockeyShot goal is great net for training
A shooting pad – (Pro sized, or roll up recommended)
Some pucks
What about some fun products
The Green Biscuit (the puck that slides anywhere!)
A radar gun – The HockeyShot Radar is a very affordable option. It's fairly consistent but does misread the shot from time to time
A pass rebounder – These are the best for working on passing, shooting, and one-timers. A must have!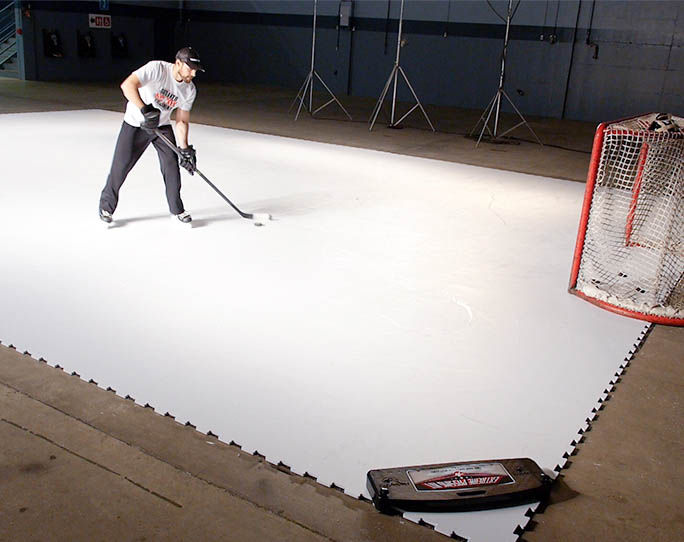 HockeyShot Radar
A radar is (in my opinion) the best training aid to help a player improve their shot power. The great thing about a radar is the instant feedback it provides. This allows a player to instantly tweak their shot and always want to beat their hardest shot. It's instant motivation.
I've put together a video mentioning some of the must have training aids for shooting. Check out the video on stickhandling products as well
Any of the above should give a hockey player hours and hours of enjoyment and help improve their skills
The Hockey Sauce Kit
The Hockey Sauce Kit has taken the hockey world by storm. This little net allows hockey players the ability to take hockey anywhere. With a mini net and small shooting pad players can work on their saucer passes, or work on some trick shots. With two nets and two shooting pads players can play a game of "Sauce" similar to play horse shoes or corn hole.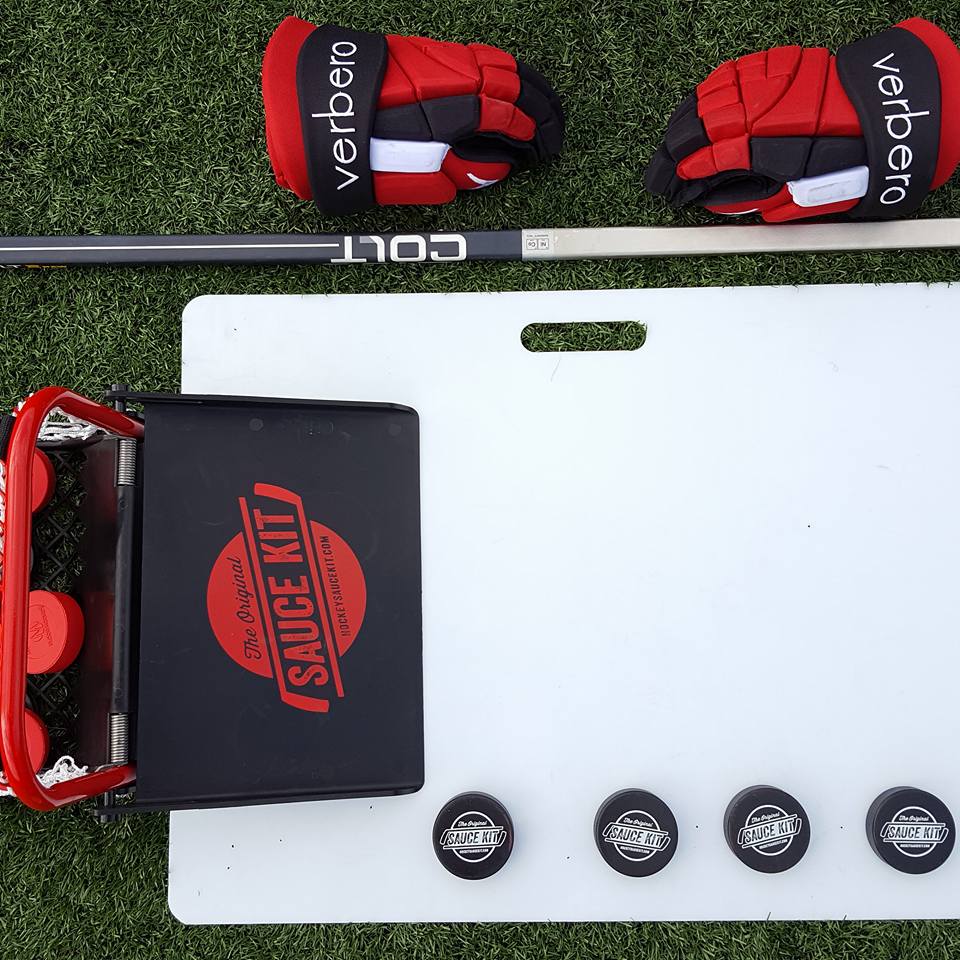 Hockey Sauce Kit
This will be at the top of most kids Christmas lists. A mini net that can be used for accuracy, saucer pass training, or an impromptu game of pond hockey.
A new Hockey Bag
Every hockey player has a bag, but chances are they don't have a pond pack. This bag from Pacific Rink is meant for the casual game of puck. Maybe it's stick and puck at the rink, or a little pond hockey with the team. We don't always need to bring full gear, so Pacific Rink created the pond pack. A bag designed to carry the essentials. Looking for a full hockey bag? They also have created (In my opinion) the best hockey bag on the market. Check it out below.
Pacific Rink also has an amazing line of apparel, it's quality clothes with classy designs.
Pacific Rink Bag
Finally a hockey bag with organization. The Pacific Rink bag has a spot for your skates, wet gear, dry gear, and a divider to keep your equipment organized.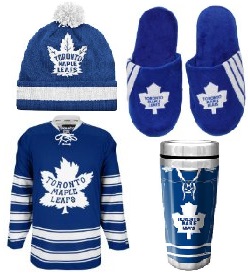 Some NHL Apparel
Personally, I'm a Leafs fan. If you get me ANYTHING with a Toronto Maple Leafs logo, I'll be happy. A hat, shirt, pajama pants, slippers, coffee mug, etc. Any die hard fan probably feels the same about their team.
Some ideas
A jersey
A toque (winter hat)
sweater or shirt
Slippers and pajamas
Where to shop – Amazon.com or for Canadians try Pro Hockey Life or Amazon.ca (all items pictured are from Amazon.ca), they usually have free shipping and good selection.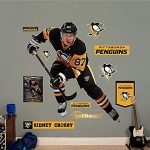 FatHead NHL Decals
These are great for a man cave, or a child's bedroom. You can get a life sized decal of some of the biggest stars in the NHL.
A Backyard Rink
Every hockey player wants to play more hockey! This isn't always easy, but here are a few ideas
Classic Hockey Highlights
Sure we can watch highlights on YouTube, but it's tough to find good edits and compilations, especially if you want to be nostalgic.
Don Cherry has been making hockey highlights since 1989! If you'd like to give highlights of Gretzky, Lemieux, and Jagr all the way up to Ovechkin and Crosby (and still Jagr) pick up the Rock'em Sock'em box set. It contains 25 years worth of hockey highlights narrated by Don Cherry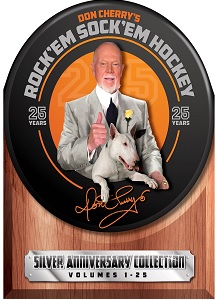 25 Years of Hockey Highlights
Every year Don Cherry put together a collection of his favourite hockey highlights from the past NHL season. This set contains every edition from 1989 - 2013 (for later editions you will need to buy them individually)
Hockey Apparel
We're a little obsessed. We want everyone to know we play hockey, and what better way to do that than with some sweet hockey threads. There are a lot of brands out there like Gongshow, Scrapper Hockey, Sauce Hockey and Bar Down, but I like to feature up and coming brands. This year, I really like the apparel from Pacific Rink.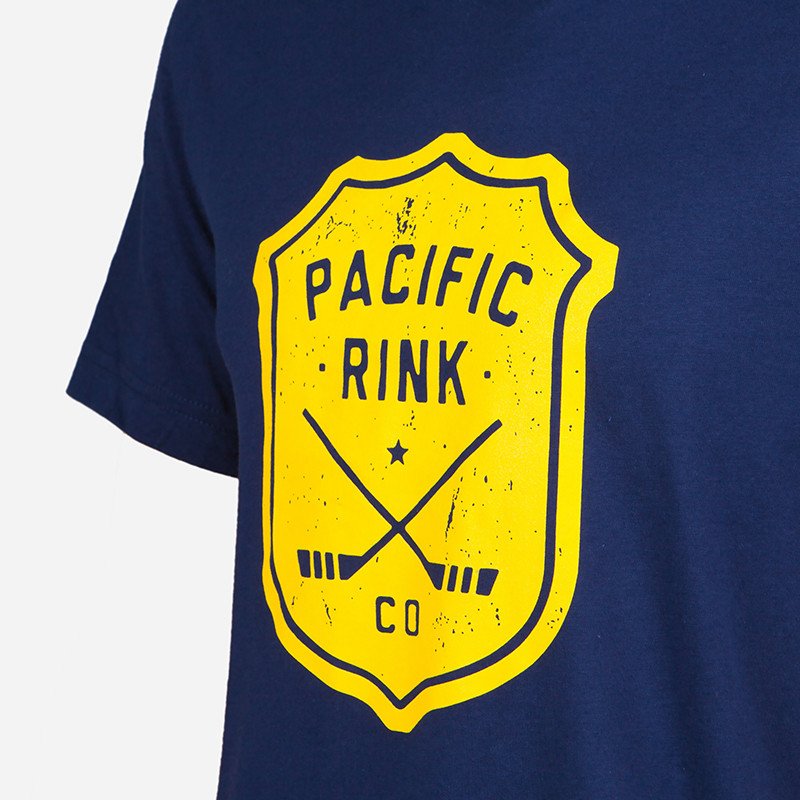 Hockey Apparel
Pacific Rink has stepped (or should I say skated) into the hockey market in a big way. They started with some top of the line hockey bags and followed up with a line of apparel. Browse their full line up for some classy hockey apparel
Tape, Wax, Pucks and Laces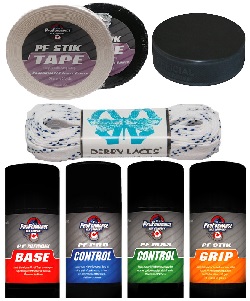 There are some things that every single hockey player needs. They aren't expensive, and it's an easy item to pick up.
A few items include
Hockey Tape (cloth, and clear)
Hockey pucks
Skate laces (great to have as backup in case laces break just before a game)
Check out some ideas for stocking stuffers as well
For top quality wax and tape check out ProFormance Hockey wax
A Grip for their Stick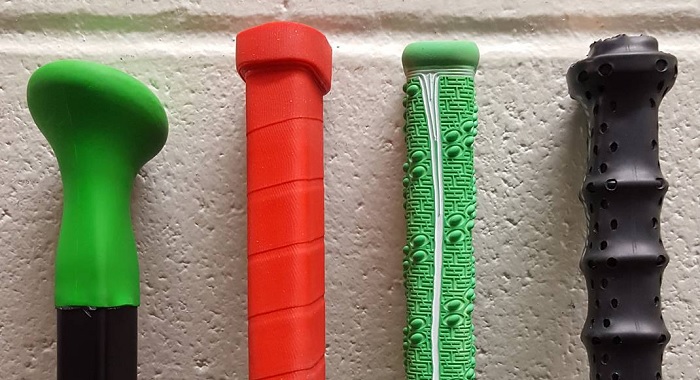 There has been a trend this year in hockey stick grips. Since hockey players have started using hockey tape, we have not tried any alternative for our grips. Now there are a number of options available.
[wpsm_list type="arrow"]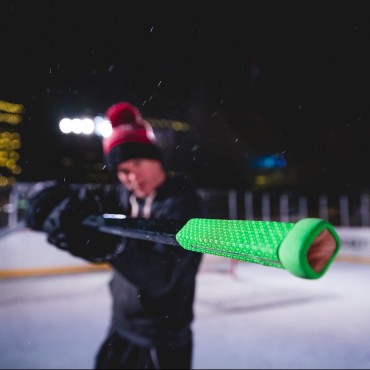 Buttendz Grip
Buttendz is the leader in hockey stick grips. Their grips are made of 100% rubber and come with a spray adhesive. A grip typically lasts over 1 year and provides extra grip and control for the player.
Hockey Books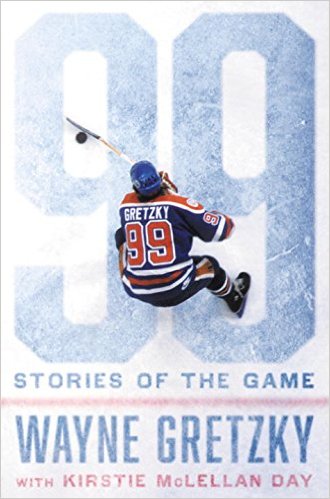 Whenever I have some downtime you can find me reading hockey books! Here are a few suggestions I have, most of the books I have read are coaching books however I do own most of these recommended books as well.
99 Stories of the Game

Gretzky's new book is called 99 stories and has received rave reviews.

Childrens books
Biographies (for players and fans)

There are some awesome biographies out now Bobby Orr just released his last year, Gordie Howe released his in October, Ken Dryden's "the game" is a classic and there are many more to choose from (Gretzky, Bossy, . You can find most of them on the bestselling hockey books page on Amazon.com and Amazon.ca
For more gift ideas visit the 2017 version of this list