I've built a few backyard rinks in my time. One thing remains the same, when it's time to build you need tools, you need a friend and you need at least a full afternoon to get everything laid out. The build typically involves planning, measuring, getting all your supplies in order and then carefully following steps to ensure you have a successful build. All that went out the window when I tried out the EZ ICE rink kit.
Full disclosure, they sent me the kit for free to test, and sponsored the video I created below. No matter what I always share any positive or negative feelings towards a product. So lets watch the video and below I'll give you the run-down on why I was impressed with this system.
Why it's different from other Backyard Rink Kits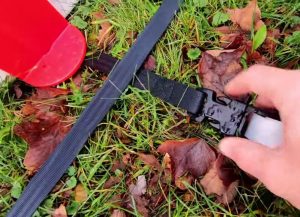 The key to a good rink, is keeping water in and the boards up. This means you need brackets or supports, you can use stakes, rebar, or brackets. All of these options require you to drive them into the ground to anchor them. Driving them into the ground means you need to measure and plot your rink ahead of time, and also hammer each stake in. All of this takes time. Here's where the EZ ICE system shines.
The EZ ICE system uses brackets, but instead of being hammered into the ground, they are connected with a strap to a bracket on the other side of the rink. By connecting them this way it becomes a self supporting rink. This brings three major advantages, first you can set up this rink by yourself in less than an hour, 2nd you can put it on hard surfaces, and third (unlike other rinks) you can install it after the ground freezes.
"It's by far the easiest rink to set up"
Honestly, I don't know how it could get any faster. In this video it took me just over an hour of actual thinking and building (45 minutes one day, 20 minutes the next), but this was my first time setting it up and I was also taking breaks to record video. I would bet that now that I'm familiar with the process, I could do it by myself in less than 30 minutes.
No planning, No Tools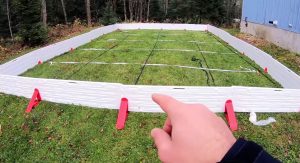 With every other rink I had to do measurements, use a string line, square the plot, etc. With this one I just put it up, and pushed it around until all the pieces fit together. There was a tree in the way so I moved the rink a little this way, and after getting it up I noticed a bit too much of a slope (and my septic tanks) so I adjusted it. It's definitely my type of rink, because I like to just figure things out as I go.
Does it Hold Water?
Well I know it's the easiest rink to set up, but the most important question is this. If I fill this thing up, and it collapses, then we're in trouble. But this is the 2nd winter for the EZ ICE system, and I can see a number of glowing testimonials, so I'm pretty certain I won't run into any issues.
BUT WHAT ABOUT MY GRASS!
The key to keeping your grass healthy is timing. You want to pull your rink up right after it completely melts. If you leave it there for a few weeks there's a chance your grass will suffer. I pulled mine up right after it melted and the grass was fine, you couldn't tell the difference between where the rink was and the rest of the lawn. If you're very particular you could also try aerating your lawn afterwards. The weight of the rink can compress the ground and this may inhibit grass growth.
My final thoughts
I can't give a 100% recommendation just yet as I've only set it up. I'll update this after I have it filled and frozen (probably January), but so far I can say it's the most convenient rink kit to own.
UPDATE: I've now spent a full winter using the EZ ICE rink and it definitely withstood the weather. Where I live it gets cold -40 cold, and it snows a lot! It's packed up under my deck now ready for next winter
The Price
This 20 x 40 kit will set you back $1900 for the boards, brackets and liner and shipping is free! 20 x 40 is enough ice for kids, but if you want to have a game of 5 on 5 you'll want a bigger size.
If you want to order you can shop here EZ ICE rink kit. I can help you out with my coupon code that will knock 10% off your order. Just enter EZ ICE coupon code HOWTOHOCKEY at checkout where it asks for the EZ ICE promo code. If you're still tight on cash you can always try building your own backyard rink. It's possible, but more difficult. I recommend experiencing a backyard rink however possible, you could even start with a mini rink, who knows, you might fall in love and start saving for a backyard rink kit like this!