If you're looking to start playing hockey you will need to get proper fitting hockey equipment. This can be a confusing process if you've never played before. We recommend going to a good local hockey shop with knowledgeable staff to answer your questions and help you find the right fit, but that isn't always an option, and some people like to do a little research first.
I've teamed up with Hockey Supremacy to create a hockey equipment fitting cheat sheet filled with quick tips to achieve proper fit on all pieces of hockey equipment.
It's important to choose the right piece of equipment that fits you. Not only will you be better protected, but a proper fit should give you the mobility you need on the ice to play your game without any restriction.
Here is our crash course on equipment fitting from head to toe.
Helmet
There should not be any pressure point.

The helmet should stay in place when shaking your head.
Look for adjustments on the sides of the helmet. Make sure you choose a helmet size that is closer to your head circumference before starting to adjust it for more comfort.
For a detailed guide visit our hockey helmet fitting guide
Helmet Cage
It may not be the same size as the helmet.
Your vision must be clear when you look forward (eyes aligned in-between the bars).
Your chin must be centered with the chin cup, with a maximum of ½ inch space in between.
Shoulder Pads
The tip of your shoulders must be centered with the shoulder cups.
Make sure to keep a little bit of room between your shoulder pads and pants at the front when you are standing.
Once on the ice you will be slightly bent forward. The right spacing will prevent you from feeling limited in your movement while keeping you protected when in your regular hockey position.
The level of protection will vary as well depending of your priority or level of play. Some models offer more protection; however, they can feel a little bit more restrictive. This is really a personal choice.
Elbow Pads
Try them with your shoulder pads on and gloves to choose a model that doesn't restrict you from moving with as little space as possible in between.
Tighten the straps and make sure they are the right length, so the velcro stays tied under your jersey when playing.
They should be tightened enough to stay in place if you fall.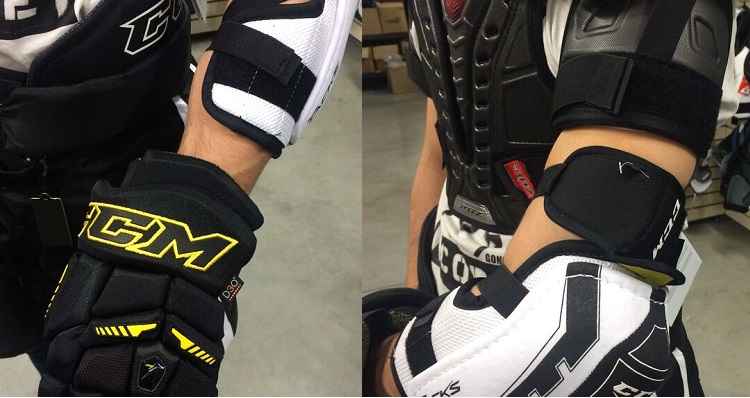 Gloves
The glove wrist cuff should be aligned with your wrist.
Your finger tips should barely touch the end without having you to force against the material in between the fingers. It should stay comfortable when moving your fingers.
Some models or brands feel more loose, and others have more of an anatomical feeling. It's really a personal choice. Grab a hockey stick and see what feels comfortable for you.
We go into more detail on our Hockey Glove fitting guide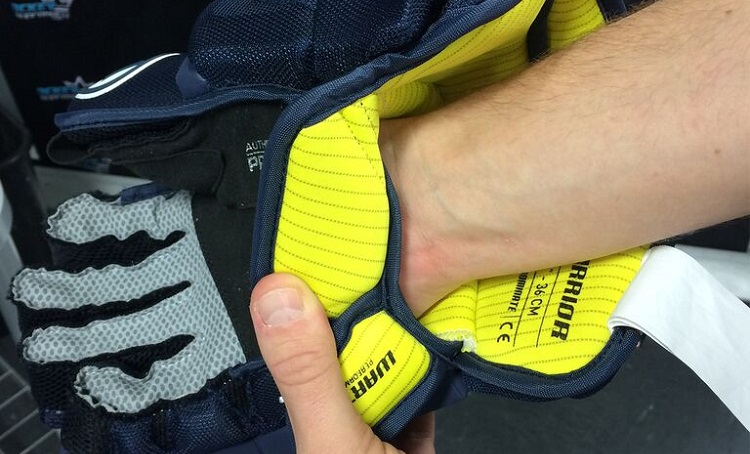 Pants
The bottom of the pants should arrive on the kneecap or just a little bit higher.
Try them with your shoulder pads on. There should not be any space, or very little space in between them at the back when standing. It's okay if they overlap a little bit, as you will be bent forward when you skate.
For more help visit our detailed hockey pants fitting guide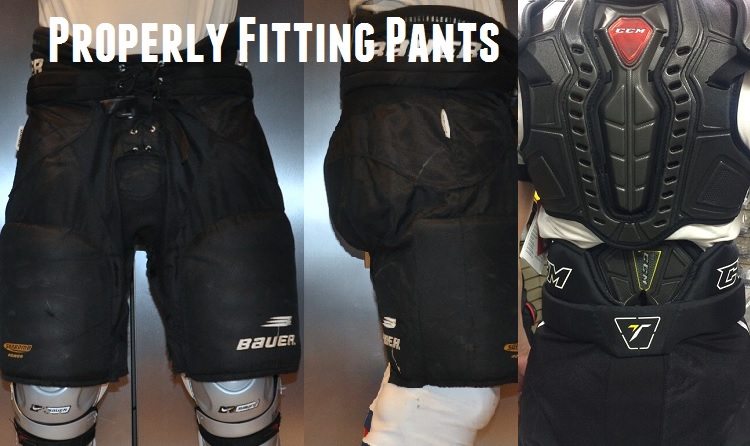 Shin Guards
Try them with your skates to have a better idea of the length you need. The length may vary depending if you play with your skate's tongues under your shin guards or outside. You want to be protected as much as possible.
Once your kneecap is in place, tighten the straps and make sure they are the right length, so the velcro stays firmly tied under your hockey socks.
Your kneecap must stay centered at all time, make sure it's tightened enough to stay in place during the game.
Shin guards that are too long are more likely to move and feel uncomfortable when skating.
Need more help? Visit our shin pad fitting guide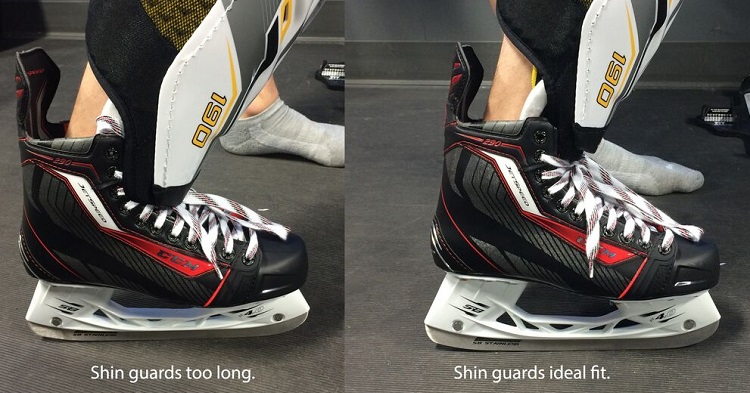 Skates
Your heel should not move when walking with the skates.
Your toes should barely touch the end.
You may want to lace them all the way to the top if you are a new skater. However, advanced players will prefer more mobility on the ankle.
There should be as minimal space as possible in the skate to avoid wasting energy.
Most skate sizes are offered in 2 different widths: D is narrow or regular, EE is wider. Other widths are available but harder to find
Depending on your feet size and width, you will want to try different model and brands to see which one fits better and offer the best comfort for you.
Still have some questions? Visit our hockey skate fitting guide


Thanks to Team Supremacy for this helpful equipment guide
HockeySupremacy.com
is the largest Canadian online hockey store. We pledge to offer the best prices and a first class service. With our free shipping and returns over $149 policy, our loyalty program, live support and price comparison widget, we claim to be Canada's #1 online hockey equipment retailer. Our team of experts and passionate hockey players is at your service for any questions regarding how to choose the right equipment for you.