The worst part about the summer is the lack of chances to play hockey, especially for those of us who live in rural areas and the rinks take the ice out for the Spring and Summer. Luckily we have beaches, and parks, and camping, but there aren't any hockey rinks there!
Thanks to the Hockey Sauce Kit we can take hockey anywhere. This handy little kit provides a smooth surface to shoot the puck off (a hockey shooting pad) and a mini net that has many different uses. For my full sauce kit review watch my video below.
What's Good?
The size – I love the size of the kit. With a small shooting pad and a foldable mini net I can easily keep this in the garage. It's easy to transport, or even keep in the back of my Jeep in case I have the urge to sauce over something during my travels.
The Culture – Vince (the company owner) has done a great job of pumping out cool content and maintaining fun and active social media accounts. When you buy the Sauce Kit you become a member of a club. You can take a video of your sick sauce and share it with others. Your video might even end up featured on the Sauce Kit Instagram or Facebook page.
The Versatility – I like a product that can do more than one thing. The Sauce Kit is great to use with friends at the beach, parties, or tail gate parties but it's also fun to use to improve your saucer pass skills and carry your pucks. Heck it even goes in the water if you buy the floatie.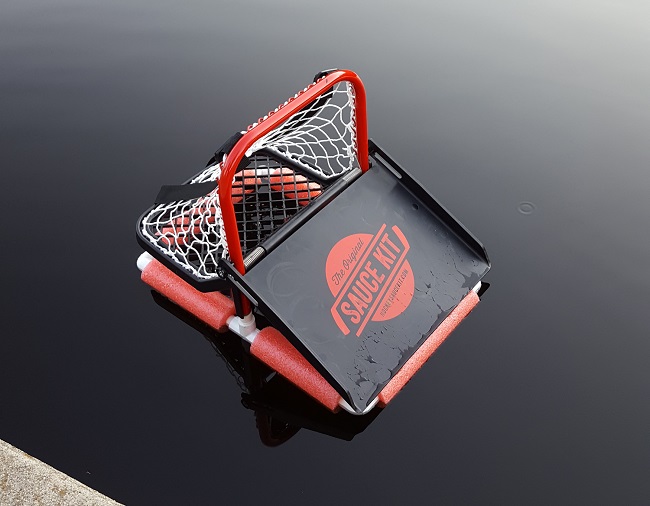 The Quality – The Sauce Kit should hold up to quite a bit of wear and tear. There are a few wearable parts like the ramp and the meshing, but replacement parts can be easily ordered from the Sauce Kit website
The Penalty Box
The Price and Shipping – With any niche product, you have to pay for it. The kit is made in North America to ensure it's built well and the quality is consistent. $99 for a half kit plus shipping isn't too bad, but if you want the full kit (two shooting pads, two sauce nets), and live in Canada the USD conversion and shipping will add some extra costs. Luckily Vince is working on distribution in Canada to reduce the overall cost to ship to the great white north and you can use coupon code HOWTOHOCKEY to save 10%
Stability – The compact size and portability of the Sauce Kit come at a price, stability. After a few successful sauces it doesn't exactly stay perfectly in place, which isn't too much of an issue. If it gets knocked out of place it's easy to give it a nudge so it's perfectly aligned again.
There is an easy solution to this issue, just put a couple pieces of rebar or 1/2 inch metal rods in the ground and slide them into the posts of the sauce kit. Now you've got an anchored sauce kit for those long distance sauces!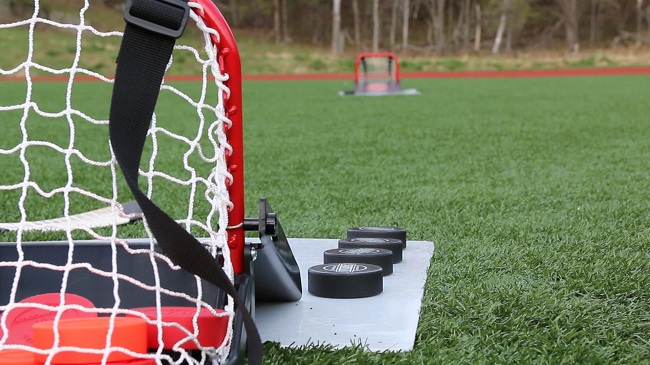 Overall Thoughts
If you're active over the summer I recommend the Sauce Kit. It's great for social events with friends, it can be used basically anywhere (including the water with a floatie attachment) and can be used as another training tool to work on your skills at home. Some kids even use it as a target in their nets!
If you want to pick it up visit The Hockey Sauce Kit website and don't forget to use coupon code HOWTOHOCKEY