As a coach and player I see this scenario all too often. A player gets a clean break, one on one with the goalie. They look down at their stick and shoot, or completely freeze up and then get too close to the goalie to do anything and jam the puck right into his pads or chest. Don't let this happen to you!
In the video below I share a few tips on how to read the goalie and what you should do. I also have a simple list below the video with more tips
How to Read the goalie in Hockey
Have your head up so you can see what the goalie is giving you
If he's out of position, or has any obvious openings SHOOT THE PUCK
If the goalie is back in his crease, shooting is a good option
If the goalie is coming out of the crease and challenging you then a pass or deke is your best bet
What if the goalie is in good position?
With your head up, you see the goalie is perfectly set up, what now?
Either fake, pass, change your shooting angle, or deke – all of these force the goalie to move in different ways

Fake – This subtle movement can cause the goalie to move his glove, drop down, move a leg, etc. Sometimes this is all you need to create an opening
Pass – The goalie has to stay lined up with the puck. A pass to a team mate creates a lot of openings. You could even try a fake pass, then shot!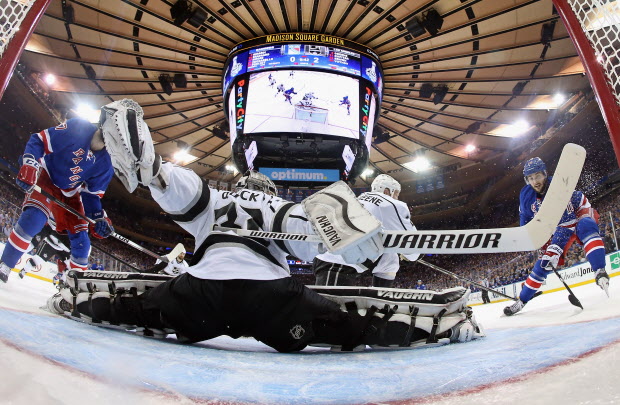 Change the angle – Goalies are trained to line up with the puck. Sometimes changing your shot angle by a few inches is all you need to sneak the puck by, and changing the angle by a foot or more can give you a serious advantage (more on changing the angle in a different video subscribe to our Youtube channel so you don't miss it)
Deke – If the goalie is lined up well and you have room, a good deke is your best bet. For help you can try our Goalie Buster course, or subscribe to our Youtube channel for future deke videos
Thanks for reading (and watching) I make new hockey videos every week to help you improve your game!