Hockey is for everyone! I've featured a 73 year old rookie, watched a video of hockey in Kenya, Hockey in Malaysia, and have heard of all kinds of specialty leagues and teams including Chicago gay hockey and Toronto blind hockey. In this article I'm proud to feature a hockey team specifically for wounded Veterans. This information was sent my way from Anthony Baasch
Who We Are
The Chicago Blackhawks Warrior ice hockey program was founded in 2015 in conjunction with USA Disabled hockey to give our injured military members and veterans an opportunity to play hockey in an environment that suited their needs. The program trains them in the skills needed to use hockey as a rehabilitation tool to overcome physical and mental disabilities sustained in their service to our nation.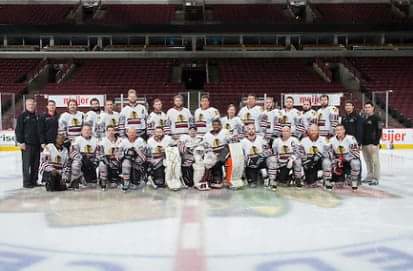 Disabilities range from PTSD and Traumatic brain injuries to broken vertebrae. One of our guys had his arm blown off from a roadside bomb. Doctors were able to reattach it. He had a collapsed lung when shrapnel shot thru it.
Its a requirement to have at least a 10% disability rating from the VA
Our Mission
The Chicago Blackhawks Warrior program offers our returning military men and women a structured environment to practice and compete in the game of ice hockey while reintegrating into civilian life.
Our Team
We are an Adult level team that relies solely on fundraising and charitable donations to support our program throughout the season. Our season runs from September through April and concludes at the USA Hockey Disabled Festival which is held in a different city each year. At the festival we will compete against other Warrior teams from around the country for National Titles in the Warrior A and B Divisions.
Eddie Kerrigan, F (Marine Veteran)

What does hockey mean to you?
"Joy, I get so much enjoyment from all the different aspects of the game. Both from being on the ice, and being around the guys"
Anthony Baasch, D (Army Veteran)
What does hockey mean to you?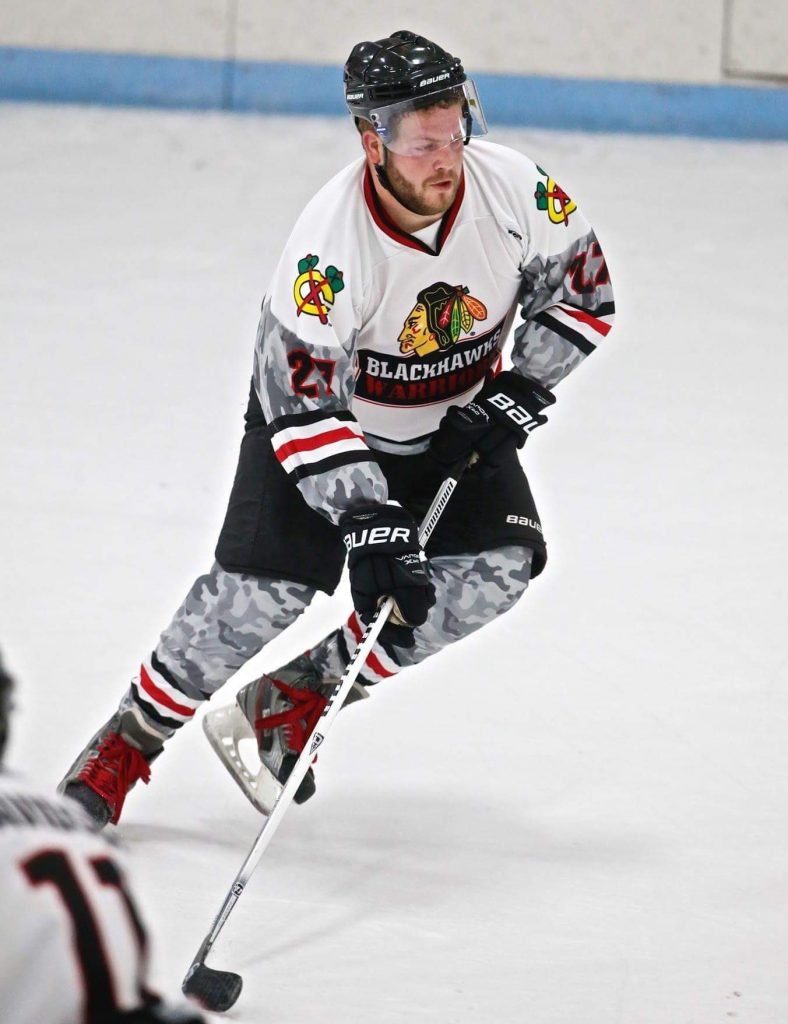 "It means the whole world is behind me, on pause and muted. I'm just focused on the ice and nothing going on in the world. Its a zoned out feeling….just skating hard and hangin with the boys."
Billy Davidson, F (Marine Veteran)
What does hockey mean to you?

"I think, not to sound all hippie like, But it is beyond normal people understanding. It is an addictive, all encompassing passion, that allows me to forget about life and yet recharge at the same time.
I am no hippie, but I am from California and I grew up surfing and did everyday that I wasn't deployed until I moved here in Chicago and hockey has helped me fill that void that being land locked and out of the Corps created."
Ryan Mussatto, F (Marine Veteran)
"Hockey for me means an opportunity to let your mind free of all the negative crap in the world and have fun playing the greatest sport there is and ever will be #HockeyLivesMatter lol"
Here's a video of the team playing at the United Center
To learn more about the Warriors