Practicing your shot can get a bit old if you are shooting on a regular basis, so I made a video showing a few drills that will make shooting a bit more fun. These drills are meant to test your accuracy, and also give you a goal to try to beat. I have embedded the video below, and underneath the video I have summed up the drills and also have a link to a shot log that you can download and use.
Drills to Improve your Shooting Accuracy
Download – Download the shot log sheet to keep track of your best times and best accuracy for each day
Video Summary
Around the World Drill ( perfect)

The goal of this drill is to hit all four targets in four shots. If you miss one you need to start over until you go 4 for 4

Around the World

With this drill you see how many shots it takes you to hit all for targets, say it takes you 7 shots. Now that is your milestone and you goal is to hit all 4 targets in less shots.

Around the World (multiple)

With this drill you can hit each target 3 times, or 4, times or 5 times etc, or go "around the world" multiple times. See how many shots it hit all four targets 5 times, or see if you can go 8 for 8, or 12 for 12!

Time Trial

With the time trial you time how long it takes you to hit all four targets, then try to beat your time. You can use a time trial for any accuracy drill

Rocket Drill

Pick a target and try to hit it 10 times, shooting as HARD as you can
Improve your Shooting Accuracy
Here are some old videos I did with tips to improve your Shooting Accuracy
Shooting for the top corners

Tips for shooting low

Improve your slapshot accuracy

You can read more about improving your accuracy in my article on how to improve accuracy in hockey or how to improve slapshot accuracy
If you want an Ez Goal check out my EZ goal review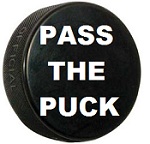 Pass the puck share on Twitter or Facebook
Tweet
Follow @howtohockey
Looking for more hockey tips?
Sign up to our newsletter for more tips, more videos, discounts on hockey training aids, and updates on new ways to improve your game
The following two tabs change content below.
Hi my name is Jeremy. I LOVE hockey and I am passionate about improving and helping others improve. My goal is to break every hockey skill down into easy to understand articles and videos. I explain everything step-by-step to help others improve. If you want to learn more about me you can read my
about page
. Thanks for reading and sharing!
Latest posts by Jeremy Rupke (see all)