A few months back I was sent a few slideboards to use and review. I tested out a few of them and did a full review on another website that I have been adding reviews to, but I did not want to add the review to How To Hockey until I had a good grasp of what you can do on the board, and how it can help you develop as a player. Now that I have been using the powerslide for a while I feel confident in providing a good review and also recommending this product to the readers of this blog.
What the PowerSlide Does
This product was designed for people to work on lateral movement exercises, and to build the leg muscles but hockey players and speed skaters soon learned that it is the perfect tool to replicate the skating stride off-ice and build the muscles used for skating. At the very basic level you can use a slideboard to slide back an forth while working on the proper skating stance, and stride. This movement is very similar to the push you use in hockey to generate power and speed from your legs.
Hockey players and speed-skaters have used slideboards for YEARS to improve work on stride, power and a number of other things. Kevin Neeld sent me a bunch of slideboard exercises that he uses at Endeavor Sports Performance to train hockey players so stay tuned to see how many drills you can actually do on a slideboard!
What you Get with the Powerslide
With the powerslide you get an 8ft or 10ft length of slick plastic, two adjustable stoppers, two nylon booties, and one carrying bag. The stoppers are used at either end and you can use them to adjust how far you want to slide. You have to wear the booties to be able to slide on the board provided, and the bag is a nice addition to store the slideboard in if you are not using it (I just leave mine set-up in the basement)
How it works – Just set it up and put on the booties, the booties let you slide better. Put one foot on one stopper and push out to slide to the other side. Each stopper has a nice foam padding so that you don't hurt your feet.
Setting up the Slideboard
This is easy to do, all you need to do is roll out the slideboard portion and one of the stoppers is already attached. Simply attach the other stopper and adjust it to any length that you would like. While practicing stickhandling I usually set up the stopper so it is fairly easy to slide back and forth. If I want a good workout I make the distance longer.
How I use the PowerSlide Slideboard
When I first got the slideboard I figured it would be fun to slide back and forth, but that got a bit old. Then I figured out I could use it while shooting and stickhandling and now I use it all the time
Work on your stride, and explosiveness from the legs
Practice stickhandling while moving ( great for dekes where you need to practice side stepping a player, or moving laterally)
Practice shooting while moving
Practice generating power from your legs and weight transfer while shooting
A number of leg, arm and core muscle workouts (will post soon)
PowerSlide Video Review
I give you a full review and show you a few drills you can do with the PowerSlide

Where to Buy the PowerSlide
You can get the PowerSlide on this page at Hockey Shot use our coupon code to save $10 just enter HOWHCKY001 at checkout in the coupon code section. You may also be interested in the slideboard / shooting pad combo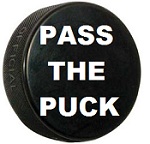 Pass the puck share on Twitter or Facebook
Tweet
Follow @howtohockey
Looking for more hockey tips?
Sign up to our newsletter for more tips, more videos, discounts on hockey training aids, and updates on new ways to improve your game
The following two tabs change content below.
Hi my name is Jeremy. I LOVE hockey and I am passionate about improving and helping others improve. My goal is to break every hockey skill down into easy to understand articles and videos. I explain everything step-by-step to help others improve. If you want to learn more about me you can read my
about page
. Thanks for reading and sharing!
Latest posts by Jeremy Rupke (see all)