HockeyShot has a new line-up of training aids and I have been slowly testing and reviewing all the new products. "The Dangler" and the Mini Dangler are among two of the new stickhandling training aids released that are designed to help hockey players improve their hands.
What is the Dangler?
The Dangler is a pretty straight forward product, think of it like a souped up row of pucks. The Dangler is designed to give you an obstacle to practice stickhandling around, under and over

Why not just use a line of pucks?

Sure a line of pucks is cheap, but the problem with a row of pucks is that they won't sit still. Every time you hit a puck it will slide down the ice and it can be quite annoying when you are trying to work on your dangles and you have to re-make your obstacle every time you hit it. This is especially true for coaches!
A product like the Dangler lets you spend more time practicing and less time trying to set up a drill.
How is the Dangler different from other similar products?
The first product in this category that came out was the Sweet Hands. I never did a full review of the Sweet Hands on How To Hockey because it just seemed too simple. I thought most people could put together something similar with stuff they had lying around the house, but the Dangler has a few notable features
Lighter and more affordable than the Sweet Hands
The only product in it's category with moveable center legs
Built in retractable spikes allow it to grip the ice and stay in place during on ice drills
Video Review and Test of the Dangler
Is it worth it?
The Dangler is fun to use on the ice, but I remember doing the same drills and moves with a line of pucks or a snow shovel as an obstacle when I was a kid.
If you are on a budget and want a product to help you develop your skills I would suggest saving your money for something like the new Extreme Passing kit or a radar gun. You can use household items to practice stickhandling around.
If you are shopping for something like this – I do like the Dangler better than the Sweethands, and I would say it is comparable with the X-deviator from X-hockey products.
Where to Buy / Price Comparison

Close up Look of the Dangler
Want more details about the Dangler? In this video we give you a close-up look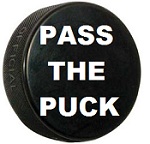 Pass the puck share on Twitter or Facebook
Tweet
Follow @howtohockey
Looking for more hockey tips?
Sign up to our newsletter for more tips, more videos, discounts on hockey training aids, and updates on new ways to improve your game
The following two tabs change content below.
Hi my name is Jeremy. I LOVE hockey and I am passionate about improving and helping others improve. My goal is to break every hockey skill down into easy to understand articles and videos. I explain everything step-by-step to help others improve. If you want to learn more about me you can read my
about page
. Thanks for reading and sharing!
Latest posts by Jeremy Rupke (see all)