This is our review of the Extreme passing kit which you can find for sale on this page
As a hockey player you should always be looking for ways to improve your skills. When I was a kid I would practice my shooting and stickhandling on a regular basis in my parents barn, but the biggest problem was finding a good surface to stickhandle on.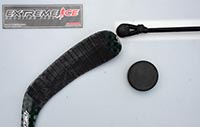 Trust me, I tried everything, I kept my eyes open for nice smooth surfaces, I used Plexiglas, laminate flooring, particle board, cardboard….everything. Despite my best efforts, the best surface I ever found was $50 at National Sports for a tiny hockey shooting pad. I used it until it turned black, and eventually misplaced it, but I loved it and I actually practiced a lot more because I knew I had a decent surface to stickhandle on, and shoot from.
Now that I am a bit older I want to help other players who may be going through the same thing I am, so that is why I like to review new products and test them out, it gives other hockey players a chance to see what they are like, and if they are worth buying!
The Extreme Passing Kit Review


The Extreme passing kit is a product by hockey shot that is meant to provide hockey players with a smooth surface for stickhandling and shooting, and also a pass rebounder for players to practice passing and one-timers.
Compared to Other Products
The extreme passing kit is similar to the tape 2 tape, and the hockey skill pad, but cheaper with a larger surface area and not so bulky
Out of the Box
The passing kit comes rolled up in a large box.The box is about 4 feet tall, and a foot wide
Size
The extreme passing kit is 8 feet long and 4 feet wide, giving you plenty of room to line up a bunch of pucks in a row for rapid fire slapshots, or practice a few moves before you test them out on the ice.
Price
You can buy this product for $139.95 on this hockeyshot page you can save $10 if you put in our coupon code HOWHCKY001 that means you get an 8×4 roll up shooting pad, along with a pass rebounder for $129, at that price you get the best value, and you will get a lot more use out of the pad than if you bought a smaller one.
Set-up instructions
You don't have to do much to start shooting. The "extreme passing kit" is basically just a roll-up shooting pad with a pass re-bounder built into it. The key is to get the passing kit nice and flat before you start practicing. In order to get it really flat I was told it should be laid flat with something heavy on it for a few days.
For my roll-up shooting pad I just put a sheet of plywood on top, and that worked great!
Detailed Review of the Extreme Passing Kit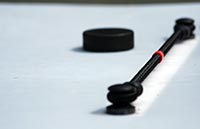 The kit is pretty simple, like I said before it is a roll-up shooting pad with a pass re-bounder. In the picture to the left you can see the re-bounder. The concept is pretty simple, a bungee cord attached to two posts. Could you make something like that yourself? Yeah probably, but this is done professionally, and it is really solid, so you don't have to struggle with it to get it to work
The bungee cord posts are attached to the back with a solid steel (I think it is aluminum) backing.
Bungee cord vs elastic band – A lot of puck re-bounders in the past have used elastic bands, the problem with these is that the band tends to break after extended use. The Extreme passing kit uses a bungee cord because they are known to last a lot longer than a simple elastic band.
How does the puck slide?
The puck slides great on the shooting pad, one thing I like about the passing kit is the size. My previous shooting pad was big, but this one is huge! I can actually stand on it and pull a few moves. The puck moves just as well on the roll up shooting pad as it does on a hockey shooting pad, and the dry land hockey training tiles. If you want to get even closer to the on ice feeling I recommend the Green Biscuit, you can even use it on rough surfaces.
Passing
Passing is simple, just pass the puck into the bungee cord and it comes back to you. If you have a bad pass (wobbly) the puck will either go over the bungee cord, or come back, but flip over a bit.
If the shooting pad is not nice and flat, the puck will be more likely to roll over the bungee cord and not come back to you. The roll up pad comes rolled up, so to get it flat you should put something heavy around the edges for a few days. I put a sheet of plywood on top and it worked great.
One-Timers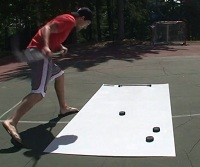 I had a lot fun of practicing my one-timers with this product. It can't get any simpler, pass the puck into the bungee cord, wind up, then shoot. I would definitely recommend the extreme passing kit rather than just getting one that attaches to a smaller shooting pad. With a smaller shooting pad you will not have a lot of time to set up.
The roll-up shooting pad / extreme passing kit is 8 feet long, so you have a lot of time to set up the one timer. I think this is important because it allows you to focus on proper form and technique.
You can also move the shooting pad around and practice receiving a one timer from different angles.
Shooting
This one is a no-brainer, the roll up pad is perfect for shooting. With some of the small hockey shooting pads you will run out of room if you want to do a full wrist shot with a nice big wind-up.
With the extreme passing kit you can use a full wind-up and then some. Slapshots are great, I was hammering them at full force and the shooting pad held up to all my abuse. Another great option is lining up a bunch of pucks all along the pad, being 8 feet long you can put a puck every foot and practice rapid fire slapshots.
Overall Thoughts
In the penalty box
There are only a few things I would like to mention about the extreme passing kit. The first one is that if  you REALLY fire a puck into the bungee cord it will not send the puck back, I don't see any point in passing them full force into the bungee cord though so that was not really a problem for me.
The next would be if you have ripples in the shooting pad, and then give a hard pass into the bungee cord, the puck may come a bit off the pad and then go over the bungee cord. I only had this problem if I tried using the extreme passing kit right after I un-rolled it. For the best results, just make sure the roll up shooting pad is nice and flat
On the scoreboard
I really like the fact that I can practice stickhandling, passing, shooting, and one-timers all with one product. Here are a few benefits of the roll up shooting pad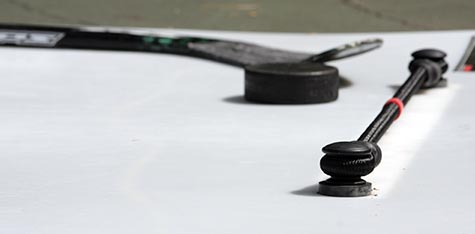 Fairly easy to transport ( a bit of a pain to roll up, use a belt to keep it rolled up) much easier to move than a regular hockey shooting pad of the same size
Puck slides great
Puck re-bounder works well
Lies nice and flat
Allows hockey players to practice a number of skills
Large area is great for practicing a bunch of different stickhandling moves comfortably
Good for practicing the one-timer
If there were a product like this when I was younger I would have bought it in a heartbeat. I am a firm believer in spending money on good products, especially if they will help you better yourself, or improve a skill. Money comes and goes, but when you learn a new skill it will stick with you forever.
Extreme Passing Kit Video Review
In this video we give you a detailed extreme passing kit review. I show you a close up of the product, show you how big it is, how the puck slides, and how the pass rebounder works.

Where to Buy the Extreme Passing Kit
If you want to buy the passing kit then check out the hockey shooting pads on Hockey Shot don't forget to use our coupon to save $10 HOWHCKY001