Beware of natural light – Any natural light will cause the indicator on the screen to bounce all around. You can only use this product in areas with no natural light.
Do Not Buy
I had very high hopes for this product, but found it was only usable in areas with no natural light. It was still fun, however recently I have heard multiple reports that there is very bad customer service and some people are paying and not getting their product. I can not recommend this to anyone
A while ago I stumbled across the QuickStickz product and website and was very intrigued. For those of you who do not know the QuickStickz is a stickhandling ball with a tracking system that displays on your television. When I saw some videos about it I instantly wanted to test it out so I sent an email to the company. They were very helpful and sent the product out for me to review.

QuickStickz Overview
What you get – The Quickstickz package comes with one stickhandling ball (with infrared light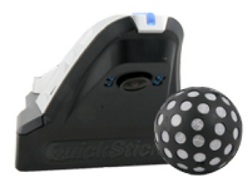 reflectors on it), One webcam / infrared light unit, a quick start guide, and a short USB cable to plug the device into your computer.
What it does – The webcam unit plugs into your computer and then sends out infrared light, this light is reflected by the stickhandling ball and sent back to the webcam unit. The unit then send the information to your computer which gets displayed on your screen. When you log into the QuickStickz website there are a number of drills and games you can complete, and you use the stickhandling ball as the controller
Price –The unit sells for $199 and you can get it on the QuickStickz website
QuickStickz Review
Set up – Setting up the QuickStickz was a lot easier than I thought. I figured there would be a CD and drivers and all that jazz, but all you have to do is log onto the QuickStickz site and then download the install program from there. This is a smart idea because it reduces waste, and they can update the program whenever they want.
The installation process takes about two minutes. Once you have the program installed you can plug in the camera / infrared unit and that's it. Pick a drill that you want to try, and start stickhandling.
How to play – The system is really easy to use, but you have to be online to play any of the games.
I talked to the owner of the company and he said that they are considering releasing a cd with some games and drills that people can use when they do not have an internet connection.
To do one of the drills, just log onto the QuickStickz site with your username and password, pick any drill, and go.
Terrible in most situations – If any natural light hits the ball it causes the on screen marker to bounce all around the screen. You can only use this in places completely absent of natural light.
Does it work – The system worked fine for me, but I did notice a bit of a lag (it could be because my hands are as fast as lighting, haha :D) When I am just doing simple movement with the ball it was great, but if I was doing some quick stickhandling I noticed a bit of delay, it was not a huge problem though because it still registered each movement and I was able to hit the targets.
Overall Thoughts
Penalty box – There were a few things I wasn't to keen about, so I will assess a few penalties here. The first one is the price, $200 is fairly steep, I am sure it would cost quite a bit to develop and produce the product, but it would still be nice to see it come down in price.
The next penalty is for the game-play. There was a bit of lag / delay from when I moved the ball to when the puck moved on the screen. This was not a big issue and I was still able to play the games and drills, but it would be nice to have better motion tracking. I also emailed the QuickStickz company and they said they said that there should not be any delay, so it could be an issue with my computer (or how lightning fast my hands are :D)
Warning: I would ONLY use this product if you have a low light area in your house. If any sunlight hits the IR camera the puck on the screen will jump around. This was an issue for me in the upstairs of my house, but I did not have a problem in my basement in a room away from the windows.
Score Sheet
There are a number of things that I really liked about the QuickStickz
Very cool idea / concept
A lot of fun to play with
Drills and games are very well made with good graphics
Drills are designed to teach skills like developing fast twitch muscles, teaching toe-drags, puck control, protecting the puck and more
Having the drills on the screen will help teach heads-up hockey
Great for beginner players to practice stickhandling at home
Will turn slow hands into fast hands!
Will provide a lot of motivation to practice stickhandling skills
QuickStickz Video Review
In this video I show you the product, hook it up, and give you a sneak peak at the games and drills that you can do.

Where to Buy the QuickStickz
Recently (2016) I have heard some stories about the Quickstickz and can no longer recommend it. It's a great idea, but it appears their customer service is poor, communications is poor, and the product (when I reviewed it) only worked in areas without natural light. I was really hoping they would update and improve, but I do not think that has happened.