A few years ago I did a review of the Green Biscuit. It instantly became my favourite off-ice puck and I have been recommending it every since. In the review I was only testing it for it's stickhandling capabilities because that's what the puck was designed for, and it worked great. The only two problems with the original Green Biscuit was that it was a bit noisy, and if you shot it and hit something hard it would probably break. In comes the Green Biscuit Snipe
The Green Biscuit Snipe is made with a tougher type of plastic that can withstand the force of hitting hard object. The original biscuit is made of a hard brittle plastic, this makes it slide well on cement and rough surfaces, however with a hard direct impact it will shatter. In the video below I compare the Green Biscuit to the Green Biscuit Snipe, I stickhandle with the Snipe, and I test it with some direct slapshots to the post.
Green Biscuit Snipe Video Review
Green Biscuit VS Green Biscuit Snipe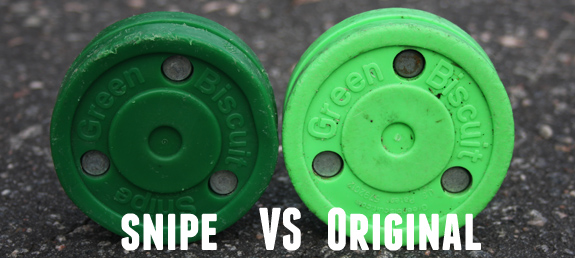 Original
Slides great on all surfaces
Made with a hard brittle plastic
4.5 ounces compared to a 6 ounce regular puck
If shot against a hard surface it will break
Snipe
Slides well on smooth surfaces
Made with a durable plastic with a softer feel than the original
5.3 ounces
Will not break (under normal circumstances) when shot against hard surfaces
What is the GB Snipe good for?
If you want to improve your shot I would stick with normal pucks. The Green Biscuit Snipe currently sells for $14.95, you could buy 14 pucks with that money and I think that would be a lot better for working on your shot.
For stickhandling on rough surfaces I would still go with the original Green Biscuit. If you have a smooth surface and a net and you want to work on your hands and still be able to shoot then the Green Biscuit Snipe is for you.
I think it will be great for people who want to work on their moves and shooting at the same time. It is great for anyone who wants to work on those game-situation moves and plays.
What do I recommend?
I like the idea of having one Snipe around for when you need it. Personally if I were to order I would get two original Green Biscuits and one Snipe. I would do this to even out the shipping (it's about the same for 3 as it is for one) and then I would have backups because I am always misplacing my stuff.
Where to Buy the Green Biscuit Snipe
You can buy the Snipe on this page at HockeyShot.com it currently retails for $14.95
My Favourite Training Aids
The Green Biscuit is among my favourite trainings aids to use, if you're interested in more of my favourites you can check out my Hockey Products page. I fill you in on all of (in my opinion) the best products to use for training at home.