Wait… So I'm NOT supposed to shoot like Alex Ovechkin, Phil Kessel, Sidney Crosby and many other top scoring NHL forwards? That's what I was told many times growing up and still hear today. I wanted to publish this article and video to help debunk this myth. The fact is there are many ways to shoot, and each method is effective in the right situation
If you ask me, there is no WRONG way to shoot, only more effective and less effective. If the puck ends up in the back of the net, it's the right way to shoot. As long as you can get decent power, accuracy and release the shot is worth practicing.
My Philosophy on Shooting
There are the four basic shots, the wrist shot, snapshot, backhand, and slapshot. With each of those shots there are variations on how you can execute each shot. Some are better for power and some are better for a faster release. I believe that hockey players should be familiar with every method of shooting, and when you should use each type of shot.
What is the "wrong" way to shoot?
I made a video to demonstrate the wrong way to shoot. This is something that a lot of hockey coaches still say, so I wanted to address it.


Want to learn new ways to shoot?
Check out my iSnipe app for Apple and Android I have 16 shooting videos, a shot tracker, a journal, and two cool training tools to help you with a quicker release. It's only $2.99!
Basic Shot Breakdown
Here is a basic summary of the four main types of shots, and when you might want to use them.
Slapshot – This is the most powerful shot and you typically want to use it from a distance. You need a bit of room to wind up so don't try this shot when being heavily pressured. A variation is the one-timer which is great from the point, or when you are in close and need to get the puck to the net as fast as possible. Stamkos is known for his deadly powerful and accurate one-timer
Wrist Shot – This shot is great when you need power and accuracy. The full wrist shot is typically used when you are further from the net. This is also a good shot to use when cutting across the ice on your forehand side, as you are already set up to execute the shot and won't waste any time trying to prepare for the shot. Sakic's wrist shot is legendary
Snapshot – This shot is great when you need to get the puck off in a hurry. Many players use this when under pressure, when trying to catch the goalie off-guard, or when quickly moving the puck past a defender. This shot is good to use when in close to the net and you don't want to give any clues that you are going to shoot. There is no denying Kessel has one of the best snapshots in the league, he scores most of his goals this way
Backhand – The backhand is often neglected from players because it is a hard shot to master, but commonly regarded as the hardest shot for a goalie to stop because they can't read where it's going. The backhand is used a lot in dekes. This shot is great to use after a quick move or fake, or when you are forced to your backhand and it's your only shot option. Players who don't practice their backhand will miss a lot of scoring opportunities. Datysuk is known to deke to his backhand, but also has a deadly backhand from a distance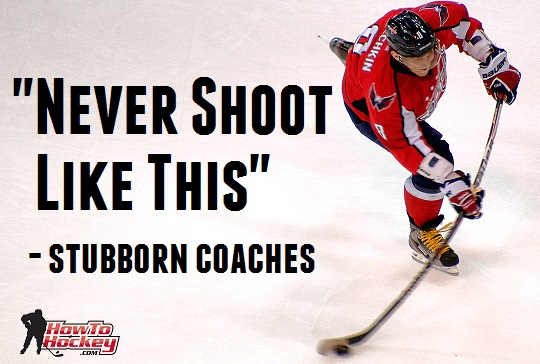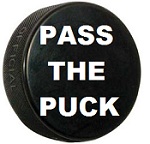 Pass the puck share on Twitter or Facebook
Tweet
Follow @howtohockey
Looking for more hockey tips?
Sign up to our newsletter for more tips, more videos, discounts on hockey training aids, and updates on new ways to improve your game
The following two tabs change content below.
Hi my name is Jeremy. I LOVE hockey and I am passionate about improving and helping others improve. My goal is to break every hockey skill down into easy to understand articles and videos. I explain everything step-by-step to help others improve. If you want to learn more about me you can read my
about page
. Thanks for reading and sharing!
Latest posts by Jeremy Rupke (see all)