I recently received an EZ goal from hockeyshot.com and have had the chance to take it out, set it up, and take a bunch of shots. I have been shooting on this net for a few weeks now and tested it for quality and durability. If you are thinking of getting a hockey net, check out this Hockey net review.
Testing the EZ goal hockey net

After getting the EZ goal I set it up and took a few shots on it, I took note of how easy it was to set up, how well it folds, and the overall quality of the material. Since then I have been shooting on it daily, below you will find my detailed EZ goal review
How to Set up the ez goal hockey net
Set-up was super simple, all I had to do was look at the picture on the box ( who uses manuals these days) and snap the pieces together. There are no tools required, you just push the tabs in, and then fit the posts together.
To put on the hockey netting we just aligned the net properly ( red tab at the top middle) and then used two long pieces of string to lace every square to the wigley wire. Putting the net on takes some time.
How long does set up take?

Setting up the frame was easy, it only took about 10 minutes. Putting the netting on was also easy, but it was time consuming. Lacing the net took about 30 minutes.
How well does the EZ goal fold?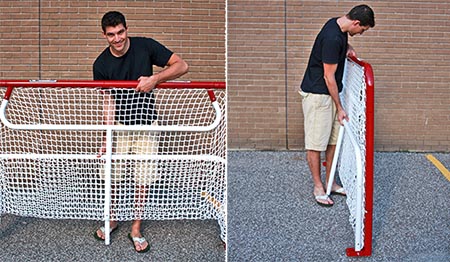 Folding the hockey net up is really easy! All I had to do was pull the pins from the bottom posts, then separate the middle post, then fold down the top, and fold up the bottom. Presto chango, the net is all folded up! It takes under a minute to fold and unfold the net, I do not think they could have made it any easier.
Quality of material
In our EZ goal Detailed Look video (embedded below) I show you close up shots of the posts, and netting so you can get a good idea of the quality. I will then tell you how the posts and net held up after a few weeks of heavy shooting.


Quality of Netting
The netting is fairly thick compared to other nets in this price range. I have used netting like this before on other hockey nets and they usually last a few seasons before getting any holes in them. After a few weeks of shooting a few hundred slapshots a day I only have one hole in the net, right near the bottom where I likely blasted a few thousand 75 MPH slapshots. I didn't really expect the net to hold up to that type of abuse, and for the purpose of the review I was trying to put a hole in the net. Over all the netting is great for kids and adults, but hold off on the slapshots if you have a cannon.
The goal posts all have wigley wire on the back for you to thread the net through. Some cheap nets do not bother with wigley wire so you just have to wrap the string around the posts, which looks terrible, and also if the string breaks it is annoying, so it is nice that the EZ goal has the wigley wire.
How about them Goal Posts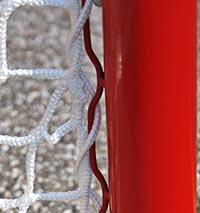 I have tested my wrist shots and slapshots numerous times on a few different radar guns. My wrist shot is between 50 and 60 miles per hour and my slapshot is around 75 miles per hour
The posts held up fine to my wrist shots, snapshots and my lighter slapshots, but the off time when I hammered a slapshot right into the post it left a small dent. I was actually surprised I didn't dent it more, the posts held up to all my shots except when I put everything I had into a slapshot, which you don't usually do in road hockey or pond hockey anyways. I hammered the white post in the center a bunch of times and I haven't been able to dent it at all.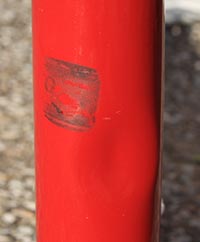 The picture to the left is probably a good example of what to expect from the posts, most shots will just leave a mark, but you can dent them with a really hard shot. The black mark was a full powered slapshot and there was no dent, then I hit the post dead on with another full powered slapshot and you can see a small dent.
After a few weeks of normal shooting on the hockey net (not trying to break it anymore ) I have only added a few dings to the post, and they are all from my slapshot. I would say these posts will withstand basically anything you can throw at them, unless you or your kid is playing elite hockey, then just lay off on the slappers 😀
Ez goal compared to other hockey nets
Price compared to other hockey nets
The ezgoal is around $100, most nets of this quality start at $120 and the real cheap plastic, or metal ones with thin posts (not recommended for players with good shots) start at around $70. The ez goal comes with targets, which is a sweet bonus, and for an extra $50 you can get a backstop which let's you spend more time shooting and less time looking for pucks! Another sweet bonus is that the ez goal folds up, and I have not seen another hockey net that can do that.
For a pro hockey net you are looking at around $500, they are really heavy and near impossible to move. The only advantage to pro nets is the thicker posts, and thicker meshing, but for most hockey players that isn't really necessary.
Quality compared to other hockey nets
In my opinion the EZ goal matches or exceeds the quality of netting and posts of other more expensive hockey nets, plus it folds up. Advantage, ez goal!
EZ goal compared to plastic ball hockey nets

I have destroyed a lot of ball hockey nets in my life. They are cheap, made of plastic, and don't stand a chance against pucks. Here is how the EZ goal stacks up against ball hockey nets
Better quality posts and netting than plastic nets
A bit more expensive
Will last a lot longer
Ez goal is heavier than the plastic nets
I would recommend the EZ goal over ball hockey nets because ball hockey nets usually last about one season (one day if you use pucks) before you need to buy a new one!

EZ goal compared to metal road hockey nets

The Ez goals 2″ metal piping will last longer than 1″ piping
Sturdier than 1″ piping nets
EZ goal folds up for easy storage
EZ goal is similar in price, but better quality

EZ goal compared to PRO regulation hockey net

Same size and dimensions of a PRO net
MUCH lighter
Pro nets are one piece, and welded together, Ez goal folds up and is easy to move
Cheaper than pro net ($400 cheaper)
Not as durable
EZ Goal Review Video
I shot this Ez goal review (embedded below) so you could get an idea of the set up, how it folds and unfolds, and the quality of the material

Overall thoughts
The only downside to this net was that I was able to dent the posts with a 75 mph slapshot which is no surprise because the only posts I haven't dented are on regulation nets. The net also has a hole in the bottom now, but that is due to repeated canon shots to the bottom right corner. The next step up from this type of net is a pro hockey net and I am not about to pay $500 for a net I can barely lift! I loved this hockey net, the quality was great, I love how it comes with targets and folds up. The backstop is a great idea as well and we will do a full review of the EZ backstop and targets soon.
Overall I would recommend this net to everyone with kids who play hockey, or any adults who want to have a good portable net for pond hockey.
Where to Buy the EZ goal
If you want to buy an EZ goal you can get it here we also have a coupon for our readers. If you subscribe to our blog we will instantly send you a coupon to save $10 off the EZ goal.