The green biscuit is a hockey training puck that is designed to replicate the feeling of stickhandling with a real hockey puck on ice. While many ( too many!) products promise the feel of stickhandling
with a real puck, only a few can deliver. How did it stack up? Read on to find out.
If you just want to know how much it costs, and buy one you can buy it here Enter our Hockeyshot coupon code for $10 off orders over $100 HOWHCKY001
First look at the Green Biscuit
When I first got the green biscuit I thought what most people probably think, oh great another gimmicky hockey training product. You have to admit, it looks a bit funny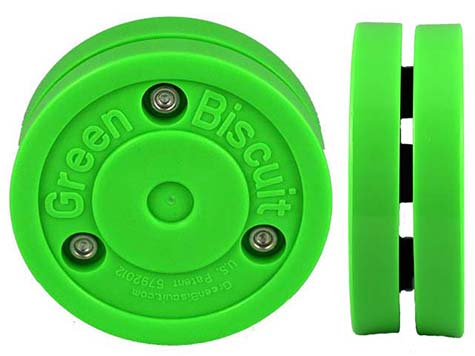 Green Biscuit Design
The biscuit is designed to travel flat on irregular surfaces like concrete and asphalt. The idea behind the design is to reduce friction, and vibration that will cause pucks to flip over and normally occurs with other pucks.
The green biscuit is made out of two pieces of plastic with a hollow spot in the middle. The pieces of plastic are held apart by three metal bolts and cushioned with rubber spacers in the middle. According to the Green Biscuit Website this unique design is specifically engineered to stop the it from flipping over. Sounds like a great plan, but for some reason I don't think that this puck could hold up to my ever improving slapshot, but I can't wait to try stickhandling and passing.
While there are many pucks that use simple, and often flawed designs in an attempt to achieve an ice like feel, it appears that the green biscuit may actually achieve this. It definitely wins the award for most creative engineering and design. Only one question remains though….
Does the Green Biscuit work?
The short answer is YES! I was pretty amazed at how well this puck actually worked. After using so many shawdy products, I really expected this one to end up as dog toy, I was pleasantly surprised. Below I will share my experience with the biscuit
Stickhandling with the GreenBiscuit
I tested the Green Biscuit on a nice flat piece of pavement. The biscuit moves nicely back and forth and is definitely better than using a regular hockey puck ( see video) I also tried some other hockey training pucks but the Green Biscuit was definitely my favourite. It slides nicely, and is great for toe drags! (as seen in our hockey shooting pad video)
Does it flip up?
When doing slow smooth motions it is almost impossible to flip the it over. I find the biscuit does come up slightly from time to time, but only during quick, powerful moves. I feel this is a good way to train yourself to have nice soft hands, and it only tilts up a bit, so it doesn't really interrupt stickhandling too much.
If you want to practice a lot of quick moves you could always pick up a hockey shooting pad. The shooting pad works well with the green biscuit by reducing friction even more, and it will also protect the bottom of your stick. We did a full hockey shooting pad review if you are interested
Passing
I really liked passing with the green biscuit. Ken and I tried all kinds of variations; quick short passes, long hard passes, rapid back and forth passes, backhand passes, and even saucer passes. The green biscuit worked great for every type of pass, and really felt like passing on ice does.
If you suck at passing I definitely recommend getting a green biscuit, having a friend to pass back to you helps as well!!
One thing that I did notice was when taking a hard pass, if I cupped the pass and then pulled it in towards my body in a sweeping motion the puck would come up on edge against the edge of the blade of my stick. Not a huge annoyance as it only happened a few times, and I easily corrected the puck and continued passing.
Shooting with the green biscuit
A lot of people ask "can you shoot with the Green Biscuit?" Here is my experience
*Winds up, takes a slapshot, hits post, green biscuit explodes*
The green biscuit is not made for shooting! That's what regular pucks are for 😀
Green Biscuit Video
Reading about how a product works is good, but seeing it in action is even better, so we thought this video would help show you how the Green Biscuit training puck works.


Green biscuit vs regular puck
As you can see in the picture the Green Biscuit is the exact same size of a normal hockey puck
Weight
The Green Biscuit weighed in at 4.4 ounces. A normal hockey puck is usually between 5.5 and 6 ounces. The Green Biscuit is made a bit lighter than a normal puck to replicate the feel of using a real puck off ice.
Feel
According to the Green Biscuit website the Green Biscuit was made lighter than a normal hockey puck because the added friction from rough surfaces makes it feel heavier, or just like using the heavier puck on the ice.
Slide
Don't even think about trying to use a regular puck off the ice or on pavement, the rubber grabs onto everything and the puck will flip all over the place
Of course nothing can match a puck on ice, but the Green Biscuit does slide nicely, it travels in a straight line, moves better if you put spin on it, and has a similar bounce as a puck.
Green biscuit compared to stickhandling balls

Size
As you can see in the pictures the stickhandling ball is quite a bit smaller than the Green Biscuit, however it is also taller. The balls are made to have the same contact point as a puck, so that is why it is quite a bit taller, you can see that the middle of the stickhandling ball matches the top of the green biscuit.
Weight
The stickhandling ball I use weighed in at 4.1 oz, with the green biscuit being 4.4, not a big difference at all.
Slide
Being round, the stickhandling balls roll very easily, the motion of rolling is obviously different than sliding but provides great lateral movement along the ground. The major downfall of stickhandling balls is the passing ability. If you try to pass stickhandling balls for long distances they have the tendency to bounce and change direction.
Feel

Stickhandling balls are great for quick movements and repetition because you never have to worry about them flipping over, however real pucks do flip over sometimes so I think it is a good idea to use a product that most closely reflects the properties of a puck.
If I want to practice some serious dangles I prefer the green biscuit. The major downfall of stickhandling balls is their shape. They are designed to feel like a puck, but no matter how you look at it, they are still balls. When I first started learning how to toe drag I practiced with stickhandling balls, but found when I tried the same motion on ice, the puck would get away from me a lot. When I started using the Green biscuit on a hockey shooting pad (even on pavement was good) I noticed it felt A LOT more like a puck on ice.
Price compared to other training pucks
The green biscuit retails for around $10 US, which is right on par with other training pucks.
Green Biscuit Recap
Highlight of the night
I like how easily the green biscuit slides on rough surfaces and also how much it feels like a real puck. I also like how it doesn't flip all over the place like other off ice pucks. Passing is great with the GB as well. If I send a nice hard pass to my friend, I know it is going to get there, which makes practicing with the green biscuit a lot of fun.
In the sin bin
The only downfalls I could find with the biscuit is that it is fairly loud (plastic on pavement, who would have guessed) and also it is not made for shooting. The plastic is some-what brittle so if you shoot the puck against something hard it WILL break. Also if you use the Green Biscuit on asphalt a lot it will wear down due to the rough surface.
Overall thoughts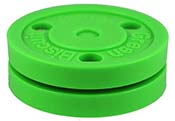 I definitely recommend the green biscuit to anyone who wants to practice stickhandling and especially for people who want to work on passing. I had a lot of fun using the green biscuit, and it has found a permanent home in my gym bag, right next to my roller blades!
Where to Buy a Green Biscuit
If you want to pick up one of these you can buy it here Use our Hockey Shot coupon code to save $10 on orders over $100 HOWHCKY001